New York Fashion Week Men's Saving Grace? Diversity, and Lots of It
Often considered an afterthought of the men's shows, New York Fashion Week: Men's excels in an area its European counterparts don't: diverse models.
---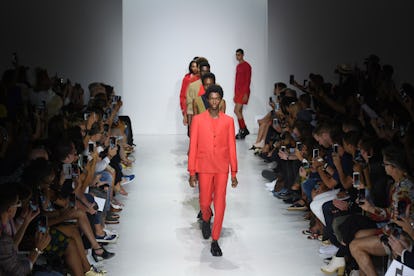 Models walk the runway during the finale at the Carlos Campos show during NYFW Mens Spring Summer 2018 at Skylight Clarkson Square on July 11, 2017 in New York City. (Photo by Yuchen Liao/Getty Images)
Late on Wednesday afternoon of the New York Fashion Week: Men's Spring 2018 shows, a parade of young men with come hither stares cut through the Eagle, the notorious leather bar on the far west lip of Chelsea, and they weren't there for jockstrap night.
They were models walking in Willy Chavarria's avant-Cholo collection, a double entendre splicing of low rider culture and gay fetish the designer called "Cruising." What was notable, aside from the flowing pant legs and appropriated Marlboro graphics, was that the models were exclusively black and Latino. It had the thrill of a long-kept secret finally shared: men infrequently seen in mainstream fashion runways, modeling during a major platform for men's fashion in a space infrequently seen by mainstream society.
"I wanted to show a range of browns, you know, a range of different, beautiful Latin boys," Chavarria said. "And politically, with the new administration, there's been such an onslaught of negativity toward brown people. So I wanted to show brown people in a beautiful, diverse light."
The men's shows that just concluded in New York City are routinely seen as an afterthought. Long after the European collections, which are seen as both more commercially viable and artistically exciting, have concluded, buyers and editors descend on New York with marked indifference for a series of shows and presentations that seem to be getting smaller by the season. But here's the thing about New York designers: more than their European counterparts, where the runways are as alabaster white as the street style in Antwerp, they are willing to embrace diversity and reflect the kaleidoscope of colors of their city.
It came into sharp relief on the very first day at New York Men's Day, represented by designers Wood House, Head of State and David Hart, whose presentations have long been ahead of the curve with its diverse casting. Souffrant Ralph was just one of the models of color in Teddy Ondo Ella's terrific show inspired by Gabon, his home country in Central Africa. And on it went, from veterans like Todd Snyder, Raf Simons and Robert Geller to upstarts like Jahnkoy and Bode, there was a feeling of making an effort to go beyond the casting of the token model of color and expanding traditional notions of male beauty. In recent years, New York has been at the forefront of equitable representation, with every women's fashion week Fall 2017 collection casting at least one model of color, according to the site The Fashion Spot. (London had a rate of 28.4 percent models of color, followed by Paris's 25.9 percent and Milan's 23.8.)
"Without any question it was super conspicuous in all the castings in New York," said Guy Trebay, the menswear critic at the New York Times. "I don't know that I'd call it diversity, exactly, but the castings were much more racially and ethnically representative of the world, and in Europe that's not the case."
In the most recent circuit, Trebay estimates he saw an 85-15 per cent split between white models and those of color, versus 40-60 in New York. "New York is like a dream world of beauty, and Willy [Chavarria] had a really beautiful casting, but an unconventional one, even by the standards of a more diverse landscape," he said. "Because when you see that kind of beauty, you're seeing people you haven't seen before, and you're like, 'Oh, right, why wasn't I seeing that'?"
Chavarria worked with the casting director Brent Chua to street cast the show. "To be honest, it's really difficult for me to find the type of looks that I like with the agencies that are here in New York," Chavarria said. "The guys are all so finished and polished that they usually don't work for my aesthetic. So we literally grabbed guys off the street. We decided we needed to put in a couple of looks at the last minute, so we went outside and grabbed two guys off an Instagram post for a casting. Very fluid, but you know, it's New York City, so it's a city full of beautiful, confident men. It's easy to get models here." Only one model was a professional, Francisco Peralta, who had walked for Givenchy, Dolce & Gabbana and Pyer Moss in the past.
As a label, Chavarria is establishing a signature seldom seen in mainstream fashion. In February, he showed sweatshirts and polos embroidered with phrases like "savor kindness," "born of immigrant family," and "capitalism is heartless," looks also on entirely street cast black and Latino models, people Chavarria said he felt were "feeling the brunt of a lot of the angst that was in the air." The models streamed from a chain-link internment camp set piece, in case there was any doubt that this was a full-throated reaction to the incipient political climate.
For "Cruising," Chavarria applied a lighter touch and the result was warmer, but the message, about the industry's issues with diversity explicitly and the national mood broadly, was the same. "I think people are very, very aware of a history of discrimination, in art and in commerce, and we have this urge to come forward and do what we can to promote to the beauty of all people."
This vision of inclusivity could be seen on other runways throughout the week, including at Sanchez-Kane, whose designer is the Mexican-born Barbara Sanchez-Kane and whose Spring collection was made in Mexico. "I was trying very hard to find boys that represented that and that not only looked the part but could wear the part," said Ella Cepeda, the casting director. "Four of the models were from Mexico, one was street cast and one was found on Instagram, and the rest were all Latin or Spanish." Cepeda spoke about narrow but abiding domestic prejudices, and her discussions with Sanchez-Kane about confronting these head-on through casting.
"I'm from Mexico and I'm not dark-skinned or brown, and people always ask me where I'm from and say, 'Oh, I didn't think you were from Mexico,' and it's like, no, there's so many types of people," Cepeda said. "There are so many stereotypes in how people perceive a culture, and it's about breaking that. It's important to have a conversation about different types of beauty, and that not only goes for women."
If any leg of men's fashion's Grand Tour should be engaging discussions on inclusive representation in casting, New York would seem the most appropriate. Certainly it's best-suited, the city's many varied immigrant, diasporic communities baked into its psyche.
"I don't know that I would say it's a responsibility, but I would say it's an opportunity," Chavarria said. "I think that New York and Europe differ in this respect in that we have a history of slavery and segregation, so I think we're more sensitive to it. In the last two years even we've become less relaxed and our emotions more stirred to do what we can to look out for our brown brothers and sisters and our gay brothers and sisters."
To show his vividly colored collection inspired by the work of the Mexican architect Luis Barragan, Carlos Campos's runway was comprised entirely of people of color—black, Hispanic, and Asian. For Campos, the casting fulfilled dual objectives: aesthetic—he chose skin tones that complemented the color palette of the collection—but also, he said, personal reflection.
"I don't like to get political about it, but I do think as a Latino, coming to New York and being part of the fashion scene here, and as part of my ten years of being in fashion, it was very important to me to really showcase who I am, where I come from, where I grew up," Campos said. "So it's a mix of a lot of things—the conversation that you're having constantly with yourself. It's not pressure or gimmick, 'Oh if everyone is using black models I'm going to do that.' It was just the right time for me. I felt very comfortable that it was the right thing to do for this particular season."
10 New, Diverse Models to Know from New York Fashion Week: Men's
Abdulaye Niang walked the Ovadia & Sons Spring 2018 men's wear show at New York Fashion Week: Men's.

Getty Images
Kyle McCoy walked the N.Hoolywood Spring 2018 show at New York Fashion Week: Men's.

Getty Images
Sup Park backstage before walking the Patrik Ervell Spring 2018 show during New York Fashion Week: Men's.

Getty Images
Don Lee walked the Gustav Von Aschenbach by Robert Geller Spring 2018 men's wear show at New York Fashion Week: Men's.

Getty Images
Callum Stoddart backstage before walking the Boss Spring 2018 men's wear show at New York Fashion Week: Men's.

Getty Images
Myles Dominique backstage before walking the Boss Spring 2018 men's wear show at New York Fashion Week: Men's.

Getty Images
Bom Chan Lee poses for the Katama Spring 2018 lookbook during New York Fashion Week: Men's.

Courtesy of the brand.
Justin Fuentes walks the Represent Spring 2018 men's wear show during New York Fashion Week: Men's.

Getty Images
Youssouf Bamba walks the Todd Snyder Spring 2018 men's wear show during New York Fashion Week: Men's.

Getty Images
Myles O'Neal models for the Descendant of Thieves presentation at New York Fashion Week: Men's.

Getty Images
Did he consider the implicit statement such a diverse cast would make? "It's not that I sit around and think about, you know, 'How am I going to make a statement?' but I think it's what's happening. Sometimes you think of a color and you realize your colleagues are picking the same color and it becomes a trend. So I think we're all feeling the same way, and it's starting to show up in a way that's unconscious," Campos said.
"It's definitely a point of evolution," Trebay said. "Europe has been a little bit more—a tiny bit more—aware. You don't get those castings that for many years were completely white. So it's a little improved, but I wouldn't say it was anything like New York. New York was really notable. There's a lot more latitude for what constitutes a beautiful human."
"The cultural significance is not unnoticed." Steven Kolb, president of the Council of Fashion Designers of America, agreed. "New York Fashion Week: Men's appears to be one of the most diverse fashion weeks with models on the runway and with the roster of designers. I don't think it comes so much from a sense of responsibility, but rather it reflects the community of New York City."
Chavarria was more direct here, pinpointing a historical negligence with respect to representation as one of the industry's curious blind spots.
"In fashion, historically, runways and editorials haven't been filled with people of color. You know, a lot of people have been ignored, and I always found it interesting because so much in fashion is influenced by people of color. So I always thought, man, this is so weird that you see this influence in commercial fashion but you don't really see the faces of the brown people that had inspired it," he said. "So yeah, I loved putting that in the forefront."
Raf Simons's Latest Crop of Models Has the Soundtrack to Your Summer
Julia Nobis, 25, DNA: "I don't know. I do not listen to the radio."
Watch: Riz Ahmed's First Kiss Was on Stage, and He Didn't Know What He Was Doing
Riz Ahmed's First Kiss Was on Stage, and He Didn't Know What He Was Doing