Leonetta Luciano Fendi: It Girl, It Trend
The fashion heiress charts her own course.
---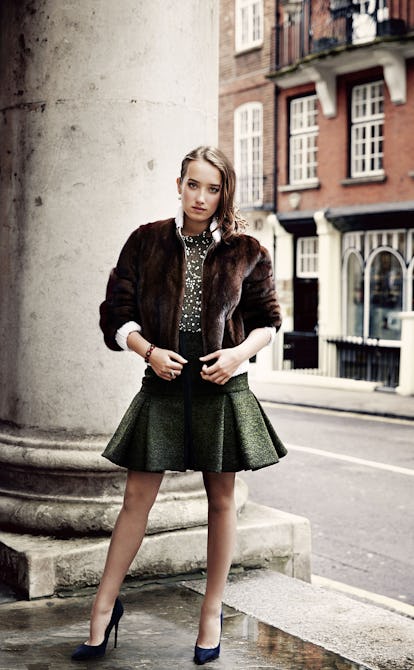 Leonetta Luciano Fendi is not your typical fashion heiress. She becomes impassioned when she talks microfinance and women's rights. And she spent last summer traveling around Kenya as part of a United Nations aid team. "Obviously, I was exposed to fashion, but my family is really down-to-earth," insists the 17-year-old daughter of the Fendi accessories designer, Silvia Venturini Fendi. "When my friends say, 'Oh, you must get all the bags and shoes you want,' I tell them, 'No, actually I do not.' " But there are some perks. Karl Lagerfeld sketched her portrait when she was born. As a young girl growing up in Rome, she got her mother to design a petite pink bag just for her. And at the first industry party she attended, when she was 13, she hung out with Kate Moss and stood stageside as the Gossip performed. "Fashion is really fun, but once I saw this other side of the world, I wanted to help," says Fendi, who doesn't think style and activism are mutually exclusive. "The best thing would be to mix both."
Photos: Leonetta Luciano Fendi: It Girl, It Trend
Fendi jacket, $16,500, sweater, $1,150, and skirt, price upon request, Fendi, New York, 212.759.4646; Delfina Delettrez gold, diamond, and pearl earring, $1,238, and ring, $354, openingceremony.us; Jimmy Choo pumps, $595, jimmychoo.com.
Altuzarra jacket, $6,395, Trois Pommes, Zurich, Switzerland, 011.41.43.497.31.10.
Tod's cuff, $1,215, Tod's, New York, 212.644.5945.
Proenza Schouler sweatshirt, $2,490, Proenza Schouler, New York,
Pierre Hardy booties, $1,045, Pierre Hardy, New York, 646.449.0070.
Lacoste skirt, $230, 800.4.LACOSTE.
Fendi Fan di Fendi Eau de Parfum, $98, saks.com.
Hair by Ranelle Chapman at davidartists.co.uk; Makeup by Tania Guatama. Fashion assistant: Riana Pervez.