L.E.S. IS MORE
No longer Chelsea's seedy little sister, Manhattan's Lower East Side art scene is moving on up.
---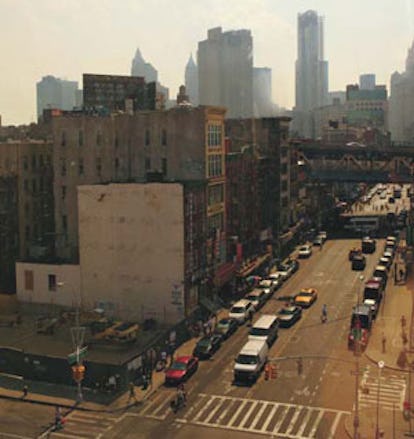 When was it exactly?
It depends who you ask. For Salon 94's Jeanne Greenberg Rohatyn, it was 2007, the first time she walked up Freeman Alley, on her way to dinner with Marilyn Minter. For the Museum of Modern Art P.S. 1's Klaus Biesenbach, it was about 2004, when he stumbled into Reena Spaulings's gallery on Grand Street and wondered where he was. For Bureau's Gabrielle Giattino, it was back in 2001, after Michele Maccarone opened her space with a full-building installation by Christoph Büchel. Angela Westwater can trump them all: The longtime co-owner of Sperone Westwater remembers feeling that Manhattan's Lower East Side had shifted into some new, major gear when she went to visit Roy Lichtenstein at his studio on the Bowery in 1970.
Whenever it sprouted, there is no doubt that the Lower East Side art scene is now in full bloom. Once characterized by scrubby art projects and meta-galleries that felt as if they had moved into the area's cramped, low-ceilinged storefronts under the auspices of the Homestead Act, today the neighborhood proves that Chelsea has not cornered the market on Benjamin Moore Decorators White—or on name-brand architects. Sprinkled throughout the 10002 zip code but increasingly organized around Bowery at Rivington and Orchard at Hester, more than 60 galleries fuel the L.E.S. scene, many of them opened within the past three years.
The area received an important injection of credibility when Chelsea's Lehmann Maupin gallery, which represents big-name artists like Tracey Emin and Gilbert and George, opened a second location there in 2007. "Opening here was an opportunity to appeal to a more cutting-edge, younger crowd," says Rachel Lehmann, a partner in the gallery. "Now, we see the critics coming down here on Sunday." That same year, the Bowery Hotel colonized what had once been considered Skid Row. And, just as Chelsea had Dia's flagship luring the art world to the neighborhood back in the Nineties, the Bowery got its own cultural heavyweight, when the New Museum moved into its new seven-story home, designed by the Japanese firm SANAA. This, plus the Cooper Union's Thom Mayne–designed academic building at the Bowery's north end, and the new Norman Foster–designed Sperone Westwater gallery, explains why architecture wags have taken to calling this once destitute stretch of pavement "Pritzker Place." Greenberg Rohatyn is opening her biggest Salon 94 space there in September, and earlier this year the street received Keith McNally's blessing with his pizza restaurant, Pulino's.
As the Bowery gets glammed up, the south end of Orchard Street is trying to stay true to its anarchic roots, but gentrification is also happening there. Most significant, the cerebral heyday of the gallery as theoretical art project seems to be pretty much on its last legs. The fabled Orchard—the experimental, experiential art-space-thingy, run for three years by 12 partners who probed the links between art, commerce, and politics with sharp-edged group shows—is gone. Spaulings's It-spot mantle has been spirited away by On Stellar Rays, which this year managed to get four artists into "Greater New York," at P.S. 1. The free-floating endeavor called Dispatch—whose directors would find spaces, then create and curate shows—has become the stolid-sounding Bureau, a real gallery with a street-level space, an artist roster, and a schedule. And the cool but confusing Rental gallery has been renamed Untitled and moved from its weird East Broadway location to a big space nearby.
Still, abstract thinking hasn't completely given way to polished concrete. Michele Maccarone decamped to the West Village, and Mirabelle Marden's pioneering Rivington Arms (and its star artist, Dash Snow) is no more; but the four artist-partners behind Canada are still showing sui generis work, like the obsessively geometric paintings of Xylor Jane (a beekeeping recluse in western Massachusetts), or the large West African idol made of wood, clay, and plaster designed by Polish artist Joanna Malinowska with the intention of making the world implode. ("It didn't work," Suzanne Butler, one of Canada's partners, notes drily.) And plenty of gallerists—an impressive number of them women, including Lisa Cooley, Laurel Gitlen, Rachel Uffner, Participant Inc's Lia Gangitano, and On Stellar Rays' Candice Madey—are cultivating a colorful DIY aesthetic that permeates everything from performance to painting. The hilarious videos shown last year at Participant by the Los Angeles performance collective My Barbarian put a comic spin on the banalities of modern life: In one episode a woman tries to marry her extraterrestrial lover to get a better insurance plan, but is turned down because the alien is the same sex as she.
"It's more improvised here, and that's what I like," says Biesenbach, who moved to the nearby Seward Park co-op complex four years ago. When it came to selecting works for "Greater New York," he notes that it was no accident that so many of the show's artists came from L.E.S. galleries. "A little over a year ago, I was walking up Orchard Street, and I noticed a pirate standing on the street. He said 'Come downstairs!' I saw it was On Stellar Rays, and there was a crazy performance by Debo Eilers; then I went upstairs, and there was a fantastic show by Tommy Hartung. Both of them ended up in 'Greater New York.'"
Hartung's was fairly minimal: a glowing fish tank inhabited by two live koi and a video re-creating a 1973 BBC documentary about evolution. Meanwhile, the Eilers piece, Four-Hour Fundamental, was a spoof of art school that included a smoke machine, seedy green lights, and pheromones, as well as a cast of young artists selling things like T-shirts, pills, and one-night stands. Eilers stood by in what Madey describes as a "hoodie G-string."
But a big component of the scene's anarchic oomph is not in the art but in the framework around it. "Part of it is just the small physical size of the galleries," explains Cooley. "When you come in here, you talk to me. It's like those eight-seat restaurants where the chef brings you your food, or how the Swiss Institute and Margaret Lee had a crazy dance party at this space on Canal, and Lee thought, Hey, this could be a space for me; and now that's her gallery, 179 Canal. So it's really a social connectivity that leads to inventiveness—you know, Hey, wouldn't this be a great idea?"
Unlike Chelsea, there's a scarcity of high ceilings and wide walls on the Lower East Side's tenement-lined streets. The focus here is on thinking outside the white box, for artists and dealers alike. "I could never move!" exclaims Miguel Abreu, whose claustrophobic, postage stamp–size space at Hester and Orchard was one of the first in the neighborhood, and whose high-quality, small-scale conceptual program has helped define Lower Orchard art. "It would be a complete and total betrayal of everything I've worked for, in a spiritual sense."
So if the perfect big white cube became available—say, next to the New Museum—he would of course have to say no, right?
"Spiritually," he says, chuckling. "But businesswise? That's another story."
Barbra (2010), by Sara Greenberger Rafferty, at Rachel Uffner Gallery

Photographer: Michael Schmelling
The view from Rental Gallery, at East Broadway and Allen Street

Photographer: Michael Schmelling
The installation of We Care About You (2010), by Andy Coolquitt, at Lisa Cooley

Photographer: Michael Schmelling
An exhibition at Salon 94 Bowery, including Richard Prince's Untitled (T-Shirt)

Photographer: Michael Schmelling
Canada partner Wallace Whitney with various artwork

Photographer: Michael Schmelling
J.J. Peet's Hedge (2009), at On Stellar Rays

Photographer: Michael Schmelling
Outside Brown Cafe, the unofficial artsy hangout of the L.E.S.

Photographer: Michael Schmelling
Photographer: Michael Schmelling
Andy Coolquitt's Temp/Perm (detail, 2010), at Lisa Cooley

Photographer: Michael Schmelling
Photographer: Michael Schmelling