Louis Vuitton Releases a Transportative New Fragrance Line, Complete with Léa Seydoux as Muse
It's been 70 years since storied label Louis Vuitton last put out a fragrance. Now they're back, and they've recruited perfume genius Jacques Cavallier to revive the line and French actress Léa Seydoux as muse.
---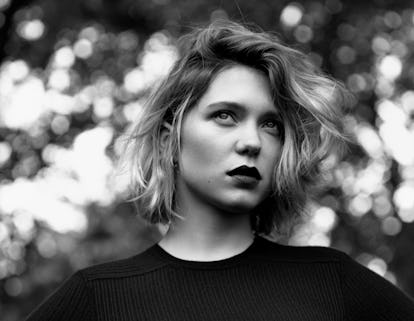 Louis Vuitton / Alasdair McLellan
Some things should not be rushed. When Louis Vuitton, the venerable fashion house with a history steeped in fine leather goods, decided to re-enter the fragrance world, it had been seventy years since its last one. And so it is with great and impossibly chic fanfare that Les Parfums Louis Vuitton launches tomorrow, having found the ideal muse in French actress Léa Seydoux. The collection of seven fragrances were created by genius perfumer Jacques Cavallier, the genius behind such game-changing scents as Issey Miyake's L'eau d'Issey and Stella by Stella McCartney.
"The philosophy of my creations are to celebrate femininity," Cavallier explained at a recent presentation. "A lot of people ask me if I think of a very precise type of woman when I create a perfume, and I always say no. Every woman is different." So different, in fact, that two of the scents lean rather far into the classic men's arena with notes of leather and woods (Contre Moi and Matière Noire, respectively). If you're into feminine florals, however, not to worry. One whiff of the lily of the valley-based Apogée or Rose des Vents will transport you to Cavallier's own gardens in Grasse. My favorite, Turbulence, seems to hold special meaning to the perfumer.
"My father and I were walking through our garden at midnight in August when the smell of jasmine met the smell of tuberose, and we just stopped," he recalled. "It was a very silent smell. My father, also a perfumer, turned to me and said, 'I'm still impressed by that smell.' I captured that moment in my head." I'm a sucker for a good father-son perfumer story. At Vuitton boutiques, exclusively.