Dress Code
Leviev spins a clothes encounter into an Art Deco–inspired jewelry collection.
---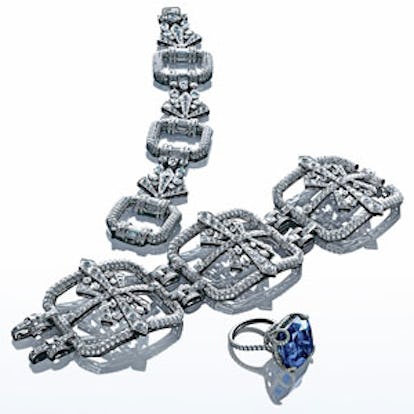 The story of Leviev's Art Deco collection begins, intrigu­ingly, with a dress. And not just any flirty frock, but a floor-sweeping couture gown from John Galliano's early days at Dior—embroidered and fringed, with beaded strands trailing across its open back. After hitting the Paris runway in 1998, the gown made its next public appearance nearly a decade later, when model Jessica Stam wore it to the 2007 Costume Institute gala celebrating the Paul Poiret exhibit at New York's Metropolitan Museum of Art. Paparazzi flashbulbs popped. A flaxen-haired Stam posed. And the shot went round the world in fashion glossies and on style blogs.
Jessica Stam at the 2007 Costume Institute gala.
"I just fell in love with the dress," recalls Leviev lead designer Jeeyun Kim, who first came across the image while flipping through a magazine. "It was so beautiful, and the patterns were terrific. I thought, This is a great motif to use." So she approached company higher-ups and made a personal request to launch a Deco-inspired line—an unusual bid for a firm whose designs revolve around a more classic, ladylike sensibility, as in the 40-carat sapphire ring pictured above. "I knew I could translate it into something uniquely Leviev," she says. Kim got the green light.
Following the company's MO, the designer edged away from the fanciful look of the Twenties and took a cleaner, more streamlined approach to the gown's swirling, mosaiclike patterns. She also folded in a subtle peacock theme, seen in the dangling chandelier earrings, which mimic the bird's flamboyant feathers. "It's a famous motif from the era," Kim explains. Though the Dior dress is a panoply of rich blues, greens and yellows, she kept to an all-white diamond palette for the five limited-edition pieces.
As for the period's penchant for geometrics, Kim reinforced the motif not only in her designs for the collection—a necklace, two bracelets, a ring and a pair of earrings—but also in the diamonds themselves. The rocks, totaling more than 100 carats, come in a myriad of shapes, including square, round, oval and marquise. "We have the best stones," Kim says of Leviev, which owns a number of mines in Angola, Namibia and Russia. "I wanted to give them a story, a life. It's all about the diamonds."
Styled by Brooke Magnaghi. Stam: Steve Eichner