Lil Uzi Vert Says Going to the Grammys Is "Whatever," He Just Wants to Go Shopping
It's all in a day's work for the "Bad and Boujee" singer.
---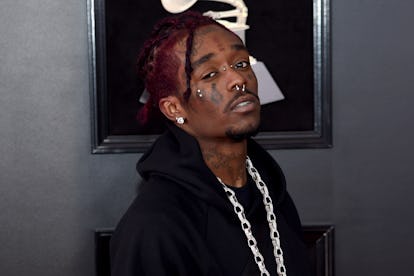 Jamie McCarthy/Getty Images
There are two types of Grammy nominees in the world: Those who can't contain their excitement on the red carpet, and those who can take or leave the whole ordeal. Lil Uzi Vert, nominated for Best New Artist and Best Rap Performance for his feature on "Bad and Boujee," is definitely the latter. On his way into Sunday night's ceremony, the rapper chatted with E! News' Giuliana Rancic and proved just how apathetic he apparently felt toward not only the red carpet preshow but also the entire Grammys machine.
When Rancic asked how he was feeling before the show began, undoubtedly expecting to hear him gush about how exciting the Grammys are, Lil Uzi Vert instead responded, "I'm feeling normal." Rancic attempted to push him, asking if he was excited about his nominations, but he deadpanned, "Uh, this is normal. This is my life, so it's whatever." The "Money Longer" artist did perk up a little when Rancic asked how he would react if he won Best New Artist later in the night. "If I win, I'm just going to think about everything I'm going to buy the next day," he said. "You know I like to shop. So, shopping." He also expanded upon what exactly he would buy: "Gosha [Rubchinskiy] just dropped a new collab with Burberry, and it's very nice. I got to get everything."
Another of Lil Uzi Vert's stoic answers to Rancic's enthusiastic questions is already sweeping the Internet. Before she let him go, Rancic asked what's next for the artist, who thought for a second before responding, "Waking up. Eating some Pop-Tarts." Same, Uzi.
Related: Lil Uzi Vert and the 6 Soundcloud Rappers Who Could Be Rock Stars
Grammys 2018: See Lady Gaga, Cardi B, and More of the Biggest Stars in Music on the Red Carpet
Lady Gaga attends the 60th Annual GRAMMY Awards at Madison Square Garden on January 28, 2018 in New York City. (Photo by Kevin Mazur/Getty Images for NARAS)

Kevin Mazur
Cardi B attends the 60th Annual GRAMMY Awards at Madison Square Garden on January 28, 2018 in New York City. (Photo by Kevin Mazur/Getty Images for NARAS)

Kevin Mazur
Lana Del Rey attends the 60th Annual GRAMMY Awards at Madison Square Garden on January 28, 2018 in New York City. (Photo by John Shearer/Getty Images)

John Shearer
Camila Cabello attends the 60th Annual GRAMMY Awards at Madison Square Garden on January 28, 2018 in New York City. (Photo by Steve Granitz/WireImage)

Steve Granitz
SZA attends the 60th Annual GRAMMY Awards at Madison Square Garden on January 28, 2018 in New York City. (Photo by Lester Cohen/Getty Images for NARAS)

Lester Cohen
Jaden Smith attends the 60th Annual GRAMMY Awards at Madison Square Garden on January 28, 2018 in New York City. (Photo by John Shearer/Getty Images)

John Shearer
Kesha attends the 60th Annual GRAMMY Awards at Madison Square Garden on January 28, 2018 in New York City. (Photo by John Shearer/Getty Images)

John Shearer
Janelle Monae attends the 60th Annual GRAMMY Awards at Madison Square Garden on January 28, 2018 in New York City. (Photo by Jamie McCarthy/Getty Images)

Jamie McCarthy
Elton John attends the 60th Annual GRAMMY Awards at Madison Square Garden on January 28, 2018 in New York City. (Photo by Kevin Mazur/Getty Images for NARAS)

Kevin Mazur/Getty Images
Kelly Clarkson carries a white rose at the 60th Annual GRAMMY Awards at Madison Square Garden on January 28, 2018 in New York City. (Photo by Kevin Mazur/Getty Images for NARAS)

Kevin Mazur
Tyler, the Creator attends the 60th Annual GRAMMY Awards at Madison Square Garden on January 28, 2018 in New York City. (Photo by Jamie McCarthy/Getty Images)

Jamie McCarthy
Rita Ora attends the 60th Annual GRAMMY Awards at Madison Square Garden on January 28, 2018 in New York City. (Photo by Kevin Mazur/Getty Images for NARAS)

Kevin Mazur
Pink with her daughter Willow Sage Hart attend the 60th Annual GRAMMY Awards at Madison Square Garden on January 28, 2018 in New York City. (Photo by Lester Cohen/Getty Images for NARAS)

Lester Cohen
Cyndi Lauper attends the 60th Annual GRAMMY Awards at Madison Square Garden on January 28, 2018 in New York City. (Photo by Christopher Polk/Getty Images for NARAS)

Christopher Polk
Nick Jonas attends the 60th Annual GRAMMY Awards at Madison Square Garden on January 28, 2018 in New York City. (Photo by Jamie McCarthy/Getty Images)

Jamie McCarthy
Hailee Steinfeld attends the 60th Annual GRAMMY Awards at Madison Square Garden on January 28, 2018 in New York City. (Photo by Kevin Mazur/Getty Images for NARAS)

Kevin Mazur
DJ Khaled and his son Assad attends the 60th Annual GRAMMY Awards at Madison Square Garden on January 28, 2018 in New York City. (Photo by Lester Cohen/Getty Images for NARAS)

Lester Cohen
Miley Cyrus carries a white rose at the 60th Grammy Awards on January 28, 2018, in New York. (ANGELA WEISS/AFP/Getty Images)

ANGELA WEISS