Lil Yachty, Teenage Rapper, Is the New Creative Director of Nautica
Lil Yachty, the 19-year-old rapper from Atlanta, is the new creative director of Nautica.
---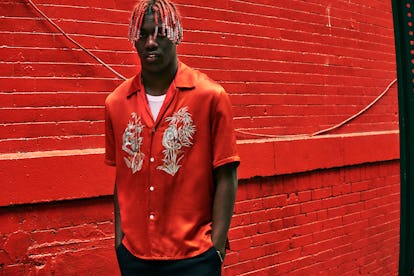 When two parties simultaneously play themselves and each other — in the DJ Khaled sense of the phrase — the action cancels itself out, leaving both sides with something mutually beneficial and, if done right, something (almost) genuine.
Such is the relationship between the 19-year-old Atlanta rapper Lil Yachty and Nautica, a sportswear and sailing brand founded in 1983. On Friday, it was announced that the teenager, whose only experience in the fashion industry is cultivating what some call "influence," would be the brand's new Creative Director. This grand gesture follows Lil Yachty's previous role as the face of Nautica's capsule collection with Urban Outfitters last year.
Lil Yachty's duties as Creative Director include designing capsule collections and appearing in digital and social media advertising campaigns. And lucky for Nautica, he's already intimately familiar with the customer base: "It's for kids, sailors, grown men and cool people," he told WWD. So far, though, Lil Yachty has only released his brand "favorites" on the Nautica website, which include vintage-inspired bucket hats, fleeces, and striped sweaters.
Although it may seem like a frivolous attempt to leach off-of a young person's somewhat perplexing Internet fame, Lil Yachty's appointment is a smart one on Nautica's part — and not just to tap his over one million followers. With the help of his retro-inspired look, the brand can perhaps ride the current '90s sportswear revival wave along with Champion, FILA, and Kappa — all of which have Gosha Rubchinskiy and Demna Gvasalia to thank for their recent insertion into high fashion.
And as for Lil Yachty, who calls his current crew the Sailing Team, Nautica is a natural choice. Nautica is to Lil Yachty as Gucci is to Gucci Mane. In fact, when we spoke with him back in May 2016, he stuck his hand down his Nautica boxers and exhaled, "I just want to be mainstream."