Lili Reinhart and Cole Sprouse Have a Quiet Relationship Update
Are they together or not?
---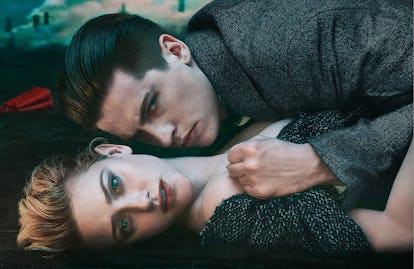 Photograph by Steven Klein; Styled Arianne Phillips.
Finally, we have answers.
Cole Sprouse and Lili Reinhart, who recently posed together for a W cover, have been hounded by breakup rumors for months. But in a new interview with Coveteur, Reinhart casually confirmed that the two are indeed together.
When the publication asked about the actress's Halloween plans, she smoothly dropped that she and Cole are dating again (if they ever broke up at all) in the midst of a conversation about her makeup hobby.
"I am [skilled at special-effect makeup]!" Reinhart said. "Oh my god, I haven't done that in a really long time, actually. I kind of went from special-effects makeup to face painting. So I've done a lot in the past. Now I don't really have the time, which sounds so stupid, but I really don't. It takes a lot of time to do those things. I think I'm leaning in towards a character for Halloween. I think I'm going to do it with my boyfriend, Cole. I don't want to spoil it if it's not going to happen, but it's a TV duo."
We hope they make it happen. Who do you think it is? Ross and Rachel? Jerry and Elaine? Angelica and Jordan? Corey and Topanga? Shiv and Tom?
Reinhart also addressed her relationship in her W cover story. "At first, I didn't want things private," she said of her relationship with Sprouse. "Now that I'm X amount of years in, I do appreciate the privacy we have, that he's encouraged me to take. No one knows how long we've been together, and no one will until we're ready to say it. No one knows how we fell in love, except for our close friends and us. It's really special."
"If and when we break up on the show, I don't know," she added. "It's weird being with an actor. You deal with shit no one has to deal with."
Related: Lili Reinhart and Cole Sprouse: On Relationships, Riverdale, and What the Future Holds
How Cole Sprouse Went From Disney Child Star to Internet Heartthrob
Dylan Sprouse and Cole Sprouse during 2000 MTV Movie Awards at Sony Studios in Culver City, California, United States.

Getty
Cole Sprouse and Dylan Sprouse during Star Wars: Episode II – Attack of the Clones Charity Premiere at Grauman's Chinese Theater in Hollywood, California, United States.

Getty
Cole Sprouse & Dylan Sprouse during The Crocodile Hunter: Collision Course Premiere at Arclight Cinerama Dome in Hollywood, California, United States

Getty
Dylan Sprouse and Cole Sprouse during Nickelodeon's 20th Annual Kids' Choice Awards at Pauley Pavilion in Westwood, California, United States.

Getty
Dylan Sprouse and Cole Sprouse during Pirates of the Caribbean: Dead Man's Chest World Premiere at Disneyland in Anaheim, California, United States.

Getty
Cole Sprouse and Dylan Sprouse arrive at the 2008 Power Of Youth benefit for St. Jude on October 4, 2008 in Los Angeles, California.

Getty
Cole Sprouse and Dylan Sprouse attend Variety's 3rd annual "Power of Youth" event held at Paramount Studios on December 5, 2009 in Los Angeles, California.

Getty
Dylan Sprouse and Cole Sprouse arrives at the Disney and ABC's "TCA – All Star Party" on July 17, 2008 at the Beverly Hilton Hotel in Beverly Hills, California.

Getty
Cole Sprouse arrives to teach a Master Workshop on acting by Dylan Sprouse and Cole Sprouce, hosted by Celebrity Talent Academy and Starlight Children's Foundation at the Cochrane Theatre on January 29, 2011 in London, England.

Getty
Cole Sprouse and brother Dylan Sprouse arrive at Miley Cyrus` "Sweet 16″ Celebration" at Disneyland on October 5, 2008 in Anaheim, California.

Getty
Cole Sprouse attends the Entertainment Weekly & People Upfronts party 2016 at Cedar Lake on May 16, 2016 in New York City.

Getty
Cole Sprouse attends The CW Network's 2016 New York Upfront at The London Hotel on May 19, 2016 in New York City.

Getty
Cole Sprouse arrives at Entertainment Weekly's Annual Comic-Con Party at Float at Hard Rock Hotel San Diego on July 23, 2016 in San Diego, California.

Getty
Cole Sprouse and K.J. Apa attend BuzzFeed and The CW's Riverdale Presents Pep & Rally on March 11, 2017 in Austin, Texas.

Getty
Cole Sprouse attends the "Riverdale" panel at WonderCon 2017 – Day 1 at Anaheim Convention Center on March 31, 2017 in Anaheim, California.

Getty
Cole Sprouse attends H&M Loves Coachella Tent during day 1 of the Coachella Valley Music & Arts Festival (Weekend 1) at the Empire Polo Club on April 14, 2017 in Indio, California.

Getty
Cole Sprouse attends the 2017 PaleyLive LA Spring Season "Riverdale" screening and conversation at The Paley Center for Media on April 27, 2017 in Beverly Hills, California.

Getty
Cole Sprouse poses during a photocall to promote Riverdale at Four Season Hotel on April 06, 2017 in Mexico City, Mexico.

Getty
Cole Sprouse attends the 2017 CW Upfront on May 18, 2017 in New York City.

Getty