Lily Aldridge Walked the Brandon Maxwell Show Pregnant at New York Fashion Week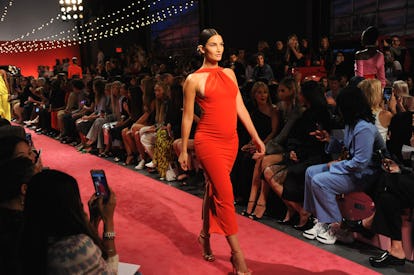 Photo by Desiree Navarro/WireImage
You know that old New York Fashion Week proverb: It's Fashion Week even when you're pregnant, and you're still pregnant even when it's fashion week. So supermodel Lily Aldridge simply walked the Brandon Maxwell runway with her bump on full display in a clingy red gown, towering on stilettos that would make even the least fertile among us wobble.
"So proud to walk the @brandonmaxwell runway 5 months pregnant!" Aldridge wrote on Instagram. "I've walked few runways in my life and this is a moment that I'll look back on forever with great emotion ❤️ Thank you Brandon for letting my shine & being such a true gentleman, Love you FOREVER!!! … It was so much fun being backstage will all the girls, everyone was so uplifting and rubbing my belly celebrating this beautiful journey with me ?? Nothing but Empowerment at Brandon Maxwell❤️❤️❤️❤️"
Fans were quick to praise Aldridge for bringing a little maternity glamour to fashion week.
Aldridge was joined on the salmon-colored runway by other high-profile faces like Taylor Hill, Gigi Hadid, Bella Hadid, Joan Smalls, and Stella Maxwell. Also walking in the show were recently announced Victoria's Secret Fashion Show participants Yasmin Wijnaldum, Isilda Moreira, Cindy Bruna, and Grace Elizabeth.
The show featured red, white, and blue decorations, lights overhead, and what looks like an SUV at the top of the runway.
If this child follows in the footsteps of, say, Kaia and Presley Gerber and becomes a model like Mom, they can say they've been doing New York Fashion Week shows since literally before they were born. In fact, motherhood may have been the secret theme of the show. At the end, Maxwell greeted the audience on the arm of his own mom:
And maybe Bella can babysit? The younger Hadid was spotted feeling Aldridge's bump backstage, as the soon-to-be mother of two took advantage of New York's first cold snap to get cozy in a sweater.
The red look has already inspired a piece of fan art, comparing Aldridge to a panda—in a good way! A fashion panda:
Looks like we have a frontrunner for It baby of 2019.
Related: Lily Aldridge Firmly Believes in Wearing a Swimsuit as a Top, Even When She's Not in the Bahamas
Emily Ratajkowski's Retro Bob, Lily Aldridge's Denim Eyes, and More of This Week's Best Beauty Moments
Emily Ratajkowski wears a short bob wig. Photo courtesy of Instagram.
Lily Aldridge wears blue eye shadow. Photo courtesy of Instagram.
Stella Maxwell wears curled tendrils. Photo courtesy of Instagram.
Laura Harrier wears long braids. Photo courtesy of Instagram.
Jasmine Tookes wears loose curls. Photo courtesy of Instagram.
Maria Borges wears red lips. Photo courtesy of Instagram.
Zendaya wears highlighted lids. Photo courtesy of Instagram.
Soo Joo wears blonde bangs. Photo courtesy of Instagram.
Hailee Steinfeld wears big curls. Photo courtesy of Instagram.
Halima Aden wears glossy lips. Photo courtesy of Instagram.