Victoria's Secret Fashion Show 2018: All the Models Confirmed So Far, From Winnie Harlow to Barbara Palvin
It's VSFS time again, loves.
---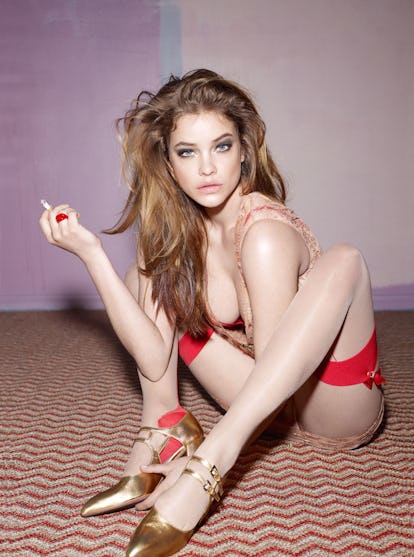 Gucci dress and shorts; Carine Gilson bra and corset; Agent Provocateur stockings; Solange Azagury-Partridge ring; Prada shoes. Photography by Mert Alas and Marcus Piggott Styled by Edward Enninful
Christmas comes but once a year. Also once a year? Model Christmas, also known as the annual Victoria's Secret Fashion Show. In anticipation of this year's show, following casting calls this week, models are starting to announce that they will be walking for the iconic lingerie brand. We don't know yet who will get the coveted wings or wear the $2 million Fantasy Bra (it's tradition, okay?), but the lineup is starting to come together. See below for the names of the models who have confirmed so far.
First and foremost, Winnie Harlow is finally getting her shot:
Filipino-American model Kelsey Merritt will become the first Filipina model to walk in a Victoria's Secret show, according to NextShark.
Sadie Newman will also be walking in the show for the first time:
18-year-old Alannah Walton is "living the dream," too:
Sabah (not Subah, peep the Instagram bio) Koj:
Georgia Fowler will return for a third show (FYI, if you're wondering why all of these posts are with similar street-style pics, they're from the models entering and exiting the casting callbacks on September 5):
Just like Herieth Paul, also in her third year:
Alongside Estelle Chen, back for her second show:
Devon Windsor, who has even worn wings, will return to the stage:
Maia Cotton, meanwhile, is thrilled to be making her VSFS debut:
Just like the super-excited Lorena Rae:
Iesha Hodges even popped champagne to celebrate:
After going to castings four years in a row, Melie Tiacoh's hard work paid off, and she made it in:
The dream also came true for Isilda Moreira:
Sofie Rovenstein was downright overwhelmed:
Gizele Oliveira thanked her supporters and helpers:
Barbara Fialho must like working with Victoria's Secret quite a bit, because she will be back for her seventh show:
Nadine Leopold is returning, too:
Frida Aasen is coming back for her second show, which she called the "best surprise":
Here's a heartwarming tale for you: Josie Canseco, daughter of the baseball legend Jose Canseco, tried out for the show last year but didn't make it past the callback. In August, she posted to Instagram, ":( NEXT TIME. I WONT LET YOU GUYS DOWN." And she was right! She made it this year:
Mainstage mainstay Toni Garrn will wear the wings once more:
As will Maggie Laine:
And Kelly Gale:
And Jourdana Phillips:
And Cindy Bruna, too:
They'll be joined by an over-the-moon Mayowa Nicholas:
Barbara Palvin got so excited she literally shot off a rocket:
Redhead Alexina Graham was appropriately fired up:
Despite her pout (she is a model, after all), Yasmin Wijnaldum claims excitement:
Shanina Shaik found out while she was in four hours' worth of makeup, so she couldn't cry, but she did celebrate:
Alanna Arrington celebrated her third year with VS by posting adorable throwbacks to a very early photoshoot:
Whereas Leomie Anderson had a picture of herself on the VS runway ready to go:
Zuri Tibby even had two:
While Megan Williams was more reflective:
Cheyenne Maya Carty was rendered speechless:
Lameka Fox should get extra points for working the company logo into her announcement post:
Though Myrthe Bolt got creative, too:
The classy Grace Bol kept it chill and humble:
Though they haven't confirmed via social media, this incredibly helpful thread also lists Grace Elizabeth, Aiden Curtiss, and Sui He as Victoria's Secret Fashion Show participants.
Related: Winnie Harlow Will Finally Walk in the Victoria's Secret Fashion Show and Couldn't Be Happier About It