Josie Canseco, Baseball Player Jose Canseco's 21-Year-Old Daughter, Really Wants to Be a Victoria's Secret Angel
The 21-year-old model Josie Canseco attended a casting call for the 2017 Victoria's Secret fashion show in New York City.
---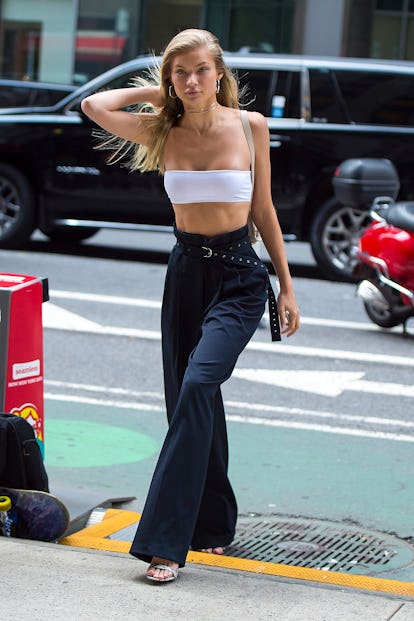 Gotham
Yesterday, a slew of aspiring Angels descended upon New York City to attend the casting call for the 2017 Victoria's Secret Fashion Show. Among the heavenly hopefuls were Hailey Baldwin—whose besties Kendall Jenner, and Gigi and Bella Hadid are already alumna of the annual extravaganza—Taylor Hill's younger sister Mackinley Hill, and one unfamiliar blonde in a white bandeau and high-waisted pants that drew her fair share of attention.
As it turns out, like Baldwin and Hill, the newcomer also comes with a famous last name: Canseco, as in former baseball star and The Surreal Life cast member Jose Canseco. As it turns out, the athlete is father to a stunning 21-year-old aspiring model named—wait for it—Josie.
According to her Instagram page, Canseco, whose mother is former Playboy model Jessica Canseco, is signed to Next Models, which also represents fellow scions Immy Waterhouse, Langley Fox Hemingway, Lily McMenamy, and Anna Cleveland, and has been hitting the gym hard recently in preparation for her big Victoria's Secret audition.
Just a few hours after pictures of her heading into the casting hit the Internet, however, the model took to her Twitter to let her followers know that she would not be getting a pair of wings this time around. "didn't get the show this year 🙁 NEXT TIME. I WONT LET YOU GUYS DOWN," she wrote to her 66,000 plus followers. "honestly I feel so incredibly defeated but it's OK. good things come to those who wait, im only gonna work harder," she continued. "I've been blessed to live a very privileged life, and this is so humbling, I don't think I would have wanted it differently to be honest." She finished the message on a positive note: "don't get me wrong, I worked INCREDIBLY hard for this and to be where I am, but everything happens for a reason. only motivating me more."
She may not have booked the show, but she's certainly well on the way to making a name for herself in the modeling world—and on the Internet. On Instagram, Canseco frequently posts modeling shots, often wearing a bikini on the beach, to her 296,000 followers. Back in June, she walked in the Moschino resort runway show, and has appeared in campaigns for Victoria's Secret PINK, indicating that her future plans for the fashion show may not be far off.
Of course, no model scion is anything without a equally famous squad. Amongst those who have made an appearance on Canseco's Instagram are Sailor Brinkley Cook, former Scott Disick-fling Christine Burke, and America's Next Top Model alum CoryAnne Roberts. Earlier this year, she also made headlines for reportedly dating Tyga, fresh off his Kylie Jenner breakup, after the two were spotted chatting in Miami. However, the model has been in a relationship with rapper Mike Stud for over a year—so should those Victoria's Secret dreams come true, there won't be any bad blood between her and Kendall Jenner. Phew.
What Hailey Baldwin, Mackinley Hill, and More Aspiring Angels Wore to the Victoria's Secret Fashion Show Casting
Model Hailey Baldwin attends call backs for the 2017 Victoria's Secret Fashion Show in Midtown on August 21, 2017 in New York City. Photo by Gotham/GC Images.

Gotham
Model Cindy Bruna attends fittings for the 2017 Victoria's Secret Fashion Show on August 21, 2017 in New York City. Photo by Timur Emek/GC Images.

Timur Emek
Model Amilna Estevao attends call backs for the 2017 Victoria's Secret Fashion Show in Midtown on August 21, 2017 in New York City. Photo by Gotham/GC Images.

Gotham
Model Hailey Clauson attends castings for the 2017 Victoria's Secret Fashion Show on August 21, 2017 in New York City. Photo by Timur Emek/GC Images.

Timur Emek
Model Grace Mahary attends call backs for the 2017 Victoria's Secret Fashion Show in Midtown on August 21, 2017 in New York City. Photo by Gotham/GC Images.

Gotham
Model Flavia Lucini attends call backs for the 2017 Victoria's Secret Fashion Show in Midtown on August 21, 2017 in New York City. Photo by Gotham/GC Images.

Gotham
Model Jasmine Tookes attends call backs for the 2017 Victoria's Secret Fashion Show in Midtown on August 21, 2017 in New York City. Photo by Gotham/GC Images.

Gotham
Model Ming Xi attends call backs for the 2017 Victoria's Secret Fashion Show in Midtown on August 21, 2017 in New York City. Photo by Gotham/GC Images.

Gotham
Model Lameka Fox attends call backs for the 2017 Victoria's Secret Fashion Show in Midtown on August 21, 2017 in New York City. Photo by Gotham/GC Images.

Gotham
Model Leomie Anderson attends call backs for the 2017 Victoria's Secret Fashion Show in Midtown on August 21, 2017 in New York City. Photo by Gotham/GC Images.

Gotham
Model Bruna Lirio attends call backs for the 2017 Victoria's Secret Fashion Show in Midtown on August 21, 2017 in New York City. Photo by Gotham/GC Images.

Gotham
Models Julia van Os, Daphne Groeneveld and Sanne Vloet attend call backs for the 2017 Victoria's Secret Fashion Show in Midtown on August 21, 2017 in New York City. Photo by Gotham/GC Images.

Gotham
Model Martha Hunt attends call backs for the 2017 Victoria's Secret Fashion Show in Midtown on August 21, 2017 in New York City. Photo by Gotham/GC Images.

Gotham
Model Melie Tiacoh attends call backs for the 2017 Victoria's Secret Fashion Show in Midtown on August 21, 2017 in New York City. Photo by Gotham/GC Images.

Gotham
Model Riley Montana attends call backs for the 2017 Victoria's Secret Fashion Show in Midtown on August 21, 2017 in New York City. Photo by Gotham/GC Images.

Gotham
Model Gizele Oliveira attends call backs for the 2017 Victoria's Secret Fashion Show in Midtown on August 22, 2017 in New York City. Photo by Gotham/GC Images.

Gotham
Model Dilone attends call backs for the 2017 Victoria's Secret Fashion Show in Midtown on August 22, 2017 in New York City. Photo by Gotham/GC Images.

Gotham
Models Taylor Hill and Mackinley Hill attend call backs for the 2017 Victoria's Secret Fashion Show in Midtown on August 22, 2017 in New York City. Photo by Gotham/GC Images.

Gotham
Model Jacquelyn Jablonski attends call backs for the 2017 Victoria's Secret Fashion Show in Midtown on August 22, 2017 in New York City. Photo by Gotham/GC Images.

Gotham
Model Charlee Fraser attends call backs for the 2017 Victoria's Secret Fashion Show in Midtown on August 22, 2017 in New York City. Photo by Gotham/GC Images.

Gotham
Model Maartje Verhoef attends call backs for the 2017 Victoria's Secret Fashion Show in Midtown on August 22, 2017 in New York City. Photo by Gotham/GC Images.

Gotham
Related: Lexi Jones, David Bowie and Iman's 17-Year-Old Daughter, Sure Knows How to Rock a Septum Piercing
Watch: 6 Rising Male Models from Famous Families Share Their Biggest Pet Peeves