Breaking: Tom Brady Broke His and Gisele's Diet to Try His First Strawberry
Things just might be over for the notoriously strict couple.
---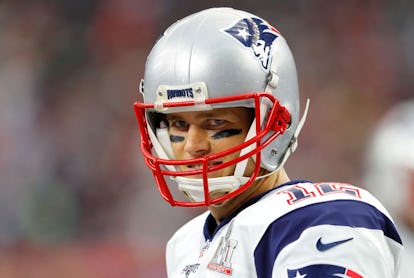 Kevin C. Cox/Getty Images
Forget his new book, The TB12 Method: On Monday night, Tom Brady, notably talented football player and dieter, made a monumental move at the urging of Stephen Colbert on The Late Show. No, he didn't dish the real drama behind Deflategate. Instead, he simply deigned to eat a strawberry—a move that marked both the first time the fruit has ever passed the 40-year-old's lips and also a break from the strict plant-based diet he and his wife Gisele Bündchen have notoriously stuck to for the last few years.
Normally, one would expect that fruit—and especially of the low-calorie, high-nutrient variety—would be an indulgence high up on any obsessive dieter's list (especially for someone who's banned themselves from eating white sugar, white flour, dairy, caffeine, fungus, heated olive oil, peppers, mushrooms, and eggplants; has a once-a-month policy with tomatoes; and considers a bowl of quinoa with wilted greens their comfort food).
Then again, a superstar quarterback and a supermodel are anything but normal. And in case you're wondering if Gisele has been egging Brady on to stick by her side as she follows the required regimen for meeting supermodel standards, don't get the wrong idea: He told Colbert that, at least when it comes to strawberries, he simply hates the smell of them. In September of 2016, he also famously made it more than clear that he's never even considered making room for strawberries in his lifestyle when he casually told the Cut, "I've never eaten a strawberry in my life. I have no desire to do that." (He also added "absolutely not" when pressed.)
In that same interview, Brady also declared it his choice not to drink coffee, which brings us to his next enabling by Colbert on Monday night, this time with a liquid. After Brady detailed the "worst diet"—aka cheeseburgers, pizza, and beer—he followed during his youth and has since abandoned, the host also couldn't help but press him, asking, "You don't drink beer?" Brady's response: "Rarely."
Colbert, of course, conveniently happened to have two glasses of beer right behind his desk. But he also notably left it up to Brady to decide whether a competition would be next—which, after describing himself as a "pretty good beer chugger back in the day," he acquiesced. Brady chugged his beer in an impressive matter of seconds.
"That was good. That was really good," Brady said. He grinned so widely, in fact, that it's hard not to question whether Colbert was maybe trying to build back a bit of the quarterback's confidence. After losing the Super Bowl, Brady said he learned a valuable lesson: "You realize the sun comes up the next morning, your life goes on." That also goes for, you know, tasting strawberries.
Related: Gisele Bündchen and Football: A Timeline of Sideline Cheering and Elevator Rants
Gisele Forever: A Supermodel's Career in Pictures
Gisele Bündchen for Vanity Fair, 2009. Photo © Mario Testino / Taschen.
Gisele Bündchen in "Hothouse Flower," photographed by Juergen Teller, styled by Jane How; W magazine June 2005.
Gisele Bündchen photographed by Juergen Teller for a Sonia Rykiel campaign, 2014. Photo © Juergen Teller / Taschen.
Gisele Bündchen for Vogue Brasil, 2015. Photo © Paulo Vainer / Taschen.
Gisele Bündchen for V Magazine, 2004. Photo © Inez and Vinoodh / Taschen.
Gisele Bündchen photographed by Mario de Janeiro Testino, 2001. Photo © Mario Testino / Taschen.
Gisele Bündchen for Pirelli Calendar, 2006. Photo © Mert Alas and Marcus Piggott / Taschen.
Gisele Bündchen in "Kiss the Sky," photographed by Mert Alas and Marcus Piggott, styled by Alex White; W magazine August 2008.
Gisele Bündchen, 2016. Photo © Taschen.
Gisele Bündchen, 2016. Photo © Taschen.