Lily Aldridge Shows Us How to Do Winter Getaways Like a Supermodel
The new face of Ferragamo breaks down her travel essentials.
---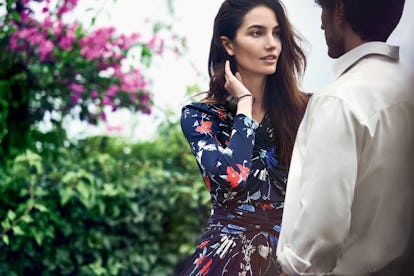 If you're Lily Aldridge—one of the world's biggest models, the wife of a rockstar, a mom, and a card-carrying member of Taylor Swift's squad—it goes without saying that you're going to rack up plenty of frequent flier miles. Between jetting off to Paris for the Victoria's Secret Fashion Show and frequent trips to New York, the Nashville native still manages to make being on-the-go look good. So much so, in fact, that Ferragamo tapped Aldridge to be the face of its Spring 2017 campaign, which captures the heritage of the Italian house by casting the model against the stunning backdrop of Taormina, Sicily. Here, Aldridge reveals what beauty products are always with her, how to save space in your suitcase, and why Disney World is home to her favorite hotel in the world.
What is your favorite winter destination? We went to Montana this winter for New Year's and it was very magical!
What is your favorite mode of travel? Plane, because you can travel across the world to exciting new places. But I think all modes of travel are pretty amazing.
Who is your favorite travel partner? My daughter, Dixie.
What is your go-to uniform when you are traveling? Always something comfortable, and never anything that is super tight.
What is your biggest packing tip? Roll your clothes! That way you can fit more in your suitcase.
Where is your favorite place that you've traveled? I love Turks and Caicos; the water is so beautiful and warm.
What is on your travel bucket list? Tokyo!
What is your favorite hotel in the world? The Four Seasons at Disney World. I absolutely love Disney.
What are your beauty essentials for when you are traveling? Shiseido eye patches.
What are your go-to travel snacks? Lärabars are always in my travel bag.
What is the best souvenir that you've ever picked up on a trip? On a road trip, I found an amazing pair of sunglasses at a gas station truck stop.