Five Minutes with Lily Kwong
The model and It girl shares her beauty secrets.
---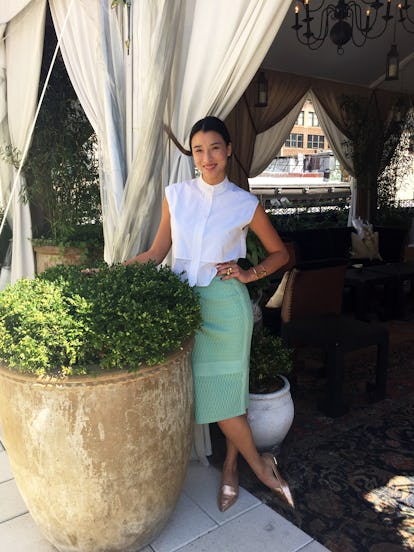 While hosting a lunch at the Nomad Hotel with New York dermatologist Macrene Alexiades (for whose skin care line, 37 Actives, she is an ambassador), model and muse Lily Kwong took a break to chat about her favorite beauty products and earliest memories.
What's in your purse? Dr. Macrene's 37 Actives, and I swear I'm not just saying that because I'm hosting this lunch. I reapply it during the day, especially during weeks like these when you run from shows to dinners. I have a global membership to Equinox, so I'll just pop into the nearest one and use the mirrors in their locker rooms to reapply my makeup, but I always apply 37 Actives first. It makes makeup go on easier. I also have Nars lipstick in Afghan Red, my little roll-on perfume from Diptyque, Chanel mascara and Clarins cream blush.
What's your earliest beauty memory? I vividly remember making perfume with my next-door neighbor Lucy. We'd pick all the rose petals off our rose bush, soak them in a big bowl of water, and then cover ourselves with the water. We thought we were little perfumers! We'd put different little plants in to make different scents. It's funny to think about that now since I'm so passionate about landscape and plant-based materials. So maybe it all started with me and Lucy hunched over our rose water bowl!
What's your biggest beauty bummer? When I began modeling, my skin was ravaged from so many people applying different makeup, using dirty brushes, and being on planes all the time. I had this concentration of acne around my mouth; it was in really bad shape. That kind of thing really shatters your confidence because it's your face. If you're a social person and you want to explore and connect with people, but you're worried about them looking at not just blemishes, but a kind of whole scene on your face, it's kind of debilitating. Then I met [dermatologist] Macrene. Even after a few treatments, she cleared my skin up right away. I discovered that I was allergic to certain makeup, and so I think my biggest beauty bummer was not really considering what I was putting on my skin and how much it was affecting the health of it.
What are you currently obsessed with? My new apartment. I just moved to Bushwick!
10 Models Share their Beauty Secrets