Lily-Rose Depp and Kristen Stewart Buddy Up at Chanel Show
Kaia Gerber also met Hudson Kroenig.
---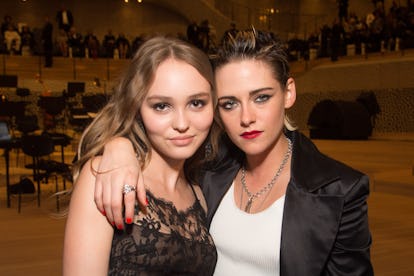 Stephane Cardinale – Corbis
Kristen Stewart and Lily-Rose Depp, two of Karl Lagerfeld's most consistent muses of the moment, buddied up in the front row before Chanel's Metiers d'Art Paris show held in Lagerfeld's hometown of Hamburg, Germany on Wednesday. The pair, who have multiple Chanel campaigns between them, were both adorned in (mostly) head-to-toe Chanel, as if there was any question.
Stewart also seems to be growing her hair out after buzzing it over the summer for a role (ironically, last time she attended a Chanel show she crossed paths with likewise buzzed Katy Perry and Cara Delevingne). She spiked up her fashion mullet a bit, and paired it with a scissored off a-shirt and a padlocked chain. It was a bit of a punk vibe offset by a tuxedo jacket, Chanel pants, a winged cat eye and bold red lips.
Depp, meanwhile, opted for a little black dress with a smokey eye and otherwise subdued makeup.
The show, meant to show off the work of Chanel's artisan craftsmen partners, was held at the Elbphilharmonie, the new Herzog and de Meuron-designed home of the Hamburg Philharmonic Orchestra (that Philharmonic, by the way, played as models walked the runway).
As it turns out, Depp and Stewart weren't the only famous faces to cross paths at the show. Two very important modeling scions also met. Kaia Gerber (Cindy Crawford's daughter in case you're somehow unaware at this point) met Jameson and Hudson Kroenig, frequent faces on the Chanel runway and the sons of male model legend Brad Kroenig.
Related: Meet the Celebrity Stylist Who Has Transformed Kristen Stewart Into a Fearless Fashion Darling
Chanel's Extravagant Métiers d'Art Show in Germany Included Kaia Gerber and Plenty of Hats
Kaia Gerber on the runway at the Chanel Pre-Fall 2018 show in Hamburg, Germany on Wednesday, December 6th. Photo by Cleo Glover for W Magazine.

CLEO GLOVER
Anna Ewers on the runway at the Chanel Pre-Fall 2018 show in Hamburg, Germany on Wednesday, December 6th. Photo by Cleo Glover for W Magazine.

CLEO GLOVER
On the runway at the Chanel Pre-Fall 2018 show in Hamburg, Germany on Wednesday, December 6th. Photo by Cleo Glover for W Magazine.

CLEO GLOVER
On the runway at the Chanel Pre-Fall 2018 show in Hamburg, Germany on Wednesday, December 6th. Photo by Cleo Glover for W Magazine.

CLEO GLOVER
On the runway at the Chanel Pre-Fall 2018 show in Hamburg, Germany on Wednesday, December 6th. Photo by Cleo Glover for W Magazine.

CLEO GLOVER
On the runway at the Chanel Pre-Fall 2018 show in Hamburg, Germany on Wednesday, December 6th. Photo by Cleo Glover for W Magazine.

CLEO GLOVER
On the runway at the Chanel Pre-Fall 2018 show in Hamburg, Germany on Wednesday, December 6th. Photo by Cleo Glover for W Magazine.

CLEO GLOVER
On the runway at the Chanel Pre-Fall 2018 show in Hamburg, Germany on Wednesday, December 6th. Photo by Cleo Glover for W Magazine.

CLEO GLOVER
On the runway at the Chanel Pre-Fall 2018 show in Hamburg, Germany on Wednesday, December 6th. Photo by Cleo Glover for W Magazine.

CLEO GLOVER
On the runway at the Chanel Pre-Fall 2018 show in Hamburg, Germany on Wednesday, December 6th. Photo by Cleo Glover for W Magazine.

CLEO GLOVER
On the runway at the Chanel Pre-Fall 2018 show in Hamburg, Germany on Wednesday, December 6th. Photo by Cleo Glover for W Magazine.

CLEO GLOVER
Hudson Kroenig on the runway at the Chanel Pre-Fall 2018 show in Hamburg, Germany on Wednesday, December 6th. Photo by Cleo Glover for W Magazine.

CLEO GLOVER
On the runway at the Chanel Pre-Fall 2018 show in Hamburg, Germany on Wednesday, December 6th. Photo by Cleo Glover for W Magazine.

CLEO GLOVER
On the runway at the Chanel Pre-Fall 2018 show in Hamburg, Germany on Wednesday, December 6th. Photo by Cleo Glover for W Magazine.

CLEO GLOVER
On the runway at the Chanel Pre-Fall 2018 show in Hamburg, Germany on Wednesday, December 6th. Photo by Cleo Glover for W Magazine.

CLEO GLOVER
On the runway at the Chanel Pre-Fall 2018 show in Hamburg, Germany on Wednesday, December 6th. Photo by Cleo Glover for W Magazine.

CLEO GLOVER
On the runway at the Chanel Pre-Fall 2018 show in Hamburg, Germany on Wednesday, December 6th. Photo by Cleo Glover for W Magazine.

CLEO GLOVER
On the runway at the Chanel Pre-Fall 2018 show in Hamburg, Germany on Wednesday, December 6th. Photo by Cleo Glover for W Magazine.

CLEO GLOVER
On the runway at the Chanel Pre-Fall 2018 show in Hamburg, Germany on Wednesday, December 6th. Photo by Cleo Glover for W Magazine.

CLEO GLOVER
Karl Lagerfeld and Hudson Kroenig on the runway at the Chanel Pre-Fall 2018 show in Hamburg, Germany on Wednesday, December 6th. Photo by Cleo Glover for W Magazine.

CLEO GLOVER