Hear Them Roar: Lion Babe Breaks Out
Lion Babe — the neo-soul duo made up of Jillian Hervey, Vanessa Williams' daughter, and Lucas Goodman — is already making waves and they've only just released their freshman album. Pharrell, Disclosure and Sam Smith are all fans.
---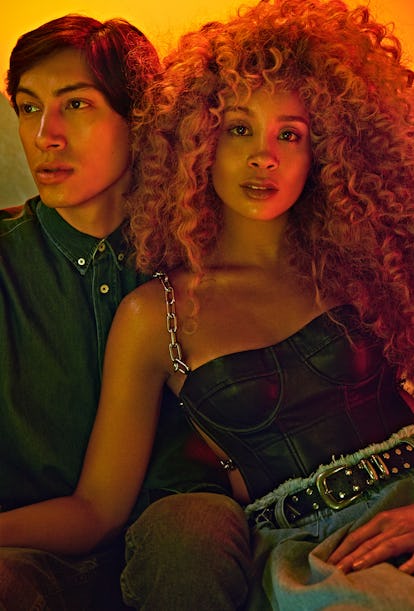 In a cavernous photo studio in Bushwick, Jillian Hervey is dancing on a table to 1990s hits from Missy Elliott, Ghosttown DJ's and Brandy. Her bandmate, Lucas Goodman lounges on a couch snapping pictures of her with a Polaroid camera. "Make 'em good!" she chides him, tossing her giant halo of curls around. "I'm trying—music is more my thing!" he retorts.
Together, Hervey and Goodman are Lion Babe, a neo-soul duo that released its first single in 2013 and first album Begin earlier this year. This isn't their typical Wednesday afternoon, of course, but the fact that they're 26- and 27-year-old children of the '90s means that this photo and video shoot is also nostalgic.
"Ninja Turles, X-Men, Ninendo 64…" Goodman rattles off his hit list of the decade. "Baggy pants!"
They are loose, even silly during the shoot—at one point Hervey is dancing so vigorously that an earring flies out—but earlier that morning, they earnestly discussed their steady rise to popularity, if not quite yet fame, from their makeup chairs.
The pair first met at a mutual friend's party and though they didn't stay in touch per se, they did stay connected via MySpace (talk about a throwback). Later, Hervey reached out to Goodman when she was looking for music for a dance course at the New School, where she was studying dance and liberal arts. But Goodman's music—beats composed on a laptop or sampler—inspired her so much, she began to consider singing.
"It was just the first music that made me think about writing," she tells me. Their first single was called Treat Me Like Fire, a pop-y electronic song that sampled Eunice Collins' At the Hotel. "She had a really raspy soul [sound]," says Hervey. "And I was really just trying to match that and emulate that for that song, and that's just how that tone kind of got birthed."
Goodman, however, had been making music since he was in his preteens, and studied music at Northeastern University, where he traded a guitar for a sampler ("You can't really play music in these tiny little rooms, so I started making beats," he says.) "When we first started to hang out I realized I was like, 'Oh my god, this guy is always on his computer," Hervey says.
Just one year later in 2014, Lion Babe opened for the Irish DJ Annie Mac at South By Southwest. It would prove a fortuitous concert—Childish Gambino overheard the set, and got in touch with them back in New York, helping them finish their second single Jump Hi.
And he isn't their only celebrity fan. They're featured on Disclosure's song Hourglass, and have opened for them in the United Kingdom as well as at a little New York venue called Madison Square Garden. "In the backstage area you see all of the pictures of everyone who's performed there. And it's like why are we here again? But it was awesome," says Hervey.
Their stage presence, certainly, has something to do with their early success. As a former dancer, Hervey prowls the stage with her signature mane of hair (the name Lion Babe was born out of that image and the fact that Goodman's zodiac sign is Leo), dressed in thigh-high python boots, sequined mini dresses and fishnet stockings. "My everyday self is much more casual than my show self," she says. "There's a spectacle and a surrealness that you want to create. The hair started as something for stage to show movement and it's progressed into a whole other thing but that's really fun."
"It needs its own room!" quips Goodman.
Hervey may have also learned a thing or two about performing from her mom, the singer and actress Vanessa Williams. "She has definitely taught me things by example. The best advice is just to handle yourself gracefully," she says. "And drink lots of water."
Perhaps their most notable collaboration to date though is with one Pharrell, who co-wrote and co-produced Wonder Woman on Begin. "Pharell is always saying Buddha-vibe tidbits of information that circulate in your head," says Goodman. "One thing he said to us in that session is that it's important to know what you're good at, and also what you're not good at and where you should get some help. When we signed [with Interscope] it all happened kind of quickly for us and it was a bit of a whirlwind. And he was like, 'What do you want out of this career opportunity?' And I don't think we took time to think about it before he said that because it was like, we're just going."
It seems there will be little time to stop and think about that for now. The W photo shoot took place in between the first and second weekends of Coachella (Hervey had arrived wearing one of the bucket hats Jeremy Scott designed for the festival), where they didn't perform but "partied with Disclosure and Sam Smith, who's becoming our good friend," she says.
Now that the festival is over, they're heading to London to play a few gigs, and are preparing to announce their first ever American headlining tour. This week, they'll also premiere a new song, Jungle Lady Remix Pt. 2 with rap phenom Angel Haze, from their upcoming mixtape Kitty Cash – Love the Free.
But that doesn't mean they're taking any breaks in the meantime. As the shoot wrapped, Goodman looked to Hervey. "The studio is seven minutes away from here," he says. "Are you coming?"
Lion Babe: Children of the 90s, Sound of the Future
Hair by Lucas Wilson for Bumble and bumble, makeup by Fumiaki Nakagawa for Chanel at The Wall Group, manicure by Yuko Tsuchihashi for Susan Price NYC. Set Design by Ian Salter. Produced by Biel Parklee. Photography Assistant And Digital Technician: Amanda Yanez. Set Design Assistant: Colin Phelan. Special Thanks to Katharine Gray, Dune Studios, The Shed, and Madelines Catering.