5 Minutes With Lisa Hoffman
The fragrance maven shares her beauty secrets and latest obsessions.
---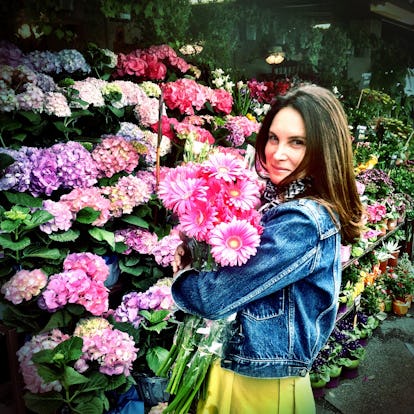 What is your favorite off-label use of a beauty product? I love to use vinegar as a hair rinse. The smell can be potent, but vinegar removes build-up and makes my hair shiny. You want to use about two tablespoons of vinegar (I use apple cider vinegar) for every 1 cup of water (I use distilled). I keep my mixture in an applicator bottle in the fridge and use it in the shower a couple times a week.
What's currently in your purse? Since I usually don't have time to run home after work to re-do my makeup before going out to dinner, I carry a makeup bag in my purse at all times. At the moment it contains Victoria Jackson's "No Makeup Makeup" Foundation Duo, as well as her mascara, Clinique's Chubby Stick in Mighty Mimosa, which I use on my cheeks and lips, Chanel Lèvres Scintillantes lipgloss in Pink Peony, Serge Lutens Eye shadow 1 palette, Color Wow Root Cover Up (to help conceal grays), Charlotte Tilbury Wonderglow, and Visine eye drops, which are essential.
When I fly, I always have Biologique Recherche Oxygenating Mist and the travel-size eau de parfum of Hawaiian Plumeria, my newest fragrance, which comes out in October. It's a warm, tropical scent with notes of shaved coconut, orchids, and salty ocean air.
What are you obsessed with these days? I started using Zoya Nail Polish's Anchor Base Coat and Armor Top Coat, and my manicures seem to last forever. I've been at the beach all summer, and even with all the saltwater, sun, and sand, my manicure lasted for a good two weeks.
What is your first beauty memory? When I was six, my uncle gave me a perfume making kit that I tried to keep hidden away from my ocousins. I remember sneaking into my grandparents' bathroom to take my grandmother's bottle of Chanel No. 5. so I could study its smell and try to replicate it. Of course I had no idea who Chanel was at the time—I just knew it was my grandmother's perfume, and I loved it.
What is your worst beauty mistake? Being a perfumer, people are always taking an extra whiff around me. So back to that vinegar rinse… Always make sure the mixture is diluted enough, and to wash it out thoroughly. I once went to a dinner party after I'd used it, and friends kept commenting that they couldn't shake the strong smell of vinegar. I was so embarrassed!
What is your beauty pet peeve? When makeup distracts from someone's natural beauty. We've all heard makeup should enhance rather than cover up your features. But I also believe beauty should be more experiential: True beauty is reflected in confidence, creativity, and exuding passion
10 Models Share their Beauty Secrets