Little Fires Everywhere Trailer: Reese Witherspoon and Kerry Washington Are Incensed
Reese Witherspoon and Kerry Washington spark a dialogue about race, motherhood, and community in the trailer for Hulu's adaptation of Little Fires Everywhere.
---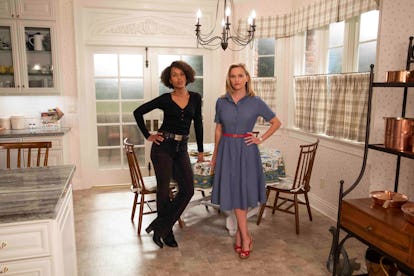 Photo courtesy of Hulu.
Take a deep breath and prepare yourself for Little Fires Everywhere, the Hulu adaptation of Celeste Ng's 2017 best-selling novel of the same name.
The trailer for the eight-episode limited series starring Reese Witherspoon and Kerry Washington was released today and it looks even more dramatic than the emotional roller-coaster that is the book.
Witherspoon plays Elena Richardson, an uptight Ohio native with liberal intentions (Madeline Martha Mackenzie, but make her a Midwesterner) who rents out her extra property to a mysterious artist named Mia Warren, played by Washington. Both actors are executive producers of the series too, and it was selected for Hulu thanks to Witherspoon's Hello Sunshine book club and production company.
The trailer reveals that when the nomadic Mia and her brilliant daughter Pearl (played by Lexi Underwood) arrive in the Cleveland suburb of Shaker Heights, one of the nation's first planned communities, the lives of the upper-middle-class Richardson family and their four children are upended and secrets are threatened to be revealed.
But before any fires (of both the figurative and literal variety) are set, the overly cautious Mrs. Richardson can be seen clutching her pearls (again, both figuratively and literally) in her late-'90s department store brand drip (the number of Lacoste polo shirts and Dooney & Bourke handbags on display in this series is unmatched) at every narrative turn. And just in case you still couldn't tell which decade this show is set, the trailer is soundtracked with a grim remix of Alanis Morissette's "You Oughta Know."
Fans of the book already know that Little Fires Everywhere is an (at times tepid) portrait of race relations in late-20th-century America, and an attempt to spark a dialogue about the intersection of motherhood, career, and community. The series will arrive on Hulu on March 18.
Related: Little Fires Everywhere Has Found Its Young Reese Witherspoon and Kerry Washington