Meet Liu Yifei, Your New Mulan And Star of Disney's Upcoming Live-Action Remake
The Chinese actress, who also goes by Crystal Liu, who was just announced as the star of Disney's upcoming live-action remake of Mulan.
---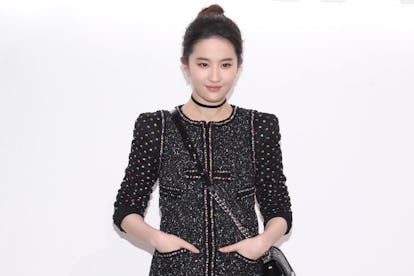 Photo by VCG/VCG via Getty Images
The latest name in Hollywood to know is Liu Yifei, the Chinese actress who also goes by Crystal Liu, who was just announced as the star of Disney's upcoming live-action remake of Mulan. Impressively, Yifei beat out nearly 1,000 candidates for the upcoming role, which casting directors worked on for a year across five contintents, as The Hollywood Reporter notes. While she may not be a household name yet in the States, Liu has built a large following across seas.
Part of that is due to her magnetic presence on-camera. As a former child model since she was eight years-old, Liu has had plenty of experience in front of the lens. She started as a television actress while attending the Performance Institute of Beijing Film Academy in her teens, making her debut in 2002 with The Story of a Noble Family. "I was 15 years old at the time. Now 28. It has been 13 years since making my first debut, and there has been many changes in my acting and mental attitude," she later told K Beauty Now. "It wasn't until entering my twenties that I began to identify my real dream as an actress. I realized that acting is not all about receiving people's applause or cheer. It is about delivering the right character to the audience and feeling satisfied in who you become on stage. Therefore, I try to focus more on the abstract qualities of acting, and I hope to become a better actress throughout time." She landed her first film role a year later in 2006 with an appearance in Love of May, a movie centered around the Taiwanese rock band May Day. Then, Liu had her big break in China when she was tapped to star in the 2005 series Chinese Paladin, which was based on the video game The Legend of Sword and Fairy.
It was perhaps that role that sparked her nickname of "Fairy Sister" in China due to her doll-like appearance, which she also commented on to K Beauty Now, saying, "Honestly, I think there are many celebrities out there who are prettier than me. As an actress, it's not only about looking good on camera, but being able to deliver the right emotions for the characters you play. This makes you more attractive on the screen. That's why I focus more on acting rather than my appearance. Sometimes, I don't even bother taking out the mirror to fix my makeup before filming."
Just like Mulan, Liu is also somewhat of a renaissance woman. Aside from acting in both Chinese and fluent English—she lived in Queens, New York from ages ten to fourteen, and appeared in 2008's Jackie Chan and Jet Li film The Forbidden Kingdom and alongside Nicolas Cage and Hayden Christensen in 2014's Outcast — Liu sings, dances, and is formally trained in the piano. She even has a second career in music, which she pursued after signing a recording contract with Sony Music Entertainment Japan in 2005, according to her IMDB bio. Her discography includes two albums, a self-titled one she dropped in China, which genre-hops from lite rock to rap, and one she released in Japan called The Gate of Late Night. No doubt her music skills were one of the factors that made her stand out in her audition for Mulan, in which her character sings.
While Mulan marks her marquee crossover role, Liu is already iconic in China. She famously dated Korean heartthrob Song Seung-heon it couple, to their fans' delight. Plus, she's developed a robust modeling career in China, working for the likes of Dior, Tissot, Garnier and Pantene as a brand ambassador. While Liu doesn't have her own Instagram account yet, her modeling photos populate a handful of fan accounts like the one below, which shared a snap of her and Gigi Hadid after Tommy Hilfiger's Spring 2017 show.
Disney's live-action remake of Mulan is due out in 2019.
Related: See Christopher Plummer Take Over for Kevin Spacey in New All the Money in the World Trailer
Milo Ventimiglia Loves, Loves Disneyland