Remembering Liz Smith, and Her Mixed Legacy with the Closet
The late columnist was a figure from another time, one that included a retrograde attitude about LGBTQ celebrities.
---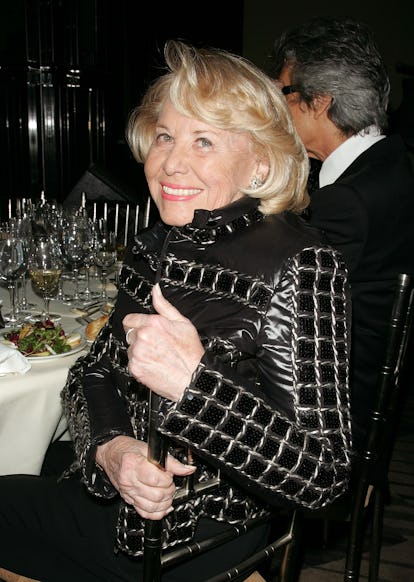 Jim Spellman
When I was starting out in the gossip business in the 1970s, Liz Smith, then the undisputed queen of our trade when there were many others vying for that title, encouraged me as a writer, a decision she may well have ended up regretting—not that she ever acted that way.
The Texas-born columnist—who died Sunday from natural causes, at 94—was a destination read in the New York Daily News, eventually bringing her scoops and observations to New York Newsday and the New York Post (where she wrote until being let go in 2009). As an aspiring writer fresh out of college, I was addicted to Liz's daily missives, which seemed knowing and appreciative, so I wrote her a gushy fan letter, also including clippings of writing I've done and asking for her comments. She wrote back with an equally effusive note saying she liked my work and was delightedly giving me her benediction. And it got better.
At the alternative weekly the Soho News, I wrote a story about celebrity gossip and included a reference to my unbridled love of Liz. Desperate for another validation fix, I sent her the clip and she wrote back—this time to Letters to the Editor, saying "More Musto!" Getting her endorsement meant a lot to me—and also to my editors, who decided I must be doing something right to have garnered the attention of the premier disher in town.
When I started my Village Voice column, "La Dolce Musto," in 1984, Liz gave me another lovely plug, which was especially appreciated since the media had responded to my appointment with a gigantic "Who cares?"
Early on, when I covered a gala event celebrating Liz, I found out that her real-life persona didn't always match her perfumed prose. In the crowd, I greeted her and asked if I could get a quick interview (i.e., a couple of quotes) and she brusquely said, "No." I understood that she was probably being besieged all night—and maybe didn't trust me at this point—but her manner shattered my demented illusions about how close we were.
Maybe those letters had been written by someone else? (I certainly know that the witty Denis Ferrara, her tireless collaborator, had a lot to do with the writing of her columns for many years.) But, like myself, Liz was a person of textures and contradictions. Just like I'm a socially awkward person who insists on going to parties every night, Liz was a disher who actually didn't like dirt. She apparently felt uncomfortable breaking the story of the Donald and Ivana Trump's breakup in 1992 from Ivana's point of view, since making waves and upsetting people wasn't her thing.
While other columnists (like me) thrived on stories that radiated drama and confrontation, Liz was a celebrity cheerleader, rallying to their side to boost them with nice stories and advice. Liz liked celebs and was always there with a kind word, a puff-up, and a cheer for a soiled icon to get back on their feet. That approach made her extremely popular with publicists, who regularly ran to her with their scoops and plugs. (They certainly weren't going to run to me.)
But she took politeness to ridiculous levels with her treatment of the celebrity closet. When everyone knew that tycoon Malcolm Forbes was a gigantic homosexual, Liz was trying to make the world believe that Forbes was dating Liz Taylor. Even my mother didn't buy that! Liz pulled the same stunt with a lot of other celebrities, pretending gay stars were straight in order to allegedly do them a favor, while screwing her readers with willful falsehoods (or weird naïveté). At the late OutWeek magazine, Michelangelo Signorile took Liz repeatedly to task for this, and I did the same in my column, while we both urged her to finally come out of the closet herself. She didn't do so until 2000, and even then, she left out the fact that archaeologist Iris Love was her longtime lover.
Lord knows when I had the scoop in 1997 that Ellen DeGeneres and Anne Heche were all over each other at a premiere and a New York lesbian bar, I didn't call Liz to plant the item. She never would have gone for it, finding it way TMI. Instead, I contacted Page Six and they did a groundbreaking lead item about it, crediting me with inside information and making it OK to say these two were having a romance and were absolutely fine with it.
Also, Liz had complained in print about a gay man's Tony Awards speech during which he thanked his lover. Can you imagine? A lesbian (or bi) writer didn't care for someone actually leveling the playing field by acknowledging his boyfriend in a brave and sincere moment? When called on the carpet for this, Liz replied that she didn't like anyone thanking their loved ones on these awards shows—but funny, she'd never carped about straight people thanking their spouses.
Despite her retrograde thinking about the LBGTQ community, Liz won a 1993 GLAAD award for best media columnist, and I have to say I was fuming mad about it. Yes, Liz had done good blurbs for amfAR events and other AIDS-related things, but her celebration of the closet was appalling, and for the watchdog organization to honor that was just wrong.
I kept railing against Liz, but she kept being nice, teaching me a lesson by rising above and killing me with kindness. And I still enjoyed her wit, her savvy, and her insight, making her columns enjoyable despite my reservations.
Liz and I were cohorts on The Gossip Show on E!, where we individually looked at the camera and served up items, and in 1994, we were among the group included in a New York magazine cover story about the town's most important gossip columnists. From the kid who'd written Liz an awestruck letter, I was now being mentioned in stories alongside her and co-starring with her on TV, and she was generally acting sunny and amused around me. We also shot an Old Navy commercial together, and as I made wisecracks between takes, she laughed appreciatively; I think—like Malcolm Forbes himself—she got off on the fact that I was living freely and outrageously.
Liz wasn't plugged into the TMZ world of anything goes, ambulance-chasing gossip geared for instant access and lots of traffic, and, in that respect, she was on a different plane until the end, despite our differences. With her passing goes the last reluctant gossip columnist, someone who didn't go after celebrities for sport or comeuppance. Now, that leaves me as the undisputed queen of gossip—no, wait, there's still Cindy!
Related: Aileen Mehle, Gossip's Infamous Suzy, Dies at 98
50 Years of Proof That New Yorkers Have Always Had the Ultimate Style
Sculptor Louise Nevelson with her pet Fat-Fat in the series "The Only Perfect Relationship in This Fickle World," about New Yorkers and their cats, 1975.

Lynn Karlin
A 16-year-old Justin Bieber feet away from his packs of screaming fans, 2010.

Gillian Laub
Mario LoCicero's design of Andy Volet's Park Avenue apartment, a "no-furniture lounging cove that converts to a sit-in dance floor" whose steps lit up in blue neon, 1976.

Dan Wynn
Edie Beale, who would become a fashion icon, in East Hampton, 1972.

Herb Goro
C.Z. Guest, Carolina Herrera, and Anne Slater in Glenn Bernbaum;s restaurant, Mortimer's, in 1986.

Harry Benson
A man dancing at the Roxy, the West 18th Street roller disco that eventually became a dance club, in 1982.

Gianfranco Gorgoni
Ali McGraw in the year she began to become a star because of Goodbye, Columbus, 1969.

Richard Davis
David Yarritu's series of Polaroids capturing New York's drag scene, 1985-2005.

Courtesy of David Yarritu and Gordon Robichaux
Punks named Marsha and Craig in 1977.

Allan Tannenbaum/Polaris
A resident of Brighton Beach on the boardwalk outside of the popular local restaurant Volna, 2009.

Monica Ruzansky
A party hosted by the artist N. D. Austin that ended up on neighboring water towers, 2015.

Benjamin Norman