Liza Minnelli and Renée Zellweger Are Feuding Over the Upcoming Judy Garland Biopic
Minnelli is not happy with the actress' portrayal of her mother, Judy Garland.
---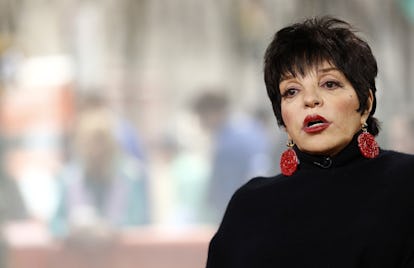 Peter Kramer/NBC/NBC NewsWire via Getty Images
Liza Minnelli's Facebook account is finally getting the due it deserves. The actress and performer uses the social media platform like her own LiveJournal, documenting her social outings and waxing nostalgic about her career peaks and her memories of everyone from her mother, the late Judy Garland, to her "Uncle" Frank Sinatra. It's her most recent post, however, that's drawing new eyeballs to it.
Minnelli, who has been keeping a low profile since announcing that she was taking time to rest "per doctor's orders" in April, just weighed in on the upcoming Garland biopic, Judy, and Renée Zellweger's involvement with it. "I have never met nor spoken to Renée Zellweger..," Minnelli's note begins. "I don't know how these stories get started, but I do not approve nor sanction the upcoming film about Judy Garland in any way. Any reports to the contrary are 100% Fiction."
The "reports" Minnelli is referring to is most likely one published by Radar that has already been removed. According to the post, Minnelli and Zellweger are now "best of friends," who have spent "hours" talking about Garland. Of course, that's not true as Minnelli has never met Zellweger, as Minnelli so badly wants us all to know. "Everyone kind of expected Liza to explode after this casting but she sees Renee has the strength and frailty to play Judy," the report stated, as Jezebel noted.
While Minnelli so clearly disagrees with that sentiment, there's no denying that Zellweger captured the iconic actress, at least aesthetically. In the first photo released from the production — which takes place over the course of Garland's last year of life, starting in December 1968 — she could be mistaken for The Wizard of Oz star.
One upcoming film that Minnelli may be seeing though is Bradley Cooper's remake of A Star Is Born, which starred her mother in 1954. (That's not to be confused with the original, though, which was released in 1937, or the 1976 reboot starring Barbara Streisand.) According to "sources close to Liza," per TMZ, the Arrested Development actress is contemplating seeing the 2018 version. Of course, that's only hearsay and all the more reason to be following Minnelli's Facebook page.