Chloë Sevigny and Kristen Stewart Are Lovers in the Thrilling First Lizzie Trailer
Based on the infamous Lizzie Borden murders.
---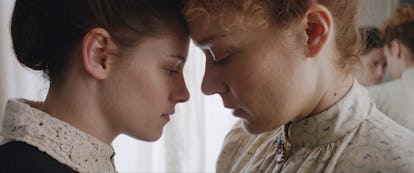 Our collective obsession with true crime stories has reached a fever pitch, as evidenced by the brand-new trailer for Lizzie, the upcoming period thriller based on the infamous Lizzie Borden murders. The film stars Chloë Sevigny as the title character and Kristen Stewart as her maid and love interest, Bridget Sullivan.
If you're unfamiliar with the tragic tale—which has become an indelible part of American folklore—the trailer does a nice job of getting you up to speed. In 1892, Borden was accused of murdering her domineering father and stepmother with an ax, in Fall River, Massachusetts. (Spoiler alert: Borden was eventually acquitted of the crime, but the trailer suggests that there will be enough intrigue to keep audiences on the edge of their seats.)
The film, which had its premiere at this year's Sundance Film Festival, was directed by Craig William Macneill (Channel Zero: Candle Cove) and also stars Jamey Sheridan, Fiona Shaw, Kim Dickens, Denis O'Hare, and Jeff Perry. Early buzz has been positive, with Variety''s Amy Nicholson calling it "a simple story made to rouse modern hearts," with performances and cinematography that "are so good, the film nearly pulls off the trick."
Unfortunately, one person who's not behind the movie is Sevigny herself. In a revealing interview with HuffPost earlier this year, the actress admitted that she was less than pleased with the final product. Sevigny had originally intended the project as a miniseries, which meant that a lot of what made the story sing was left on the cutting room floor in order to fit the feature film format. In particular, Sevigny wishes that Borden's relationship with Sullivan could have been fleshed out more.
"It was very hard," Sevigny said. "I was like, 'If you have another scene with Kristen Stewart and you don't put it in your movie, you're stupid. What's your problem?' But almost every movie goes through that. Almost everything that was on the page was filmed, and a lot of it didn't make it in the movie."
See for yourself when Lizzie hits theaters on September 14. Watch the trailer below.
Related: At Sundance 2018, Chloë Sevigny Outshines Everyone as Lizzie Borden, Even Her Screen Lover Kristen Stewart