How to Do London Fashion Week Like an It Girl
Fashion insiders Alexia Niedzielski and Elizabeth Von Guttman reveal what they're wearing, where they'll be – and who they'll be with.
---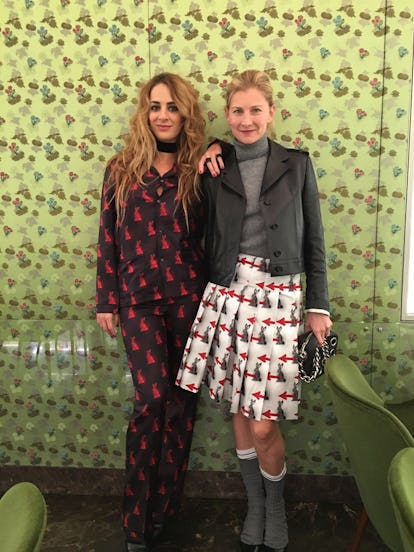 As co-editor-in-chiefs of System magazine, Alexia Niedzielski and Elizabeth Von Guttman have garnered a reputation for knowing things first – from how exactly Nicolas Ghesquière left Balenciaga in 2013, or what Raf Simons has been doing post-Dior. Naturally, the London-based It girls also know all the best stores, hotspots, and parties happening this weekend during London Fashion Week.
Describe your style in 3 words: Alexia: Experimental, business-minded, and bohemian! I never know how to describe my style. I think it changes according to my mood, but I'm never afraid to try something new. I just need to feel confident – whether dressed in an Equipment blouse or a Charlotte Olympia slip dress. Elizabeth: Classic with twist. (I hate that phrase, though!)
Winter wardrobe must-have: Alexia: It would either be my new Sonia Rykiel patchwork brown and tan fur coat, or my Prada "horny bunny" pajamas that somehow manage to work in every situation – from a chic dinner party to a long flight! Elizabeth: A blue and purple fur scarf I bought from my favorite fur company, Hockley London.
Favorite store: Alexia: Rellik Vintage in Notting Hill Elizabeth: Dover Street Market or Alex Eagle on Walton St. The owner has great taste and also runs The Store at the BFC VIP lounge.
Favorite shoes of the season: Alexia: My desert boots that Fabrizio Viti designed for Louis Vuitton. They are my favorite shoes and I can't live without them! Elizabeth: I have been living in a pair of flats from Christopher Kane which are beyond comfortable and go with everything. Also, I have this great pair of heels from Tabitha Simons that I wear during the evening.
Go-to bag: Alexia: I designed a denim pouchette with Elizabeth for the brand Bara Boux that holds a Morphie phone charger – it's the ideal bag for the coming month. If I'm not carrying that, it will be a bag by Elena Ghisellini. Elizabeth: The new white Proenza Schouler bag or the M2Malletier.
Always in your bag: Alexia: My iPhone. Elizabeth: My iPhone and lipstick. Right now I'm using Dior Lip Glow but I just discovered Charlotte Tillbury's line which is fab!
Currently reading: Alexia: I haven't had much time to read this month – instead I keep a mini iPad so I can watch Netflix documentaries. I'm also dying to start the OJ Simpson TV show. Elizabeth: The Art of Joy by Goliarda Sapienza.
Getting ready song: Alexia: I love electro when I get ready. Anything from Guy Gerber to Seth Troxler.
Fashion Week survival secret: Alexia: Almost every night I head to the Chiltern Firehouse for drinks! Since it opened three years ago it's been one of the best bars in London. Elizabeth: Coming home between shows to give a kiss to my baby!
Fashion Week must-have: Alexia: My iPad mini – it's the only way I can keep track of my packed schedule. In London, it's wise to always take an umbrella too. Elizabeth: An umbrella! Even though I always end up losing it.
Most anticipated fashion show: Alexia: Barbara Casasola – I'm Brazilian so I love to support Brazilian designers. But Charlotte Olympia's first catwalk show will definitely be the most exciting! And I always look forward to Anya Hindmarch. Elizabeth: I'm always excited to see Jonathan Anderson – he's so incredibly talented.
Most anticipated after-party: Alexia: Natalia Vodianova's party benefitting the Naked Heart Foundation. Elizabeth: Jefferson Hack always throws a fun party…
Designer you most want to have a drink with: Alexia: There are so many it's hard to choose! Definitely Charlotte Olympia at her post-show dinner, and Isa Arfen at the Matchesfashion.com dinner. Elizabeth: Isa Arfen when she throws her dinner with Matchesfashion.com
Favorite between-shows lunch spot: Alexia: Casa Cruz Restaurant is the coolest place in London right now, so I will definitely be heading there this season. For fish I head to Sexy Fish – the name is super appropriate when it comes to its interior. If I want low-key vegan food I head to NamaFoods in Notting Hill. Elizabeth: Daylesford, or the Monocle Café, a small café with strong Scandinavian and Japanese influences. Amazing coffee, matcha tea cakes to die for and traditional Japanese breakfast if you fancy.
Favorite post-fashion show haunt: Alexia: The South Kensington Club, which is my health club in London. After the Russian baths I do the 'Dance of Leaves Treatment.' Then I make sure to stop by the restaurant there – it's the best Sicilian food I've tried. Elizabeth: Chiltern Firehouse – everyone always ends up there, so you can always count on having a good time.
Front row companion Alexia: Elizabeth von Guttman, a.k.a. PONG. Elizabeth: Alexia!
Photos: How to Do London Fashion Week Like an It Girl
Alexia Niedzielski and Elizabeth Von Guttman.
"Every season I find myself fixated by a different accessory, and this time it's structured, elegant bags. In the case of this M2MALLETIER bag, I was immediately attracted to its' geometry and rigidity." – Elizabeth
"I live in this Sonia coat this season. I tried pairing it with a slip dress last night, and love the contrast between the bulk of the coat and the femininity of the black silk." – Alexia
"This book has been my travel companion since New York Fashion Week last week – I can't seem to put it down."- Elizabeth
"I've never fully embraced the pajama dressing trend until I saw this pattern parading down the Prada Resort 2016 runway. Now I feel like a natural Hugh Hefner." – Alexia
"I love the white leather mixed with silver chain-link strap – it can easily be dressed up for evening or down with a black leather jacket." – Elizabeth on her Proenza Schouler bag.
"Here I am behind my favorite bar at Casa Cruz – they have the most scrumptious drinks and it has quickly become London's swankiest spot. I've made all of my friends come and now they're addicted!" – Alexia
"This is my new favorite winter scarf. I love how original the purple/blue hue is." – Elizabeth
"I never leave the house without wearing this Dior lip glow. It's very hydrating and I love the pink casing!" – Elizabeth
"Fischer's is one of my favorite restaurants during – it's an Austrian Brasserie on Marylebone High Street. I guess this is where my Austrian roots come out as I always order their Schnitzel. Super cozy place to escape the London grey days…" – Elizabeth