London's Newest Art Gallery Is Inside Christopher Kane's Soho Shop
The designer became so enamored by the outsider art made by patients at an Austrian psychiatric hospital, he moved it into his Mount Street boutique.
---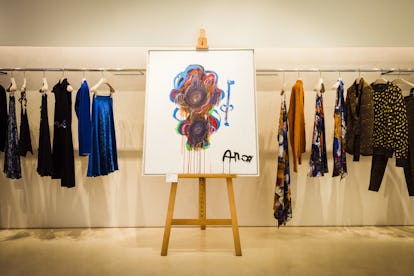 Morgan O'Donovan/MOD54Ltd
In the era of fast fashion, designers are used to copycats, but the London-based Scottish designer Christopher Kane still couldn't believe it last year when he came across a yellow dress uncannily similar to one of his own. That's because it appeared not on the racks of Zara, but in a sketch by the Czech outsider artist Johann Hauser, who somehow shared the same sensibilities of Kane's neon spring 2011 collection, cheekily titled "Princess Margaret on Acid," even though Hauser died in 1996.
Kane, who's no stranger to deep dives when it comes to research, had to find out more. He discovered that Hauser entered the Maria Gugging Psychiatric Clinic in Austria as a teen, where a doctor soon encouraged him to draw — along with a whole host of other art-minded patients, a form of therapy he supported with a gallery at the institution founded in 1981. After Kane found out that it was still in operation, he set off for the Viennese countryside. He soon encountered works that resonated with him so deeply, this month, he moved them into his Mount Street store, adding to Frieze London's packed calendar with an opening of his own that was hosted by Document Journal on the night of the fair's kickoff.
Inside London's Newest Gallery: Christopher Kane's Mount Street Shop
Johann Korec, "Untitled," 1972.
Heinrich Reisenbauer, "Chestnuts," 2005
Arnold Schmidt, "Human," 1998
Alfred Neumayr, "Untitled," 2014.
Heinrich Reisenbauer, "Flowers," 2015.
Arnold Schmidt, "Human," 2012.
Johann Korec, "Untitled," 1971.
Heinrich Reisenbauer, "Trousers," 1992.
Jurgen Tauscher, "Airport Vienna Hamburg," 2013.
Karl Vondal, "Untitled," 2013.
Inside Christopher Kane's Mount Street boutique.

Morgan O'Donovan/MOD54Ltd
Hauser may be long gone, but the Gugging Gallery is now an entire community of artists, some of whom have autism. Many of the dozen paintings and drawings he selected blend in with the deep blues and burnt oranges of his fall 2016 collection that's also currently on display. Others, like the cheery paintings of Heinrich Reisenbauer, hark back to Kane's past collections, like his floral anatomies for spring 2014.
The mix is only fitting for a designer who just celebrated his tenth anniversary, and still draws all of his collections, even now that his namesake label's owned by industry giant Kering. Indeed, that balance of creativity and commerciality has only made him further appreciate "outsider art," as opposed to mainstream pieces driven by trends. And it's an approach he'll continue to defend — even as he's peppering his otherwise polished collections with crystal-covered Crocs.