Lorde: A Pure Heroine
The 16-year-old New Zealander is the real deal.
---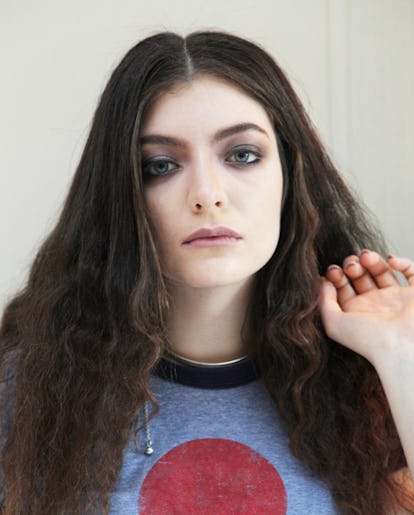 Photography by Clara Balzary
Even as her first hit single "Royals" was setting the record for the longest run by a female artist at the top of Billboard's Alternative Chart earlier this year, turning her into an international pop star overnight, Ella Yelich-O'Connor, who is better known as Lorde, was still attending high school in suburban Auckland, New Zealand. "There's no sense of celebrity in New Zealand," says the 16 year-old, at her hotel in Los Angeles, where she was in between photo shoots. "Maybe if I'd grown up in L.A., I'd feel different about fame. It's cool, but I never really cared about it that much."
With her angled cheekbones, dramatic celadon eyes, and epic mass of curls, Lorde is a pre-Raphaelite vision for modern times. Likewise, her debut album Pure Heroine, out September 30, is a blend of futurism and timeless beauty, written by a precocious teen clever enough to draw parallels in her songs between the gentle folkie confessionals of Nick Drake and the digital-driven disclosures of the rapper Drake (a personal favorite of hers). Set amid pulsing electronic soundscapes, Lorde's expansive voice is a unique instrument: she has a bit of Lana Del Rey's grandeur mixed with a spectral style that evokes Kate Bush.
And while "Royals," and its runaway success, seemed to come out of nowhere, in fact Lorde has been writing songs since she was 12. After she was discovered at a talent show, she quickly signed a development deal with Universal Music. Despite this incubation period, she is not, she is quick to stress, a product of the industrial pop-star machine. "People get suspicious, but I write all of my songs," she insists. "Otherwise, it wouldn't mean anything to me. For me, making music is selfish—I do it because I like to do it."
The songs on Pure Heroine offer cheeky but honest appraisals of her sudden renown: "Riding around on bikes, we're still sane/I won't be here tripping onstage …/Still like hotels and my newfound fame/Hey, promise I can stay good." Other tracks were clearly written before "Royals" took off; she sings, on the album's second single "Tennis Court," "Pretty soon I'll be getting on my first plane."
"I've been on planes ever since," she says now. "My first few times flying, I was so excited. But flying anywhere from New Zealand takes like 20 hours. If you're sitting in economy, you get some serious bum smells. It's disgusting!" She laughs. "But I'm still having fun."