Lorde Accuses Kanye West of Ripping Off Her Stage Design
Kanye has a history of set-design controversies.
---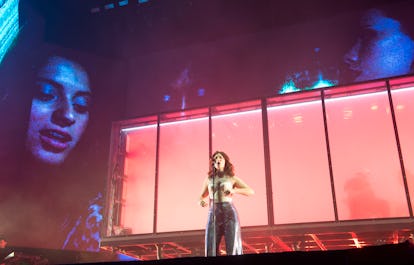 VALERIE MACON
Kanye West returned to a festival stage over the weekend in a performance that Entertainment Weekly called "controversy free." Of course, this being Kanye and all, one should never be too quick to count out the possibility of controversy completely. While West kept his political thoughts to himself during his joint performance with Kid Cudi as their duo, Kids See Ghosts, at Tyler, the Creator's Camp Flog Gnaw festival, it was his stage design that drew the ire of another musical superstar, Lorde. The New Zealand singer noticed that West's stage setup, involving a suspended glass box, bore an uncanny resemblance to similar staging she had employed during her set at Coachella in 2017, and then later on her Melodrama tour.
On Instagram stories, Lorde posted a series of pictures of the two concerts, and sounded off. "I'm proud of the work that I do and it's flattering when other artists feel inspired by it, to the extent that they choose to try it on themselves," she wrote in the final slide. "But don't steal—not from women or anyone else—not in 2018 or ever."
Lorde collaborated with the design company TAIT to add some drama to her Coachella set in the form of a levitating shipping container with transparent walls that emerged from beneath the stage during her performances. The company, which has worked on Olympics ceremonies, as well as with everyone from Cirque Du Soleil to Beyoncé—not to mention helping Drake once fly a Ferrari over his audience—says the element provided an "innovative way to transform her set and choreography into a whole new setting." Indeed, it was such a success that Lorde decided to take the rig on tour with her.
You can see it in action during the Vancouver stop of that tour here:
And you can see Kanye and Cudi's similar setup here:
They're pretty similar rigs, though not exactly duplicates.
Interestingly, TAIT has also collaborated with West in the past by doing the set design for his joint Watch the Throne tour with Jay-Z back in 2011.
West also has a history of calling out people he believes stole his own stage designs. During an October 2016 stop of his Saint Pablo Tour (which featured a flying stage), West claimed, "This the original, accept no imitations! You with the rap God right now. N****s be copying our shit, bro. Stealin' our shit, stealin' our stages. Copying our shit one-to-one." Many people suspected he was talking about the South African rapper Cassper Nyovest, who also used a flying stage in his performances, but Nyovest went on social media at the time to point out that his flying stage preceded West's by a year.
Related: Lorde Talked About Her Unique Friendship and Working Relationship With Jack Antonoff