Lorde Talked About Her Unique Friendship and Working Relationship With Jack Antonoff
They still FaceTime almost every day.
---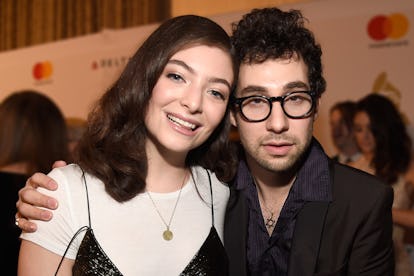 Kevin Mazur/WireImage/Getty Images
After Jack Antonoff and Lena Dunham broke up, Perez Hilton disseminated rumors that the producer is now dating Lorde. So incensed was Antonoff by this bout of pot-stirring that he took to Twitter for a little clarification. "normally i would never address rumors but i resent having the most important friendships and working relationships in my life reduced to dumb hetero normative gossip," he wrote. And what a shame they were, because Antonoff and Lorde's friendship and creative working relationship is, as it turns out, incredible.
This revelation comes from Billboard's new cover story with Lorde. In it, she talks about the human heart, the afterlife, and having her existence acknowledged by Beyoncé. She also gave a rare glimpse into her and Antonoff's deeply weird and deeply cool friendship. When asked for a moment that "crystallizes" who Jack Antonoff is, Lorde provided an anecdote about the time he introduced her to Cinnamon Toast Crunch.
"When I came to New York, we had only written together maybe a couple of times, and we were very obsessed with each other on a creative level and as buds," she told Billboard. "I was sort of doing nothing in New York, and we did this thing where for five days in a row we just kept having dinner every night, just getting to know each other. One night, somehow it came up that I hadn't had Cap'n Crunch or Cinnamon Toast Crunch or Lucky Charms. He was like, 'We have to do this.' So we went to a bodega, got all of these cereals and went back to his house in Brooklyn and did a little lineup of bowls. We tried, like, 20 different kinds of cereal. I still think about Cinnamon Toast Crunch all the time."
"And there was another one that was like Reese's Pieces balls," she added. "Delicious."
Indeed, Lorde, indeed. The pop genius also had some choice quotes about what it's like to collaborate with Antonoff. "He manages to make you feel like he's only working on your thing," she said. "The Bleachers album is what he was working on most of the time. Those two records were really happening side by side. It's like when people have their babies around the same time and the babies are friends."
"We still FaceTime almost every day," she continued. "When you work with someone, you sometimes think, 'Maybe it will just be for this time, and we say we're going to keep in touch but we won't.' But we really … I'm like, 'Hey, dickhead, what are you getting me for Christmas?'"
That someone would reduce such a glorious friendship to "dumb hetero normative gossip" is truly unforgivable.
Related: Stevie Nicks Can't Stop Fangirling Over Lorde, Her Long-Lost Witchy Daughter
Celebrating Lorde's Best Style Moments, Which Can Best Be Described as Glam Teen Witch
Lorde poses prior to performing at 98.7 FM's Penthouse Party Pad at the Historic Hollywood Tower on September 25, 2013.

Getty
Lorde visits "The Elvis Duran Z100 Morning Show" at Z100 Studio in 2013.

Getty
Lorde visits at SiriusXM Studios on August 5, 2013 in New York City.

Getty
Lorde performs on Late Night with Jimmy Fallon in 2013.

Getty
Lorde attends the Museum of Modern Art 2013 Film benefit: A Tribute To Tilda Swinton on November 5, 2013 in New York City.

Getty
Lorde arrives at the 27th Annual ARIA Awards 2013 at the Star on December 1, 2013 in Sydney, Australia.

Getty
Lorde attends VH1 "You Oughta Know In Concert" 2013 on November 11, 2013 at Roseland Ballroom in New York City.

Getty
Lorde poses in the press room during the 2014 MTV Video Music Awards at The Forum on August 24, 2014.

Getty
Lorde attends the World Premiere of The Hunger Games: Mockingjay Part 1 at Odeon Leicester Square on November 10, 2014.

Getty
orde attends the 72nd Annual Golden Globe Awards at The Beverly Hilton Hotel on January 11, 2015.

Getty
Lorde attends the 2015 InStyle and Warner Bros. 72nd Annual Golden Globe Awards Post-Party at The Beverly Hilton Hotel in 2015.

Getty
Lorde attends the Christian Dior show as part of the Paris Fashion Week in 2015.

Getty
: Lorde attends the Delta Air Lines 2014 GRAMMY Weekend Private Reception.

Getty
Lorde poses in the press room at the 56th Annual GRAMMY Awards at Staples Center on January 26, 2014.

Getty
Lorde attends the Christian Dior show as part of the Paris Fashion Week Womenswear Fall/Winter 2015.

Getty
r Lorde attends the Chloe show as part of the Paris Fashion Week Womenswear Fall/Winter 2015.

Getty
Lorde attends the "China: Through The Looking Glass" Costume Institute Benefit Gala at the Metropolitan Museum of Art on May 4, 2015 in New York City.

Getty
orde, winner of the International Female Solo Artist award, poses in the winners room at The BRIT Awards 2014.

Getty
St. Vincent, Lorde and Kim Gordon pose backstage at the 29th Annual Rock And Roll Hall Of Fame Induction Ceremony.

Getty
Lorde attends Republic Records private post-VMA celebration at Ysabel on August 30, 2015.

Getty
Lorde attends the 12th annual CFDA/Vogue Fashion Fund Awards at Spring Studios on November 2, 2015.

Getty
Lorde attends the 2016 Vanity Fair Oscar Party.

Getty
Lorde arrives for the "Manus x Machina: Fashion In An Age Of Technology" Costume Institute Gala at Metropolitan Museum of Art on May 2, 2016 in New York City.

GETTY
Lorde visits "The Elvis Duran Z100 Morning Show" at Z100 Studio on March 10, 2017.

Getty
Lorde attends Pre-GRAMMY Gala and Salute to Industry Icons Honoring Debra Lee.

Getty
Lorde seen at BBC Radio One on March 28, 2017 in London, England.

Getty
Lorde visits ÔHits 1 in HollywoodÕ on SiriusXM Hits 1 channel at the SiriusXM Studios in Los Angeles on April 25, 2017.

Getty
Lorde performs onstage at What Stage during Day 4 of the 2017 Bonnaroo Arts And Music Festival on June 11, 2017.

Getty
Lorde looked like a princess at the 2017 MTV Video Music Awards in a pretty purple dress by Monique Lhullier.

Getty Images