Stevie Nicks Can't Stop Fangirling Over Lorde, Her Long-Lost Witchy Daughter
"If you run into her, please tell her that I'm looking for her," she told a crowd in Lorde's native Auckland.
---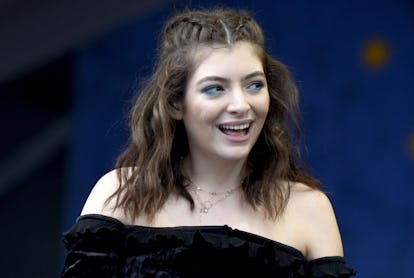 Tim Mosenfelder/WireImage/Getty Images
Two years ago, Lorde posted an Instagram whose caption began in all caps: "LADIES AND GENTLEMEN, I SAW THE BEST CONCERT OF MY LIFE LAST NIGHT AND IT WAS FLEETWOOD MAC." Accompanied by a photo of the stage from a respectable distance—definitely not a VIP spot backstage—she then continued to write nearly 300 words about how she went to the show in the pouring rain with her parents, taking care that she was wearing her "big green raincoat buttoned up to the chin and pulled tight" so no one would see her and she'd be protected from the cold, which she then instantly forgot because, as she put it, "STEVIE. how purely magical it was to see her in front of me, my crescent moon mother, in the flesh, all in black, her hair playing tricks with the light."
Stevie Nicks, the band's longtime frontwoman, on the other hand, was oblivious to the presence of her crescent moon daughter—much to her regret. This summer, after announcing that she'd be playing in Lorde's native Auckland in November, she lamented to the New Zealand site Stuff that Lorde "didn't let me know she was coming" to her 2015 show, essentially announcing she was now determined to make up for lost time with the equally witchy singer. "I found out after I left that Lorde and her Mom and Dad were there. I want her to know I hope she comes this time. Let me buy her Mom and Dad tickets and I can meet them all," she continued back in August.
Unfortunately, however, Nicks didn't get the opportunity; it looks like she underestimated the star power of Lorde, who's catapulted even further into fame since she released her debut album Pure Heroine at just 16. This time around, Lorde couldn't make it to Nicks's two shows because she was off in Australia on a tour of her own—something that Nicks, who's 69, and recently appeared on Lana Del Rey's latest album, once again lamented, this time publicly at one of her Auckland appearances, begging for their help to finally track down the singer.
"I actually don't know her, and I wish she was here. I was hoping I would get to cross paths with her. But I think she is so very talented. Like, if she had been my age, and lived our age, she probably would have been the third girl in Fleetwood Mac," she told the Lorde-less crowd. "So, if you run into her, please tell her that I'm looking for her," she continued before carrying on with the show and segueing into "Landslide," her 1975 classic, which she dedicated to Lorde, aka her "favorite artist."
Fortunately, someone in the crowd did do her bidding, capturing video of the moment and tweeting it at Lorde, who retweeted it with the quote about being in Fleetwood Mac, adding the sobbing emoji and "i could cry." Perhaps Nicks will hop over to Australia before she plays her next New Zealand show on Friday and skips town for Nebraska, but whether or not, rest assured: The pair is soon destined to meet. In January, Lorde is part of a lineup of artists, including Harry Styles, paying tribute to Fleetwood Mac at Radio City Music Hall, where Nicks, along with the rest of the band, will be performing—and where a long-awaited coven will no doubt also be forming backstage.
The Best Rocker-Chic Hair of All Time, from Stevie Nicks to the Haim Sisters
Rocking out at her show at Madison Square Garden in 1970, Janis Joplin performed with her loose hair styled in natural waves.

Photo by Getty.
Rock legend Stevie Nicks posed in 1975 with her voluminous blonde locks in choppy layers with full bangs and a metallic smoky eye.

Photo by Getty.
With her tousled shoulder-length locks and wild bangs, Tina Turner performed on stage at the Odeon in 1982.

Photo by Getty.
Debbie Harry knows how to do rock glam. Here, the Blondie singer paired her messy, voluminous curls with a lavender smoky eye at Club 4D in New York in 1986.

Photo by Getty.
Attending the "That's What Friends Are For: Arista Records' 15th Anniversary Concert", Patti Smith wore her hair in natural waves with loose braids in 1990.

Photo by Getty.
Madonna paired her curly platinum blonde bob with a satin burgundy lip while out in New York City in 1990.

Photo by Getty.
At the First Annual Billboard Music Awards in 1990, Janet Jackson wore her tousled up do with brow-skimming bangs and a sleek cat eye.

Photo by Getty.
Performing at the Live 105's Not So Silent Night in 1994, Courtney Love rocked out with her messy waves and red lip.

Photo by Getty.
Alanis Morissette wore her long brunette hair in loose waves at the 12th Annual MTV Video Music Awards in 1995.

Photo by Getty.
Singer Gwen Stefani styled her bright blue bob in twisted top knots at the 1998 MTV Video Music Awards.

Photo by Getty.
At the 2003 US Summer Tour opener, Björk performed with festive floral clips in her hair and colorful decorative paint on her face.

Photo by Getty.
At the T4 Star of 2009, Florence Welch wore her vibrant fiery red locks in natural waves with maroon lip to match.

Photo by Getty.
Lorde wore her signature brunette waves side-parted with a gothic plum lip at the The Grammy Nominations Concert in 2014.

Photo by Getty.
Lady Gaga looked like a rock star with swept back platinum blonde curls and a bold red lip at the Met Gala 2016.

Photo by Getty.
At the 2016 Costume Institute Gala, Taylor Swift wore her platinum blonde bob in natural waves with a dark plum lip.

Photo by Getty.
The Haim sisters posed at a pop up screening of Paul Thomas Anderson's Valentine pairing their natural waves with a copper orange smoky eyes in 2017.

Photo by Getty.
Related: The Evolution of Stevie Nicks' Incredible Rock 'n' Roll Hair, From the '70s to Today
Elle Fanning Secretly Watches (and Cries Over) Dakota's Old Talk Show Videos: