Lorde Reacts To Her First Number One Album
"[15-year-old] me would have been so proud."
---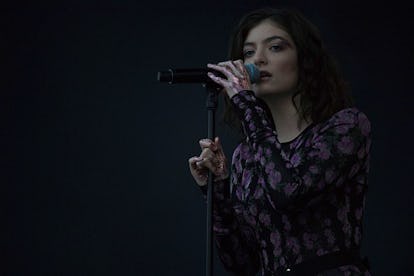 Ian Gavan
Remember when Lorde sang "We'll never be royals"? As it turns out, she may have sold herself short.
The 20-year-old artist officially solidified her status as music royalty when her latest album Melodrama made it to No. 1 on the Billboard 200 chart. Billboard reports that the album sold 109,000 equivalent album units the week of June 22, and more than half of those were in traditional album sales.
Melodrama is Lorde's second album and was released after the singer took a three-year hiatus from the public eye. During that time, she broke up with her boyfriend and moved into her own home, and all of these experiences affected her creative process.
"That felt like a kid; this feels like a young woman," she told Rolling Stone in an interview about the album. "I can hear the difference."
Melodrama made waves when Lorde debuted the first single, "Green Light," in March; then again, when Lorde performed another track off the album, "Homemade Dynamite," at Coachella (which also happened to be her first concert in three years); then again, when the artist shared that she collaborated with producer (and Lena Dunham's boyfriend) Jack Antonoff on the album and that Dunham even helped out. Needless to say, by the time the full album was released on June 16, demand had been stoked for maximum effect.
And someone else who was excited? Lorde.
Even though Lorde has already been nominated for a Grammy, this is the first time she's has made it to the top of the chart. Her first album, Pure Heroine, which included hits like "Royals" and "Team," debuted in 2013 and peaked at No. 3 on 200 chart.
Lorde is scheduled to start her Melodrama in September (the first stop is in Manchester,England), and if the album debut is any indication, it seems like tickets might go fast.
Related: The Story Behind Lorde's New Album Cover, From the Artist Who Created It
See What's Trending in W Video: