First Look at Lost In Space Netflix Reboot Has Plenty of Mustard-Colored Space Suits, Not Nearly Enough Parker Posey
The '60s series is getting yet another remake.
---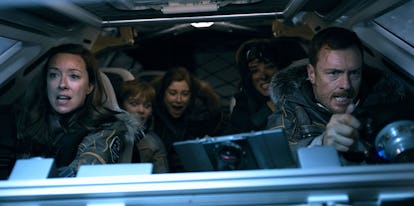 Courtesy of Netflix
It's been half a century since Lost In Space premiered on TV, following the Robinson family's unexpected journey through the galaxies over the course of 83 episodes. Though there's been quite a few reboots since then, including a 1998 film version starring Matt LeBlanc and Gary Oldman, it's been two decades since the last—making it fertile ground for yet another Netflix original series as the streaming service continues to nearly triple the number of shows they've had since 2010. (They even have a planned show with the guy from My Chemical Romance that stars Mary J. Blige.)
The 2018 version of Lost In Space is set 30 years in the future, when spacesuits are mustard-colored and space colonization is a reality—at least for a select number of tester families like the Robinsons, the most recent iteration of which includes Toby Stephens and Molly Parker. Soon up, they end up living a much different life than they expected when they're thrown off course and onto a lost planet, where they're forced to "survive in a dangerous alien environment, light-years from their original destination," as Netflix puts it. There is one upside, though—they might not have a safe home, but they do have Parker Posey!
The show's trailer, which Netflix rolled out today, on the other hand, unfortunately does not include Parker Posey, who plays the "unsettlingly charismatic" Dr. Smith. In fact, it doesn't feature very much action at all—or even a glimpse at space. After a calm, Westworld-like pan of the Robinsons and their no longer very hospitable earth, though, there is a voiceover of the words "brace for impact" and a flash of a safety mask, hinting to the darker future ahead that can also be found in the stills so far available from the series.
Andrew Garfield's Favorite Birthday Was a Strange, Magical "Trip" at Disneyland:
Alas, for now, it looks like we'll have to wait until the show's release on April 13 to find out just how much of a "master manipulator" Posey is—and, most importantly, if the costume design will take any hints from the original '60s version, which saw Jonathan Harris (far left) play Posey's character.
Related: Mary J. Blige Is Starring in a Netflix Show Created By the Guy From My Chemical Romance