How Lotta Volkova Became the Coolest Stylist in the Industry
"It took me a while to make it in Paris."
---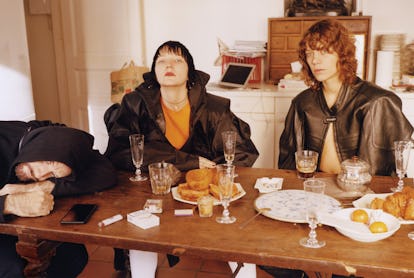 Lotta Volkova has not only walked in Vetements shows for the past few seasons, she's also styled them. The Russian stylist, 32, has experienced a meteoric rise to the top of Paris fashion as one of the key players who helped shape Demna Gvasalia's underground-cool label. These days, Vetements is far from the obscure brand it once was, partly thanks to her post-Soviet, grunge girl styling touches that have become synonymous with the brand. Aside from her work with Gvasalia and her pal, star Russian streetwear designer Gosha Rubchinskiy, she's also busy doing fashion shoots for publications like Re-Edition and Dazed & Confused with some of fashion's top photographers, including Juergen Teller, Willy Vanderperre, Collier Schorr and Harley Weir. Volkova was in Helsinki recently to take part in a Aalto University fashion seminar, chaired by A Magazine's editor-in-chief Dan Thawley, about building a story around fashion. Here, she talks about her fast ascent to the top, the fashion scene in Finland, and what she's up to next.
What was your first fashion gig in Paris? Ellen von Unwerth was the first person who invited me to do a little test shoot with her, that was the very first time ever. I met Ellen at a party in Paris and she said, "Oh, I love your style. Why don't you bring some clothes and we will do a little test." That was just one or two months after I'd arrived.
After that it snowballed? Yeah, exactly. I worked with so many different people, so many different magazines. It took me a while to make it in Paris.
Where are you from originally? I'm from Vladivostok, Russia and was born in the Soviet Union. It's a relatively big town, but small when you compare it with a capital like London.
Where did you go from Vladivostok ? I went to London to study at Saint Martins when I was 17. I'd just finished high school and it was kind of an adventure. That's where I discovered everything, like nightclubbing. I met so many incredible friends and inspiring people in fashion and art, all of that through nightclubbing.
That's when you met your husband Alban Adam ? No. A common friend, the stylist Tom Murphy, introduced me to Alban a couple of years later in 2003 when I had my brand (Lotta Skeletrix) and I wanted to do a fashion show. I was looking for someone to help me do a show in Paris because I'd never been there before and I had no idea how to produce a show.
What were the clothes like? They were what I wanted to wear to go out to party, like customized jeans and T-shirts. I photographed it on my friends so it was really just very immediate, very easy, very D.I.Y., and fun.
Fast forward to Paris, what year did you arrive? 2007.
What magazines are you working for now? I'm working a lot with Re-Edition (I'm the senior fashion editor-at-large) and Man About Town, but I've also shot for Another, i-D, Dazed, and V. To be really honest, at the moment it's hard for me to shoot as many editorials as I used to. I'm doing so much consulting and that's taking most of my time.
With Vetements and Balenciaga? Plus other brands. I work with Gosha and Sies Marjan, who had their first show in New York last February.
Who are your favorite designers? I love Miuccia Prada, I think she's a genius. No matter what age you are, no matter what kind of style you have, there's always something for you. She's a really strong visionary and to be able to hold it together for so many years and still be there on top of it and produce quite interesting things is impressive. I love Martine Rose who is doing menswear in London. I love Gosha, of course, and Demna. I think I'm quite lucky to work with the people I work with. I like quite a few young designers in London, like Molly Goddard, she's quite fun.
Let's talk about Helsinki. Tell me about your relationship with Helsinki and Tuomas Laitinen, the director of Aalto University's fashion department. Well I've known Tuomas since we were both in London at Central Saint Martins. When I had my brand and Tuomas had his brand Laitinen, we both participated in trade shows in Berlin. That's how we became really good friends. Then he invited me to come and help him teach and do tutorials at Aalto University. I think I've been doing that for like five years, or maybe six. I love it here. People have quite a dark and strong aesthetic. There's so many Russian influences, so I feel quite at home here. I feel like it's kind of a melting pot of so many references so it's quite interesting.
What do you think made Helsinki happen? There have been so many designers from here winning fashion prizes and landing gigs with big brands lately. Tuomas Laitinen. He did an M.A. at Saint Martins under Louise Wilson. I think that influenced him a lot. Then when he came back to Finland and got the assignment at Aalto, that was kind of a challenge to bring whatever Louise gave him and to teach in that way and really bring something out of those students.
Where are you going from here? Well I'm quite happy to be working the way I work at the moment. I have quite a few shows coming up. I'm working with Gosha on the Pitti show and I'm working with Demna on the first menswear Balenciaga show. Then we have a Vetements show during couture. For me, the most important thing now is to maintain my integrity as much as possible. At this level, it becomes quite tricky. I have much less time than I used to so it's quite important to prioritize and to focus on certain projects that still reflect exactly what I want to say and allow me to be as free as possible. For me that's the most important, rather than adding those titles to my resumé.
Watch W's most popular videos here:
Photos: How Lotta Volkova Became the Coolest Stylist in the Industry