Lottie Moss and Her Calvins
Calvin Klein Jeans and mytheresa.com's new collaboration goes back to basics.
---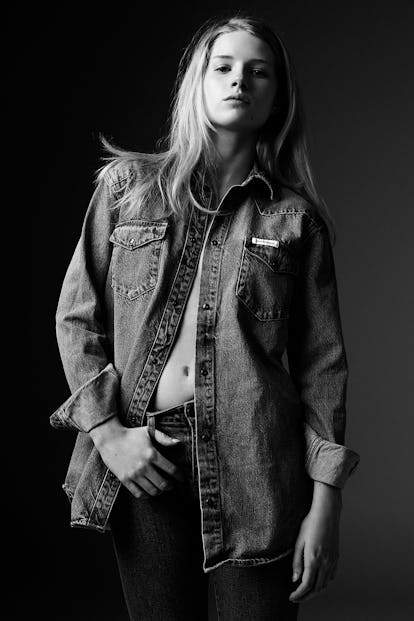 Everything old is new again thanks to a collaboration between Calvin Klein Jeans and luxury e-commerce site mytheresa.com. Faced by Lottie Moss, half-sister of Klein muse Kate and It girl in her own right, the collection celebrates the brand's iconic past in true CK style. "The Re-Issue Project," as it is called, is filled with updated classics such as high-waisted jeans, denim jackets, and tees and sweatshirts adorned with the brand's iconic logo. "The capsule is all about nostalgia for the '90s and that whole look feeling very right again," said Calvin Klein Jeans's Global Creative Director, Kevin Carrigan. Keeping it all in the family, Michael Avedon, grandson of famed photographer Richard Avedon, who captured Brooke Shields for the brand's notorious 1981 advertisements, shot Moss for the campaign. "Lottie truly represents the essence of the Calvin Klein girl," he said. "Intriguing innocence with utter beauty."
Calvin Klein Jeans x mytheresa.com The Re-Issue Project will be exclusively available at mytheresa.com beginning July 16th.
Photos: Lottie Moss and Her Calvins
Lottie Moss for Calvin Klein Jeans x mytheresa.com. © 2014 Michael Avedon
Lottie Moss for Calvin Klein Jeans x mytheresa.com. © 2014 Michael Avedon
Lottie Moss for Calvin Klein Jeans x mytheresa.com. © 2014 Michael Avedon
Lottie Moss for Calvin Klein Jeans x mytheresa.com. © 2014 Michael Avedon
Lottie Moss for Calvin Klein Jeans x mytheresa.com. © 2014 Michael Avedon
Lottie Moss for Calvin Klein Jeans x mytheresa.com. © 2014 Michael Avedon
Lottie Moss for Calvin Klein Jeans x mytheresa.com. © 2014 Michael Avedon