Louis Vuitton Pre-Fall 2020 Gives a Whole New Meaning to the Term "Look Book"
Nicolas Ghesquière's Louis Vuitton Pre-Fall 2020 look book mines kitschy '80s sci-fi novels.
---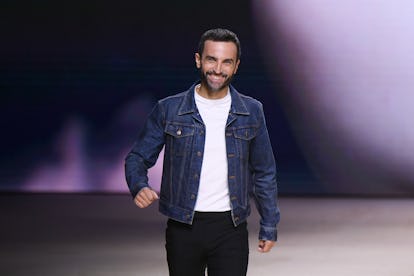 The term "look book" takes on a whole new meaning with Nicolas Ghesquière's Louis Vuitton Pre-Fall 2020 collection, which declares that not only is '80s nostalgia still in full force but books are now trending in the world of fashion.
Photographed by Collier Schorr, the Louis Vuitton Pre-Fall 2020 look book features Sophie Turner, Gugu Mbatha-Raw, Rinko Kikuchi, Jaden Smith, Deepika Padrone and other international stars posing for the covers of made up books in pieces from the Pre-Fall 2020 collection.
With titles like Arachnomania, Secret Sister, Danger Zone, and The Haunted Garden the 24 "covers" incorporate dragons, rockets, and zombies galore, with a kitschy aesthetic reminiscent of 1980s horror and sci-fi novels.
It was already common knowledge that Ghesquière loves sci-fi and is a gamer— or at least gamer adjacent. (Check his Instagram for a photo of the designer posing with Senna from League of Legends.) The concept, then, isn't a total surprise.
This particular class of campy vintage books look like such good fun that it would be hard to choose which one to read first. And if we're being honest, seeing four American Horror Story stars (Angelica Ross, Cody Fern, Emma Roberts, and Billie Lourd) cast in this look book has us thinking we'd rather read than sit through another disjointed season of that anthology series.
We can't help but think that if these look book novels were to be adapted for the screen, at least one of them could actually make a better season of American Horror Story than the plots Ryan Murphy has conjured up lately. After all, we have been promised (threatened?) with four more—why not just use this source material instead?
The Escape Room, starring Angelica Ross
A time-traveling epic that hints at an intergalactic journey (peep the moon boots)? Sign us up.
The Dragon Slayer, starring Emma Roberts
Move over Emilia Clarke, there's a new Mother of Dragons in town.
Sacred Rites, starring Cody Fern
No one signs up to play the anti-Christ on American Horror Story and expects the goth-wave to escape them.
Alive, starring Billie Lourd
If you were wondering what happened to Mallory (Lourd) after American Horror Story: Apocalypse, she actually just used her powers as the new Supreme to outlast everyone who dies out in the global apocalypse only to end up fighting zombies in a leather dress and plaid stockings.
Secret Spell, starring Billie Lourd and Cody Fern
The Escape to Witch Mountain spin-off you never knew you needed.
Related: Rihanna's Louis Vuitton Soccer Ball Bag Is a Piece of '90s History