Louis Vuitton Showed Stranger Things Merch on the Runway for Spring 2018
Nicolas Ghesquière is clearly a super fan.
---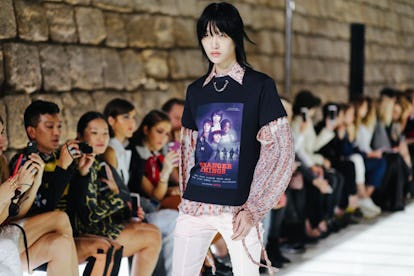 Jake Hateley
It's been over a year since the debut of Stranger Things but the fandom for it hasn't waned, even slightly. Thanks to Louis Vuitton's Nicolas Ghesquière, you can soon wear your love for the show nearly on your sleeve. Today, at the luxury brand's runway show for Spring 2018, the designer and renowned sci-fi fan sent out a merch t-shirt for the Netflix original. Ghesquière created his own rendition of a poster for the show, featuring all of the four male leads — though missing Eleven — on a black short-sleeve shirt topped with a chain loop. The Stranger Things tee was styled with see-through pink pants, sneakers, and, underneath it, a flowing blouse with balloon sleeves.
This isn't the first time the Louis Vuitton designer has taken inspiration from film. Back in 2006, the Star Wars expert showed robotic gold leggings for Spring 2007 reminiscent of C-3PO — Preen and Rodarte later followed in his wake, putting their own sartorial spins on the classic. Plus, just last season, Ghesquière paid homage to the 1995 anime film Ghost in the Shell with clothes and with music, as the soundtrack for his show consisted of the score.
This also isn't the first time that Ghesquière has shown interest in Stranger Things. Last September the designer posted a picture of himself alongside some of the cast at the Louis Vuitton headquarters. "GOT STRANGERS IN THE HOUSE TODAY," he wrote in the caption.
Ghesquière opened up about the experience to Vogue after the Spring 2018 show for Louis Vuitton, saying, "I met the kids last season, and we had a very good time. And so we spoke and we thought it was very funny, maybe, to do a little citation of the series that is coming out soon in the show. It's always great to have a little accident like that in the styling, like if the girl has kept her T-shirt from backstage in a way, and so Stranger Things . . . I think it was one of the most wanted clothes backstage by the girls." If only the rest of the world could get their hands on Louis Vuitton's Stranger Things merch ahead of the show's second season premiere on October 27.