Officer Louise
The Countess envisions a cop squad charged with ferreting out fashion's worst offenders.
---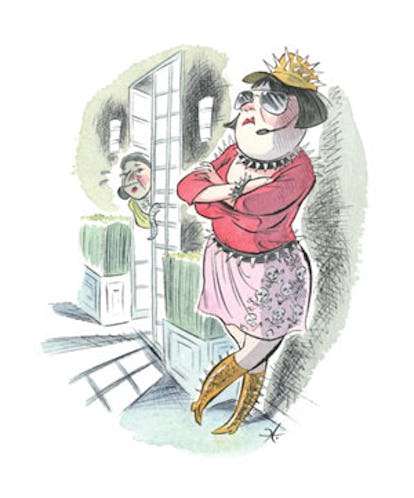 It's about time the Fashion Police began to patrol the scene.
What exactly would they do? Well, let me start at the beginning. In the old days, there was a restaurant called the Lafayette, and if patrons walked in wearing sunglasses on top of their heads, they were asked to leave (one famous publisher left and never returned).
Then there was La Côte Basque, which was ruled by Madame Henriette, who wouldn't admit any woman wearing pants. As the story goes, a fashionable lady once arrived in pants—with a Seeing Eye dog, or so she called him. Madame Henriette liked dogs, so she allowed the woman and the dog in, getting around both Madame's and New York's "no doggies allowed" rule.
Of course, even in those days the Fashion Police made mistakes. Once there was a book tour involving best-selling author Larry Collins, his colleague Dominique Lapierre, Brooke Astor and a minor writer. They were in Fort Worth, Texas, when the minor author got up and started preaching about how women should dress—always a dangerous topic. The author avowed that women of a certain age should never wear a sleeveless dress. As he droned on, the always elegant Brooke Astor reached down and slowly pulled her jacket up to cover her bare arms. That brought down the house.
Still, the Fashion Police have their uses—perhaps more so than ever today, when women addicted to the latest "fashion" can seem absurd, and people interpret "casual chic" to mean they can wander the streets looking like slobs. Why can't we take a page from the British, who have their own squad to ensure that proper standards of attire are obeyed by those entering Ascot's Royal Enclosure? (Not that the royal family is the height of fashion, but they are always dressed properly—okay, except for Camilla's hats.)
Our Fashion Police would help stop current atrocities such as:
• Flip-flops. Since when did they move from the beach to the streets—and the workplace?
• Overdone, overblown, overdyed, acid yellow hair and too much makeup.
• Wearing your wealth on your wrists, fingers, ears and neck—all at the same time.
• Superspiked heels and shiny leather boots—dominatrix fashion. Where's the whip?
• Women with big bottoms, or even those with small ones, wearing tighter and tighter blue jeans.
• Supershort skirts and low-cut jeans revealing a woman's lingerie—or none at all.
• Bikinis on the overweight. Now I myself am proudly a woman of a certain size (although I won't say which size). But at an inevitable point, and age, pride in one's body runs smack up against cold, hard reality. And while we're at it, can we please stop wearing tight, low-cut tank tops that bulge in all the wrong places?
• Big handbags stuffed with cell phones, BlackBerries, keys, wallets, magazines, sandwiches, water bottles, flip-flops, hair clips, gym clothes, computers, snack bars, small children and husbands.
• Logos across the buttocks.
• Women at the opening of the Metropolitan Opera dressed to the nines and thinking they are the Fashion Meows but, in most cases, are not.
• Knapsacks. When did going to work equate to a 25-mile hike in the woods? Men in suits, women in dresses—everyone carries a backpack today. But I do like those packs children tote with teddy bears dangling out the back—how cute!
• Sneakers in the office, unless you work at Google or Microsoft.
• Faces Botoxed within an inch of their elasticity. We get old; we get wrinkles.
• Fanny packs, usually clipped with a cell phone or BlackBerry. If we're carrying huge handbags and backpacks, what do we need these for?
So what should the Fashion Police wear to enforce the Esterhazy Edicts? Well, how about a bright red top, a pink skirt, orange boots and a baseball cap with spikes all over? The Fashion Police would use their headsets to call photographers to shoot the worst offenders, who would then appear in the Hall of Fashion Shame. Or on a best-dressed list. After all, they often can be the same thing—it depends on who's judging.