Lourdes Leon Joins Instagram (Just Don't Mention Her Mom)
She's aware of who her mother is, thanks.
---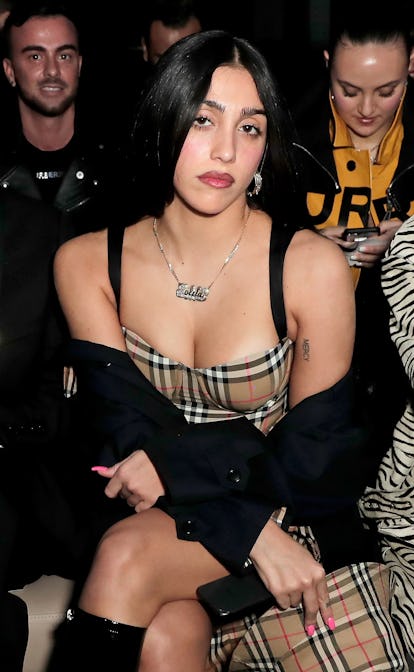 Photo by David M. Benett/Dave Benett/Getty Images for Burberry
Lourdes Leon has finally joined Instagram. Or at least she's finally set up a public and verified account. While she's long maintained an occasional and almost low key presence in the fashion world (previously starring in a Miu Miu campaign and supporting independent New York designers), in recent years, the 24-year-old style maven has stepped up her modeling efforts. As of late she's appeared in campaigns and look books for Stella McCartney's Adidas line, Juicy Couture's collaboration with Parade underwear, and Jean Paul Gautier's collaboration with Supreme. Her first two posts on the public account are, of course, her two latest campaigns (if there's any lingering concern it's not legit, even despite the blue checkmark, the official Stella McCartney account has commented). In other words, so far the account is all about business.
Leon doesn't follow anyone on the account yet, not even her own mother, Madonna. Though, it is worth noting that her user icon is a photo of RuPaul's Drag Race judge Michelle Visage. If you're not aware, Visage is a noted Madonna super-fan who was once a member of '80s girl group Seduction, during which her look was often compared to Madge's. Madonna, as of last check, has no idea who Visage is.
It would also appear that Leon doesn't have much patience for her mother's fans invading her comment section. "YOUR MOTHER IS AN ICON SIS," wrote one early follower.
"So go follow her. It's @madonna btw if u didn't know," Leon wrote back.
While the children of other icons have basically leapt over each other trying to score campaigns and front row invites at any cost, Leon has taken her time. She attended the University of Michigan, and over the past few years has kept a quiet presence in New York City. And while did some press for her mother's clothing line Material Girl as a teen and once appeared in her mother's I'm Going To Tell You A Secret documentary, Leon doesn't give interviews and hasn't attempted to mount much of a public profile on her own, aside from occasional modeling work. This public Instagram account, however, may be the latest signal her relationship to the press is changing.
Related: How Lourdes Leon, The Latest Miu Miu Girl, Became Fashion's Quietest It Girl