Lucy Hale Is a Feminist Stoner in Netflix's 4/20 Movie Dude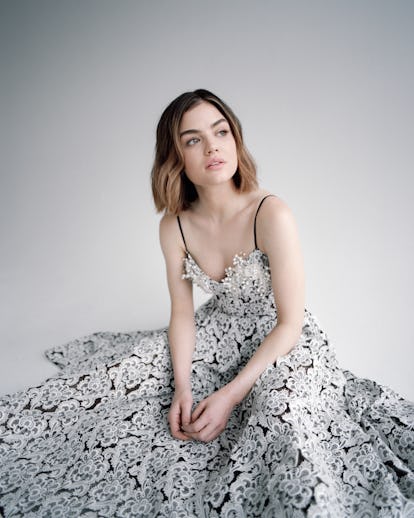 This year's 4/20 is going to be lit — literally. For those unaware of the date, it marks a cannabis holiday and, to celebrate, Netflix is dropping a Lucy Hale-fronted stoner comedy called Dude. Today brings the first look at it, with the arrival of the trailer, and it looks dope. Weed puns aside, the film appears to be a delightful coming-of-age story about four girls trying to hold onto their tight-knit friendship as they prepare to transition from high school to college. Sound familiar? Yeah, it's basically a stoner version of Sisterhood of the Traveling Pants.
Dude promises to be more inclusive though, as Hale stars opposite of Straight Outta Compton and X-Men: Apocalypse's Alexandra Shipp, Skins alum Kathryn Prescott, and Nora Lum of the upcoming Ocean's 8 and of rapper fame (she records as Awkwafina), who jokes about having "token white friends" in the trailer. The film is also poised to be feminist as Hale seeks advice from a young man who brags he's surrounded by "brilliant women."
It also looks like the film will have plenty of laughs, judging by the opening scene of the trailer where Hale gets pulled over in the trailer by a cop who spots a Donkey Kong bong — or a "donkey bong" as her friends refer to it — in her backseat. "I don't know what the f-ck you're thinking, driving around with a bong in the backseat of your car. Who do you think you are, Willie Nelson?," the cop says. "Even he got arrested."
The film is a natural move for Hale, who has been looking to leave behind TV, despite accepting a starring role in Life Sentence after her breakthrough role on Pretty Little Liars ended. "I was like, 'Wow, TV again?'" Hale told W last spring of taking on the new TV job. "I did Pretty Little Liars for so long, but my thing is that if it speaks to you and it's good material and a good role, then it doesn't matter what area of work it's in. I'm going to do it. It just happened to be in TV again."
What may be surprising though is that Hale is playing a stoner, even though she doesn't partake in recreational marijuana in real life. In an interview with Sirius XM anchor Sway, she recalled of her friendship with her former co-star Ashley Benson that "Me and Ashley were friends when we were 16, 17 so we got in some trouble."
"Y'all weren't smoking weed or nothing like that?," Sway asked to which Hale replied, "No." Which is all to say with Dude, Hale will truly prove her acting chops.