Lucy Hale Is Very Excited (and a Little Frightened) to Return to TV with Life Sentence
With Life Sentence, Lucy Hale premieres her first TV project since wrapping Pretty Little Liars last year.
---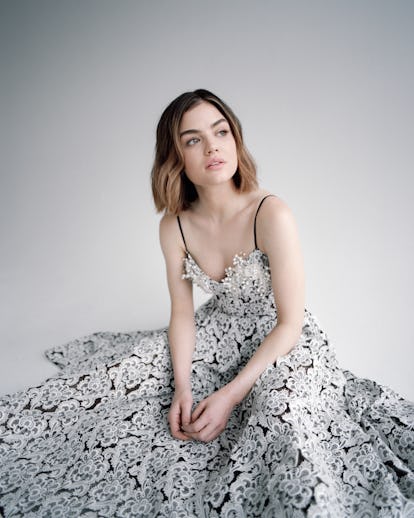 In her horror movie Truth or Dare, out next month, Lucy Hale will have her hand brutally smashed by a hammer, be stalked by evil forces, and get possessed while having sex, all in the name of one truly haunted game of, yes, Truth or Dare. Scary stuff, right? Well, in fact it was another project that had the 28-year-old actress scared recently—her new television series Life Sentence, which premieres on The CW tomorrow night.
"It's like first day of school," Hale said of starting a brand new show. "It's horrifying. It will never not be horrifying. The good thing is that it was a whole new experience for everyone. That's the beauty of it. We are creating something from the ground up. It feels so rewarding."
In the show, Hale plays Stella, a young woman who has been living her life under the impression that she is dying from terminal cancer, only to find out, hey, she's not. "She's a girl who the last eight years of her life thought that she was dying, so she was living like she was dying," Hale explained. "She was hidden from all of the horribleness of the world and lived in this fake fantasy world for so long. In the pilot we find out that she is going to live, so she has to rediscover who she is, and figure out who she wants to be."
The premiere of Life Sentence marks Hale's return to TV just under a year after her immensely popular series Pretty Little Liars ended its 7-year run last summer. "I was like, 'Wow, TV again?'" Hale said of her quick return to cable. "I did Pretty Little Liars for so long, but my thing is that if it speaks to you and it's good material and a good role, then it doesn't matter what area of work it's in. I'm going to do it. It just happened to be in TV again."
Unlike Pretty Little Liars, where Hale co-headlined with fellow Liars Troian Bellisario, Shay Mitchell, and Ashley Benson, this new show rests firmly on the petite star's shoulders. "It was a big jump," she said of being the undisputed number one on the call sheet. "It's going from an ensemble show to something where I am in every scene. If the show fails it's because of me, and if it succeeds it's because of me. It's a lot of pressure."
Let Lucy Hale Explain the Plot Of Her New Series "Life Sentence" In 1 Minute
If anyone knows about the spotlight, it's Hale. Born in Memphis, Hale had her first brush with fame as one of the winners of ABC's American Idol spinoff, American Juniors, before relocating to Los Angeles at 15 years-old to pursue a career in singing. Hale soon turned her attention to acting, landing guest stints on shows like The O.C., Drake and Josh, and Wizards of Waverly Place, as well as a starring role in the short-lived, but much-beloved WB show Privileged. It was a few short years later that she was cast as Aria Montgomery in Pretty Little Liars, which catapulted her star to a new level thanks to the show's cult-like following.
Hale starred on the show for seven years, leaving her at a bit of crossroads when the series came to an end last year. "I was like, 'Oh my god. This is really the end end. What am I going to do? What's the next step?'" she recalled. "And honestly, for a while I thought I might just chill a little bit before taking the next step."
As she herself was quick to point out, Hale doesn't do sitting still well. ("I love working. I love being busy," she declared.) She got right back to filming Truth or Dare, which is in theaters April 13. "Talk about a crazy shoot," she said of the horror movie. "The Blumhouse [Productions, the company behind films such as Get Out and The Purge] model is they take a script, make it for a couple of a million dollars—super low budget—and it's like throwing spaghetti on a wall. If it sticks, they'll promote it. We had no idea when we were making it if it was going to be picked up or released. It was a hectic, crazy shoot. There's a lot of energy—you are always running, screaming, crying. It all paid off. It tested really well."
There are plenty of other genres that Hale hopes to explore as her career continues to unfold. "I love very character-driven movies. Lady Bird is a dream project," she said. "Not that I don't like blockbuster movies. If somebody called me up and said, 'Want to be in Wonder Women 2?' Like, obviously."
But until Themyscira calls, there's still Los Angeles, which Hale has begun to appreciate as home after growing up in the South—despite a recent scare. "My house just recently got broken into which was… It was weird," she said. "But it's one of those experiences that humble you and make you reevaluate what's important to you. I'm just trying to look at it from that point of view. Luckily everyone was safe and nothing too horrific happened."
She shook off the thought, opting to focus on the positive. "I love my life in L.A. now," she continued. "I moved there really young with my mom, and for so many years it was just her and I, and it was just us against the world and I didn't really know anyone. I had friends but didn't really trust them and we were making poor decisions. It was that phase, and now I'm in the phase where my priorities are different. I take care of myself. I'll be 29 in June; there's this weird shift that happens. I don't get off on going out anymore. My favorite thing is to just go home."
Suffice to say, you won't catch any paparazzi shots of Hale stumbling out of a club on the internet."I think there is this preconceived notion that all these parties are so glamorous and fun, but it's my nightmare," she said. "I run a little socially anxious anyways, but it's just not what you imagine it to be." Instead, Hale maintains a group of close friends who are in the industry, but in creative fields behind the camera."I want to surround myself with people who are real and like me for who I am and don't give a f— about anything else," she said. "That's not to say that actors are assholes, it's just that I tend to gravitate more towards people who are creative and work hard but just happen to be behind the scenes."
There're also her former Pretty Little Liars co-stars, whom Hale said she talks to "every now and then." "It's cool to see everyone doing their thing," she said. "We all started together and now we are off on all our different career paths. It's great. I talked to Sasha [Pieterse] the other day who is about to start the spinoff, which is really exciting and I'm really happy for her."
It begs the question: Now that she's got her own brand new show, would Hale ever return to Rosewood? "Maybe," she considered. "I don't even know what to expect from it… But I never say never to anything."
Related: Sofia Carson Is Just as Excited About the Pretty Little Liars Spinoff As You