Kristen Wiig Confirmed as Wonder Woman 2 Super Villain
The studio was reportedly also considering Emma Stone.
---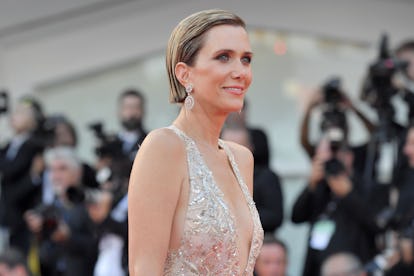 Tiziana Fabi/AFP/Getty Images
If you've ever wanted to see Kristen Wiig as a villain, then boy, do we have some great news for you. On Friday, director Patti Jenkins confirmed on Twitter that the Saturday Night Live alum and Bridesmaids star will play the main super villain of the upcoming Wonder Woman 2 after reports that she was in discussions. Jenkins's Wonder Woman sequel will reportedly be set during the Cold War, with Wiig taking on the role of frequent Wonder Woman rival Cheetah.
As The Hashtag Show previously reported, Warner Bros. was initially eyeing Emma Stone for the part, but she has since turned them down. That leaft Kristen Wiig as the top contender for the lead foil to Gal Gadot's Amazonian super heroine. According to The Hashtag Show, Cheetah has gone through several incarnations in the comic books, but Wonder Woman 2 will most likely feature Barbara Ann Minerva, a British archaeologist who starts channeling a cheetah god after she Columbuses a death ritual in the lost city of Urzkartagan.
With Wiig being most famous for her scene-stealing turns as a comedian, there are already a few concerned tweets about her ability to turn it out as an evil villain, but anyone questioning Kristen Wiig's terror-inducing abilities has clearly never seen mother! Her cameo in Darren Aronofsky's controversial self-insert God fanfic lasts for less than two minutes, but 30 seconds of it involves her shooting six people in the skull before asking a mob of baby-hungry, climate change-giddy humans to "finish" Jennifer Lawrence.
Wiig will also join the still small list of women, including Cate Blanchett in the latest Thor, who have played the main villain (as opposed to sidekicks, or anti-heroines) in the latest round of superhero movies.
Watch: Kristen Wiig Performs Drake's "Hotline Bling"