Emma Stone on Being the New Face of Louis Vuitton: "It's Literally Like Being in Pretty Woman"
With Nicolas Ghesquiere, photographs by Craig McDean, Styled by Marie-Amelie Sauve, Written by Alexandra Marshall
---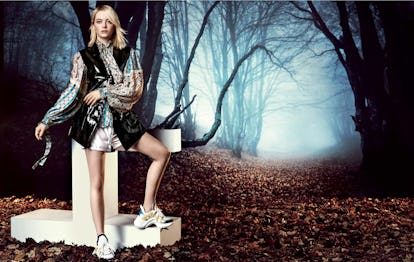 Photographs by Craig McDeanl; Styled by Marie-Amelie Sauve
It's a gray, freezing Sunday morning in Aubervilliers, a drab suburb north of Paris, but inside an industrial building, a far more stylized kind of gloom is being conjured. The set designer Jean-Michel Bertin is arranging truckloads of dead leaves and moss into a kind of mystical grove populated by a series of geometric sculptures. It's the backdrop for a Louis XVI–meets–Interview With the Vampire shoot with Louis Vuitton's artistic director, Nicolas Ghesquière, and Emma Stone, who recently became an ambassador for the brand.
Stone is quite happy that this new arrangement will bring her regularly to the city to attend fashion shows, shoot ad campaigns, and brainstorm with Ghesquière on custom looks for future red-carpet appearances. It's a far cry from how she first experienced the French capital as a 12-year-old, when her mother chaperoned her trip with the Arizona Angels, the teen dance troupe that Stone belonged to in her hometown of Scottsdale. "We were performing at Euro Disney," recalls Stone, whose mother is with her in Paris for the first time since that teenhood visit. "And I remember being so amazed, like, 'We're in Paaaris!' Well, now we're staying at the Ritz and it's literally like being in Pretty Woman." The deal also means more time in Los Angeles for Ghesquière, which suits him as well. "I don't go to Euro Disney, but every time I'm in L.A., I visit Universal Studios. I go on all the rides." Stone breaks in: "Wait—the Harry Potter rides?" "Yes, they're amazing! I'm always looking for friends who've never been to come with me. I'm crazy about roller-coasters."
Stone, 29, is the highest-paid actress in the world, but had resisted joining a fashion house until she found the right partner, under the right circumstances. The deal with Vuitton took a year to negotiate, though Ghesquière says that he had wanted Stone on his team since he arrived at Vuitton at the end of 2013. "The first name I mentioned was Emma's, but it takes time to set up a dialogue," he explains, huddled with Stone on a couch in between shots. "What I love about you, Emma, is your ability to balance. You have this femininity and, at the same time, a boyish side that's supercool and inspiring."
Stone says that her stylist, Petra Flannery, was "a huge component" in closing the deal. Since 2007, Flannery has handled Stone's looks for special occasions; now she, Stone, and Ghesquière are style co-conspirators. Stone will have the option to wear other labels, but she relishes the chance to work with a consistent brain trust. "We're all together as a team, discussing, for example, how to approach awards season," she says. "It's fun to have a plan, to start creating a story with someone like Nicolas. Creatively, it's such an opportunity."
Like her pal Jennifer Lawrence, Stone is part of a group of actresses who eschew polished distance for chummy relatability. Red-carpet looks that might come across as fusty on someone else look fresh on her. Little by ­little, she has experimented with more directional fashion, opting for designers like Rodarte and Giambattista Valli. With Ghesquière, who doesn't do cream-puff princesses, she's committing to someone who regularly pushes silhouettes and textures to counterintuitive places. His spring collection, which he showed right before the signing was announced last October, was a quirky study in contrasts. Versailles-worthy brocade­ ­cutaway coats were teamed with silk running shorts or patent-leather jeans; a stranger things T-shirt topped a Scarlet Pimpernel puffy shirt; and almost everything, whether day or evening, was paired with giant sneakers.
"I did the collection knowing that Emma and I were going to ­collaborate," Ghesquière says. "There's always a moment as a designer when it suddenly comes to you, even if at first you're not thinking of anyone in particular. In this case, I kept wondering, Would Emma wear this? Would she love that?" Like he needs to ask.
Watch: Jennifer Lawrence and Emma Stone Have a Lot More in Common Than They Realized
Related: Emma Stone Just Got a Perm, Proving the '80s Trend Is Officially "Back"
For La La Land and Beyond, It's Impossible to Pin Down Emma Stone's Eclectic Style
Emma Stone in Prada at the Metropolitan Museum of Art Costume Institute Gala for 'Manus x Machina' in New York, New York, May 2016.

Getty Images
Emma Stone in Roland Mouret at the Hollywood Foreign Press Association Grants Banquet in Beverly Hills, California, August 2016.

WireImage/Getty Images
Emma Stone in Atelier Versace at the opening ceremony of the Venice Film Festival and the premiere of La La Land in Venice, Italy, August 2016.

WireImage/Getty Images
Emma Stone in Chanel at the Venice Film Festival in Venice, Italy, August 2016.

GC Images/Getty Images
Emma Stone in Rochas at the party for Katie Says Goodbye at the Toronto International Film Festival in Toronto, Canada, September 2016.

WireImage/Getty Images
Emma Stone in Chanel at the press conference for La La Land in Venice, Italy, September 2016.

WireImage/Getty Images
Emma Stone in Chanel at the premiere of La La Land at the Toronto International Film Festival in Toronto, Canada, September 2016.

FilmMagic/Getty Images
Emma Stone in Rodarte at the special screening of La La Land during the Mill Valley Film Festival in Mill Valley, California, October 2016.

FilmMagic/Getty Images
Emma Stone in Prada at the Kennedy Center Mark Twain Prize in honor of Bill Murray in Washington, D.C., October 2016.

WireImage
Emma Stone in Chanel at the premiere of La La Land at the Denver Film Festival in Denver, Colorado, November 2016.

Getty Images
Emma Stone in Rosetta Getty at a special screening of La La Land in Los Angeles, California, November 2016.

Getty Images for Lionsgate
Emma Stone in Prada at the premiere of La La Land in Westwood, California, December 2016.

FilmMagic
Emma Stone in Rochas with Ryan Gosling at their hand and footprint ceremony at TCL Chinese Theater in Hollywood, California, December 2016.

FilmMagic/Getty Images
Emma Stone in Giambattista Valli at the Hollywood Reporter Women in Entertainment breakfast in Los Angeles, California, December 2016.

Getty Images for The Hollywood Reporter
Emma Stone in Gucci at the W Magazine Best Performances pre-Golden Globes party in Los Angeles, California, January 2017.

Getty Images for W Magazine
Emma Stone in The Row at a screening of La La Land in London, England, January 2017.

Getty Images