Kristen Wiig, an Aspiring Diane Keaton, Just Bought Another Historic West Coast Home
The Bridesmaids actress reportedly purchased Case Study #10 for $2.96 last month.
---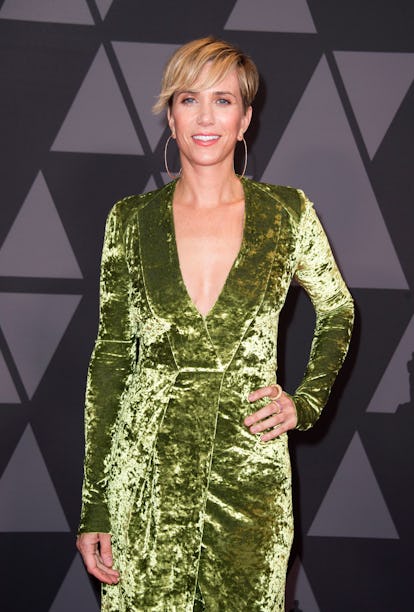 VALERIE MACON/Getty Images
After unloading one West coast home earlier this summer, Kristen Wiig has acquired yet another with the reported purchase of a $2.96 million house on San Rafael Ave. in Pasadena, California. The historic Case Study #10 house went on the market in September with an asking price of $2.99 million; Yolanda Yakkeyyak of Yolanda's Little Black Book reported earlier this month that a deal, which she attributed to the former SNL actress Wiig, was finalized in November.
Case Study #10 is, by all accounts, a home for design aficionados: The Pasadena home was designed by the father-son architecture team of Kemper Nomland and Kemper Nomland, Jr., and built in 1947; it is so named because it was constructed for Arts and Architecture magazine's "Case Study Program," a series of experiments in residential architecture, largely on the West coast, conducted over two decades from 1945 to roughly 1966. It's on the National Register of Historic Places; when it was last purchased in 2012, it was restored and, three years later, earned a local Historic Preservation Award.
The news comes on the heels of the sale of her Los Feliz home, which the Los Angeles Times wrote about in June. Built in 1949, that house previously sold for $1.76 million in 2013 before Wiig flipped it for $2 million this year. (It went on the market in March with an asking price of $2.4 million.)
Wiig has accumulated quite a catalogue of homes: In addition to the most recent acquisition, she is also the proud owner of a mid-century Los Angeles residence she purchased in 2014 for $1.7 million; a Soho loft she purchased in 2009 for $1.5 million and, since failing to sell it, has been renting for a cool $9,000 per month; plus, there's 4.5 acres on Martha's Vineyard she bought in 2015 for $2.46 million that came complete with water access, according to Variety.
Of course, by the standards of some famous Angelenos, Wiig's purchases are a model of restraint. Kendall Jenner offloaded two separate starter homes this year before buying an $8.5 million Mulholland Drive house that once belonged to Charlie Sheen. James Franco's latest side hustle involves acquiring homes and flipping them for double the purchase price. Diane Keaton, one of Hollywood's most avid real estate collectors, has even written a book called The House That Pinterest Built—so Wiig has excellent role models in the real estate world.