James Franco Has A New Side Hustle Selling Homes for Almost Double Their Value
The actor sold his home for a reported $1.35 million, nearly twice the amount of money he spent when he purchased the house in 2013.
---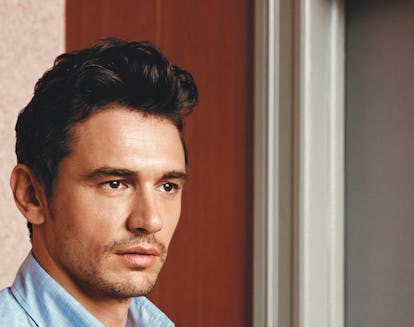 Photographs by Alasdair McLellan, Styled by Edward Enninful; Hair by Shay Ashual at Art Partner; makeup by Diane Kendal for Marc Jacobs Beauty at Julian Watson Agency; manicures by Casey Herman for Dior at the Wall Group. Set design by Stefan Beckman at Exposure NY.
James Franco might want to consider pitching a HGTV series where he teaches us how to flip houses for twice the price, because he just nearly doubled the value of his two-bedroom Silver Lake home. When Franco purchased the hillside compound, it was listed at just under $700,000. The actor purchased the home for $775,000 and recently sold it for $1.35 million, according to Women's Wear Daily.
Silver Lake is known for its unconventional vibe, in terms of its residents and their residencies, but there appear to be no outrageous decorations or eccentric accent pieces in the home formerly belonging to Franco, and perhaps that's because he allegedly never really lived there in the first place. According to Curbed, ever since Franco bought the home in 2013 he has made his neighbors' lives very difficult, with one neighbor alleging that Franco provided the house to his production company for film shoots.
While production trucks and hair and makeup chairs filled the driveways, the neighbor claimed, "Crowds of people constantly stream in and out of the house and have business meetings in front of OUR house and treat us as if we are eavesdropping sycophants when we walk out our gate to our car." The neighbor signed off on his email to the real estate publication by saying, "We like James Franco and we like some of his movies, but we're not so enamored of his presence that we are willing to give up our sanity in our own home." The neighbors might be happy to hear of Franco's departure from the area, but it remains to be seen if the house will become a home for another Hollywood eccentric.
The house exhibits some small quirks—from the the home's Spanish roof to its cute back patio—but in general the decor is rather tame, which seems very unlike the enigmatic James Franco. The most fascinating aspect of the home is its eclectic list of owners before Franco took over the abode.
The house was also owned by Janie Bryant, the costume designer for Mad Men who sold her Spanish-style house to Franco, and Princess Tatiana von Fürstenberg, the eccentric artist and filmmaker. Curbed also reports that D.W. Griffith—the American filmmaker who directed the controversial silent film Birth of a Nation—allegedly built the home in the 1920s.
Inside the Giga-Mansions of Beyoncé and Jay-Z, Calvin Klein, Avicii, and More
This new McClean house in the Bird Streets, at 1822 Marcheeta, is for sale for $19,950,000.

Jim Bartsch
At 1822 Marcheeta, over-the-top wine storage, skylights, and massive fireplaces are all McClean hallmarks.

Jim Bartsch
The Bird Streets mansion purchased by Calvin Klein for $25 million in 2015.

Jim Bartsch
Another view of the Bird Streets house purchased by Calvin Klein.

Jim Bartsch
A Blue Jay Way mansion which McClean estimated as going for as much as $30 million.

Jim Bartsch
The staircase into the basement of the not-yet-listed home on Blue Jay Way.

Jim Bartsch
A view of McClean's first Bird Streets mansion, which sold for $10 million in 2009.
His first Bird Streets home, on Blue Jay Way, was purchased by Aviici in 2014.

Brian Thomas Jones
A Beverly Hills mansion on Carla Ridge that sold for $20 million in 2015.
The Carla Ridge mansion in Beverly Hills was developed by Nile Niami, and has six bedrooms, eight bathrooms, a two-story water feature, and an olive tree courtyard.
The Bel-Air home that was purchased by Jay-Z and Beyoncé boasts bulletproof windows and a helipad.

Jim Bartsch
Jay-Z and Beyoncé's 30,000-square-foot compound also features a minimal design and multiple pools.

Jim Bartsch
A Beverly Hills home features the terracing and glass walls common to McClean's projects.

Jim Bartsch
Another view of the same Beverly Hills house.

Jim Bartsch
Arclinea, a Beverly Hills development project designed by McClean.

Jim Bartsch
Another view of Arclinea.

Jim Bartsch
Originally listed for $100 million, this Trousdale mansion is now $85 million.

JIM BARTSCH
Originally listed for $100 million, "Opus," a Trousdale mansion developed by Niami and designed by McClean, is now $85 million.

Jim Bartsch
The "Opus" property features a basement-level pool, billiards room, champagne room, wine room, and a movie theater.

JIM BARTSCH
A Bel Air mansion by McClean that sold for just shy of $30 million in 2012.

Jim Bartsch
The house is 30,000 square feet, with six bedrooms and ten baths.

Jim Bartsch
This Laguna Beach McClean house sold for about $4.4 million in 2015.
McClean got his start in Laguna Beach, designing homes much like this 3,500-square-foot house.
Related: Beyoncé Sells Midtown Manhattan Apartment for $9.95 Million
See W's most popular videos: