Beyoncé Sells Midtown Manhattan Apartment for $9.95 Million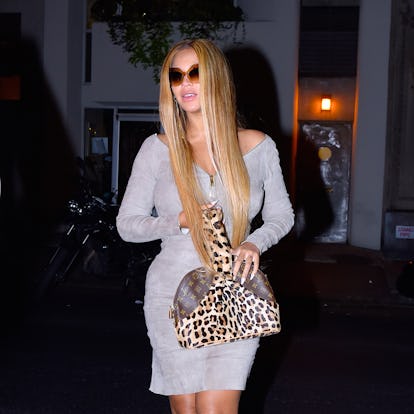 Photo by Robert Kamau/GC Images
It's not often that a look inside Beyoncé's world emerges. Though, lately, it's been happening with increasing frequency as the pop icon and her husband Jay Z expand their real estate portfolio. Just in August, the power couple laid down more than $90 million for a Bel Air gigamansion, which came with four pools, a helipad and 30,000 square feet of living space, including six separate "structures" and a separate "staff quarters."
Since then, they've gone on an art buying spree around New York, which isn't surprising considering earlier this summer Jay Z rapped about how much he's been profiting off his previous purchases. ("Financial freedom my only hope," he says on 4:44 highlight "The Story of OJ" F–k livin' rich and dyin' broke/ I bought some artwork for one million/ Two years later, that shit worth two million/ Few years later, that shit worth eight million/ I can't wait to give this shit to my children.")
The latest glimpse at the world stems from another sale: This time Beyoncé's Midtown Manhattan apartment.
Beyoncé Always Makes a Statement on the Red Carpet
Beyonce made her presence known on the red carpet of the 9th Annual MTV Movie Awards in an asymmetrical tie-dye slip dress paired with long blonde wavy locks.

WireImage
A year later, Beyonce returned to the 2001 MTV Movie Awards in a yellow sheer and embellished midi dress that accentuated her petite waistline and long legs.

WireImage
Beyonce wore this bohemian-inspired suede dress, designed by her mother Tina Knowles, to the MTV Video Music Awards.

WireImage
Beyonce celebrated her first film role in the Austin Powers film Goldmember by dressing the part for the premiere.

WireImage
Beyonce wore a strapless denim patchwork dress, fitted Yankees hat and Manolo Blahnik Timberland boots during her performance with Jay-Z on MTV's TRL.

WireImage
Beyonce didn't always get it right–this fur-trimmed corset and broken satin ball skirt at the VHI Big in '03 event was a miss.

WireImage for VH-1 Channel – New York
Beyonce was a stylish glamazon at the Billboard Music Awards in an intricately beaded gold mini frock. She completed the look with gold metal sandals and oversized pendant earrings.

Getty Images
Beyonce was all about the glam at the 2004 Brit Awards. She showed of her phenomenal shape by keeping her look simple in a spaghetti-strapped gold printed slip dress with bare wrists and neck.

WireImage
At the 2004 MTV Video Music Awards, Beyonce paired Farrah Fawcett-inspired curls with a playful gold short suit.

FilmMagic
The singer looked sophisticated at the 2005 Academy Awards in a strapless vintage Atelier Versace gown and bold diamond chandelier earrings.

FilmMagic
Beyonce is the master of glamour in an exquisite champagne mermaid-shaped embellished gown at the 2005 Cipriani Wall Street Concert Series.

WireImage
At the 48th Annual Grammy Awards, the singer wore another fitted strapless gown. And, again, it was gorgeous.

Getty Images
At the 48th Annual Grammy Awards, the gorgeous singer appeared in yet another fitted strapless mermaid-styled gown.

FilmMagic
In this glitzy Dolce & Gabbana and metal corset belt, Beyonce was the queen of the 2007 BET Awards, where she won the award for Best Female R&B Artist and the number one spot on every best dressed list.

Getty Images
Beyonce looked stunning at the 2007 Movies Rock Event in this emerald green satin Zac Posen dress.

WireImage
Beyonce arrived at the 2008 Grammy Awards in a chic sunshine yellow sweetheart gown with a matching neck scarf.

FilmMagic
At the 2009 Academy Awards, Beyonce posed in a Tina Knowles House of Dereon original design. This bold embroidered, figure-hugging floral gown fit like a glove.

WireImage
The singer showed off her curves on the 2009 MTV Video Music Awards red carpet in a futuristic, metallic Atelier Versace strapless gown.

Getty Images
Beyonce wore a rose-colored satin Stephane Rolland gown to the 2010 Grammy Awards. The plunging neckline, embroidered tribal designs, matching talons and structured shoulder paddings was the perfect semi-formal look for the occasion.

FilmMagic
At the 2011 Met Gala, Beyonce turned heads in a black and gold Emilio Pucci cut-out fishtail gown paired with a sleek middle-part ponytail hairstyle.

FilmMagic
Beyonce revealed her baby bump at the 2011 MTV Video Music Awards in this orange one-shoulder Lanvin gown.

FilmMagic
The singer attended the 2012 Met Gala in a show-stopping sheer Givenchy couture gown, which was detailed with crystal embellishments, black lace and a ombre feathered train.

FilmMagic
Beyonce wore a neon-colored Stephane Rolland gown to the 2012 BET Awards. The large gold metal geometric belt was the perfect accessory to accentuate her waistline and curves.

Getty Images For BET
For the release of her self-titled visual album 'Beyonce', the singer wore a Tom Ford black sheer and embellished mini dress paired with the matching thigh-high peep-toe boots.

WireImage
Wearing a custom ivory Michael Costello sheer floral print gown to the 56th Grammy Awards, Beyonce leaves little to the imagination.

WireImage
Playing into the 'Charles James: Beyond Fashion' theme at the 2014 Met Gala, the star chose a gothic-inspired, sheer and embellished Givenchy gown.

Getty Images
Just when she'd showed it all on the red carpet, Beyonce arrived to the 2015 Met Gala in a jaw dropping see-through Givenchy custom embellished gown with glittering colored rhinestones in all the right places.

WireImage
Beyonce rocked a high ponytail and a seductive maroon dress at the Tidal X:1020 event.

WireImage
NEW YORK, NY – MAY 02: Singer Beyonce attends the "Manus x Machina: Fashion In An Age Of Technology" Costume Institute Gala at Metropolitan Museum of Art on May 2, 2016 in New York City. (Photo by Dimitrios Kambouris/Getty Images)

Getty Images
Nominated for 11 awards at the 2016 MTV Video Music Awards, Beyonce wore an appropriately regal gown by Francesco Scognamiglio on the red carpet. The dress featured a feathery neckline that extended out and around the back, giving it the illusion of wings.

WireImage
The pop artist has quietly sold her three-bedroom and three-and-a-half-bathroom condo at the luxury residence, One Beacon, Variety reported. Her asking price of $9.95 million was granted reportedly by a corporate entity. She stands to make a hefty profit too as she reportedly purchased the 2,669 square-foot abode for $5,091,000 in 2005. According to the New York Post, the apartment was mostly used by family members of Beyoncé's. It's especially decadent to be a crash pad.
Dreamed up by French interior designer Jacques Grange, the apartment is full of all kinds of top shelf finishes like stone countertops imported from Italy, cabinetry that hails from Germany, marble floors via Brazil, and gourmet chef-worthy appliances. It also features a master bedroom with a whopping four closets, including two-walk ins. You can glimpse pictures of the apartment at Variety.
Unloading her Beacon One apartment not the only thing Beyoncé has been low-key up to these days. She also reportedly shot a new music video with director Michel Gondry, which, hopefully, means that another visual project is on the way — and, with it, yet another look inside her and Jay Z's home.
Inside the Giga-Mansions of Beyoncé and Jay-Z, Calvin Klein, Avicii, and More
This new McClean house in the Bird Streets, at 1822 Marcheeta, is for sale for $19,950,000.

Jim Bartsch
At 1822 Marcheeta, over-the-top wine storage, skylights, and massive fireplaces are all McClean hallmarks.

Jim Bartsch
The Bird Streets mansion purchased by Calvin Klein for $25 million in 2015.

Jim Bartsch
Another view of the Bird Streets house purchased by Calvin Klein.

Jim Bartsch
A Blue Jay Way mansion which McClean estimated as going for as much as $30 million.

Jim Bartsch
The staircase into the basement of the not-yet-listed home on Blue Jay Way.

Jim Bartsch
A view of McClean's first Bird Streets mansion, which sold for $10 million in 2009.
His first Bird Streets home, on Blue Jay Way, was purchased by Aviici in 2014.

Brian Thomas Jones
A Beverly Hills mansion on Carla Ridge that sold for $20 million in 2015.
The Carla Ridge mansion in Beverly Hills was developed by Nile Niami, and has six bedrooms, eight bathrooms, a two-story water feature, and an olive tree courtyard.
The Bel-Air home that was purchased by Jay-Z and Beyoncé boasts bulletproof windows and a helipad.

Jim Bartsch
Jay-Z and Beyoncé's 30,000-square-foot compound also features a minimal design and multiple pools.

Jim Bartsch
A Beverly Hills home features the terracing and glass walls common to McClean's projects.

Jim Bartsch
Another view of the same Beverly Hills house.

Jim Bartsch
Arclinea, a Beverly Hills development project designed by McClean.

Jim Bartsch
Another view of Arclinea.

Jim Bartsch
Originally listed for $100 million, this Trousdale mansion is now $85 million.

JIM BARTSCH
Originally listed for $100 million, "Opus," a Trousdale mansion developed by Niami and designed by McClean, is now $85 million.

Jim Bartsch
The "Opus" property features a basement-level pool, billiards room, champagne room, wine room, and a movie theater.

JIM BARTSCH
A Bel Air mansion by McClean that sold for just shy of $30 million in 2012.

Jim Bartsch
The house is 30,000 square feet, with six bedrooms and ten baths.

Jim Bartsch
This Laguna Beach McClean house sold for about $4.4 million in 2015.
McClean got his start in Laguna Beach, designing homes much like this 3,500-square-foot house.
Watch: Taraji P. Henson Gets Down to "I Will Survive" — With a Few Embellishments
Taraji P. Henson Gets Down to "I Will Survive" — With a Few Embellishments