Now That Kendall Jenner Has Sold Her "Starter Apartment," She's Ready to Move to Mulholland Drive
See inside the 21-year-old model's first apartment, which was listed for $1.5 million.
---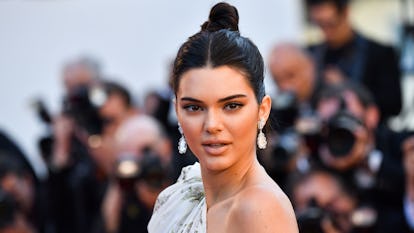 Alberto Pizzoli/AFP/Getty Images
With two bedrooms, three bathrooms, floor-to-ceiling windows, and panoramic views of the Los Angeles skyline, Kendall Jenner's so-called "starter apartment" in Westwood would be considered, by many, to be anything but a first step, real-estate-wise. But the 21-year-old model has already outgrown the place two times over—last year, she moved into (and then out of) a mansion formerly owned by John Krasinski and Emily Blunt, and in October, she acquired an $8.5 million home formerly belonging to Charlie Sheen. Now, it appears she has finally parted ways with her starter home; WWD reported Friday that Jenner had accepted an offer on the apartment, which was listed for just more than $1.5 million over the summer.
Jenner paid approximately $1.3 million for the apartment when she purchased it three years ago, so assuming the buyer paid her asking price, she stands to make just a small profit on the sale. This, however, is likely a secondary concern for the young model, who unseated Gisele Bündchen as the world's highest-paid model this year. After all, she also flipped her West Hollywood home over the summer for a slight markup: It sold for a reported $6.85 million, slightly above the $6.5 million she paid for it the previous year. She might not have the strongest record of investing in real estate, but she certainly has more experience on the market than your average 21-year-old. Plus, the combined sales of these two properties comes close to covering the cost of her newest and grandest acquisition.
Her new mansion, in the gated Mulholland Drive community Mulholland Estates in Beverly Hills, is decidedly more secure and secluded than her previous real estate acquisitions. In 2016, shortly after she moved out of the starter apartment and into her West Hollywood home—the one that previously belonged to Krasinski and Blunt—she was accosted by a stalker, who was arrested on the property in August. Then, earlier this year, the home was burglarized, with $200,000 worth of jewelry stolen in what was subsequently described as an inside job. (Jenner proceeded to fire one of her security guards and increase the security at the house.)
Now that she has offloaded not one but two starter homes and is about to move into a decidedly non-beginner-level mansion that even boasts a pool, a spa, a sprawling playground, and an in-home movie theater, Jenner is more ready than most of us to move into 2018.
Related: Kim Kardashian Has Been Wearing Yeezy Season 6 Clothes and Sharing Them on Instagram
Kendall Jenner dramatically reads Nicki Minaj's "Superbass":