Wonder Woman 2 Will Be the First Movie to Follow New Anti-Sexual Harassment Guidelines
Hopefully, other movies will follow.
---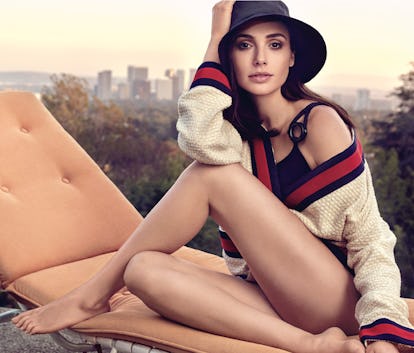 Photographs by Craig McDean, Styled by Edward Enninful; Hair by Didier Malige at Art Partner; makeup by Peter Philips for Dior; manicure by Chelsea King for Orly at Celestine Agency. Set design by Miguel Bento at Streeters; Retouching: Dtouch; Produced by Kyle Heinen For Rosco Production; Digital Technician: Nicholas Ong; Photography Assistants: Nick Brinley, Maru Teppei, Kris Shacochis, Brian Bee; Fashion Assistants: Ryann Foulke, Dena Giannini; Hair Assistant: Jenelle Oldham; Makeup Assistant: Miguel Ramos; Production Assistants: Mike Stacey, David Singh, Bean Bielski, Andres Raygoza.
In order to combat Hollywood's systemic sexual harassment and assault problem, the Producers Guild of America announced last Friday that it will be implementing new anti-sexual harassment guidelines. A day later, the PGA revealed, according to Vanity Fair reporter Rebecca Keegan, that Wonder Woman 2 will be the first movie to adopt them.
According to Variety, the new guidelines include making sure that all productions comply with federal and state laws about harassment, provide in-person anti-sexual harassment training to all cast and crew members, and offer a system for people to report any incidents of sexual harassment. The guidelines were drawn up by the PGA's new Anti-Sexual Harassment Task Force, which was formed in October in conjunction with its decision to permanently ban Harvey Weinstein from its membership. "Sexual harassment can no longer be tolerated in our industry or within the ranks of the Producers Guild membership," the PGA presidents said, per Variety. They added that the Time's Up organization was instrumental in creating the guidelines.
While it's certainly fitting for a film about women's empowerment to be the first to adopt the new guidelines, the move is not just symbolically poignant. In November, Wonder Woman producer Brett Ratner was accused of sexual harassment or assault by six women. While Brett has denied all allegations, Wonder Woman star Gal Gadot reportedly threatened not to reprise her role in Wonder Woman 2 if the producer remained attached to the franchise in any way. Brett previously announced that he has chosen to step away from "all Warner Brothers-related activities," and Gal has since confirmed that Brett would not be involved in or profiting from Wonder Woman 2.
Because membership in the PGA is voluntary, the new anti-sexual harassment guidelines are just recommendations for best practices. Still, it's a good start, and hopefully, other movies will be following in Wonder Woman 2's footsteps.
Related: Gal Gadot Could Not Be Silenced At the 2018 Critics' Choice Awards
The 11 Fiercest, Ass-Kicking, Gun-Toting Women in Action Films of All Time
Perhaps not properly an action star in the traditional sense, Sigourney Weaver still set an important standard as the star of Ridley Scott's 1979 science fiction film Alien, which combined tropes from across sci fi, action, and horror movies and synthesized them into one gruesome, thrilling ride.

Courtesy 20th Century Fox
Seventies Blaxploitation star Pam Grier burned up the screen with her return to form in Quentin Tarantino's Jackie Brown, both an homage to and sendup of the genre in which Grier made her name.

Courtesy Miramax Films
Michelle Yeoh dominated in Ang Lee's 2000 wuxia film Crouching Tiger, Hidden Dragon—and she earned a Best Actress BAFTA nominee for her efforts. So, too, did her younger costar Ziyi Zhang, who nabbed a Best Supporting Actress nod and has gone on to become an action star in her own right.

Sony Pictures Classics
Quentin Tarantino has demonstrated an affinity for powerful and ruthless women fronting his films. Not only did the director bring us Pam Grier in Jackie Brown, but then, several years later, he offered six hours of Uma Thurman in peak form as the assassin Beatrix Kiddo in Kill Bill Vol. 1 and its sequel, Vol. 2. His supporting actresses are no less fierce: There's Lucy Liu, a fellow assassin in Kill Bill, Diane Kruger and Mélanie Laurent in Inglourious Basterds, and, most recently, Jennifer Jason Leigh in Hateful Eight. Now, we're just anticipating his reinvention of actress Sharon Tate in his just-announced Manson family project.

Miramax Films
Since Lara Croft: Tomb Raider, Angelina Jolie's name has been synonymous with a kind of independent, ass-kicking action hero. In Mr. & Mrs. Smith, she goes toe-to-toe with Brad Pitt—and though they weren't yet a couple, the tension is palpable.

Courtesy 20th Century Fox
Saoirse Ronan was still a teenager when she transformed into the child assassin Hanna, star of the eponymous film. Like Natalie Portman in The Professional, Ronan takes on the adults of the world as if it were no big thing.

Courtesy Focus Features
Like Angelina Jolie, much of Zoe Saldana's reputation hinges on her roles in action and science fiction films. She's appeared in blockbusters like Avatar, the new Star Trek films, and Guardians of the Galaxy, but in Colombiana, an action thriller by The Professional director Luc Besson (whose more recent flick Lucy also makes this list), Saldana takes center stage as contract killer who witnessed the murder of her parents at a young age. (As a bonus, the film stars a child Amandla Stenberg as Saldana's younger self.)

Courtesy TriStar Pictures
In Lucy, Scarlett Johansson stars as the titular Lucy, an American expat living in Taiwan who is accidentally exposed to a synthetic drug that gives her supernatural physical and mental facilities. It was reported Angelina Jolie was also in talks with director Luc Besson to star in the title role.

Courtesy Universal Pictures
As with the casting of Jodie Whittaker as the new Doctor in Doctor Who over the weekend, the announcement that newcomer English actress Daisy Ridley would star as a new heroine of the Star Wards franchise was met with some resistance. Yet Ridley, in taking over as the face of a franchise that had previously been fronted by Mark Hamill, proved she can face off against even the nastiest supervillains—Adam Driver, Gwendoline Christie, and Domhnall Gleeson.

Courtesy Walt Disney Studios
Wonder Woman has long set a standard for women starring in action films, and its new live-action remake starring Gal Gadot brought the comic to a new generation of women. The Patty Jenkins-directed film is now rated at 92 percent on Rotten Tomatoes, and it has grossed more than the final Harry Potter film since its release last month.

Courtesy Warner Bros. Pictures
Charlize Theron has appeared in countless action films, but it wasn't until this year's Atomic Blonde that she truly seized control. She starred in, and developed, the project, based on Antony Johnston's Cold War-set graphic novel The Coldest City—and the film is the strongest argument yet that Theron is ready for the biggest action franchise of them all: James Bond.

Courtesy Focus Features