Gal Gadot Could Not Be Silenced At the 2018 Critics' Choice Awards
The Wonder Woman actress received the second annual #SeeHer award for her boundary pushing commitment to accurately portray women on screen.
---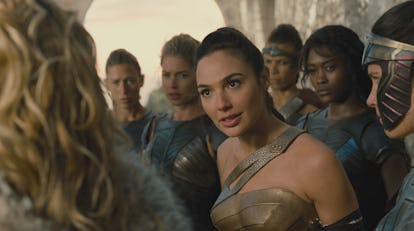 Warner Bros. Entertainment Inc. and Ratpac-Dune Entertainment LLC
The 2018 Critics' Choice Awards were a breath of fresh air Thursday night, with Gal Gadot receiving the #SeeHer award for her revelatory performance in Patty Jenkins' Wonder Woman.
The #SeeHer award has only been awarded once before in Critics' Choice Awards history, with the first winner of the title being Viola Davis for her award winning performance in Fences. The recipient of the award is selected by the Association of National Advertisers and given to a woman whose work is in line with the #SeeHer initiative, which is "to push boundaries on changing stereotypes and recognize the importance of accurately portraying women across the entertainment landscape." Presenting this year's award to Gadot was Wonder Woman director Patty Jenkins, who previously won the Glamour Woman of the Year award in late 2017.
Jenkins spoke to the audience in praise of Gadot and her performance as Wonder Woman, saying, "She excelled at every aspect of the universal hero's struggle in real life on and off the screen. But the really special thing is, she didn't do it for the glory. She didn't do it for the fame. She's not here for the money. She did it for us. She knew the great importance of this character and what she could mean to the world if well done."
When she accepted the award, Gadot dazzled the audience with a moving speech about what it meant for her to embody this character, to espouse the importance of recognizing female directors like Jenkins and to remind us all that while progress has been made, women in Hollywood still face systemic issues of harassment in the workplace and unfair pay gaps. "It's not only our job to entertain, but our duty to inspire and educate for love and respect," Gadot said.
In reference to the #MeToo movement and Time's Up initiative, Gadot dedicated her award to anyone committed to advocating for equality, announcing, "My promise and my commitment to all of you is that I will never be silenced. And we will continue to band together to make strides uniting for equality."
Related: Gal Gadot on How Being Wonder Woman Has Changed Her Perspective