Michelle Williams Was Paid Less Than 1% of Mark Wahlberg's Salary to Reshoot All The Money In The World
The Golden Globe-nominated actress was only paid $1,000 while her male co-star negotiated a $1.5 million reshoot fee.
---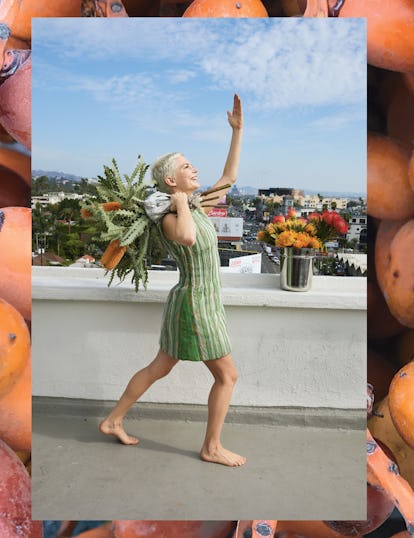 Photographs by Juergen Teller; Styled by Edward Enninful
Michelle Williams and Mark Wahlberg lent their time and talents for reshoots of Ridley Scott's J. Paul Getty biopic All the Money in the World, but only one of them was appropriately compensated for their sacrifice. After Ridley Scott removed Kevin Spacey from the project due to numerous sexual misconduct allegations, and hired Christopher Plummer to replace him as J. Paul Getty, the billionaire oil tycoon, he had just one month to reshoot scenes with Plummer and the other lead actors in the film before the December release date.
The film's buzz has expanded after nabbing three Golden Globe nominations, but not in the most positive light. USA Today reports that Wahlberg's team—which works for the same agency that represents Williams, William Morris Endeavor—went the extra mile to score $1.5 million in compensation for his reshoots of scenes in All the Money in the World. Michelle Williams—who gave up her time, her energy, her Thanksgiving holiday with her family to reshoot scenes of the film—was given only $1,000, which is a whopping 1,500 times less than the amount paid to her male co-star. Williams' performance as Gail Getty, the mother of the kidnapped John Paul Getty III, secured her a Golden Globe nomination for Best Actress in a Drama, and potentially places her in the running for an Oscar nomination this year, yet at around $80 per day, Williams was paid less than 1% of the amount Wahlberg earned for the extra time and labor put into finalizing the film.
Reshooting the scenes from All the Money in the World cost the production company around $10 million, and Ridley Scott previously stated that everyone (except for the crew and Plummer) made the sacrifice to get back to work over the holidays at no cost. "Everyone did it for nothing," he told USA Today, but that turned out to not be the case.
Wahlberg sits at the top of Forbes' list of overpaid actors in Hollywood (remember: women can't be overpaid if they aren't paid enough of a salary in the first place), raking in a salary of nearly $68 million in 2017 for mediocre performances in mediocre films that brought in a significantly low return on investment at the box office. Meanwhile, Williams reportedly was not informed about the negotiation Wahlberg's team made for his $1.5 million reshoot fee for less than a month's worth of work, and was paid in crumbs. The purpose of paying a team at an agency (WME, in this case, for both performers) the 10% fee of an actor's salary is so that the team of agents and managers will advocate and negotiate deals on their behalf—especially if those deals require an actor to commit to extra time and work over a holiday because one of their co-stars engaged in illegal behavior that ultimately caused his removal from the production and reshoots of his scenes.
The celebrated actress is no stranger to hard work or challenge. This year on the 2018 Golden Globes red carpet, it was Williams who allegedly spearheaded the idea of bringing political activists as dates (she joined forces with #MeToo creator Tarana Burke). In an interview with W about her experience reshooting scenes of All the Money in the World with Plummer, Williams said, "Look, there's no mountain I wouldn't climb for Ridley. I [gave] him my Thanksgiving day, which was a hard thing to break to the family but when you're able to tell your daughter that Captain Von Trapp is coming to save the day in real life you know they – everybody makes an exception." Committed to sacrificing personal responsibilities for her impeccably talented work on screen, Williams also joins the ranks of other actresses who are committed to fighting for equal representation, pay and treatment of women in Hollywood and all fields of labor. Her comrades in Hollywood have been expressing their outrage this morning on Twitter.
While Williams does share fewer scenes with Plummer than Wahlberg does in the finished film, the frustrating truth of the matter is that Wahlberg's team and the other agents at WME who are paid by Williams to protect, advocate for, and negotiate on her behalf have failed her, and failed the other actresses represented by their agency. It's a reason why the gesture of many men at the Golden Globes sporting all black outfits and Time's Up pins felt empty and performative, when that initiative not only supports anti-harassment policies but also advocates for equal pay of all genders in the workplace. A good ally would communicate to his female coworker that his team has negotiated a significant pay raise for his labor so that she can bring it to the attention of her representatives and negotiate for her equal pay, rather than keep quiet about it and hope no one finds out.
Related: Michelle Williams on Reshooting "All the Money in the World" with Christopher Plummer