Patty Jenkins Fangirls Over Lynda Carter While Accepting Her Glamour Woman of the Year Award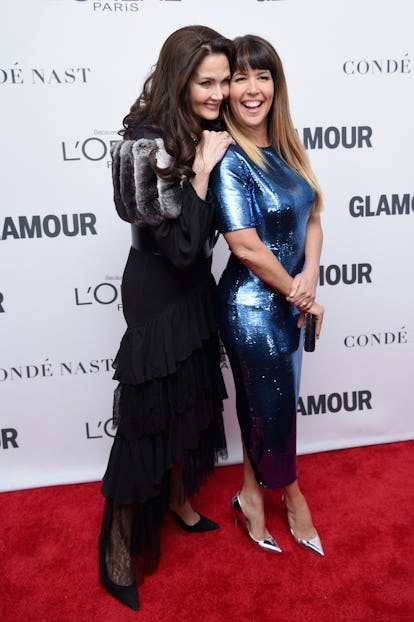 Dimitrios Kambouris/Getty Images for Glamour
When groundbreaking Wonder Woman director Patty Jenkins took the stage at the Kings Theatre in Brooklyn, New York Monday night to accept her Glamour Woman of the Year award — a title certainly befitting of such a record-breaking, ceiling-shattering woman in Hollywood — she opted to shout out another woman: the original Wonder Woman and presenter of her honor, Lynda Carter.
After Carter introduced her "dear friend" Jenkins by singing her praises and offering her a bear hug, Jenkins said in her acceptance speech that she hoped to highlight the many real-life "wonder women" who have influenced her professional and deeply personal journey to the soaring success she found with Wonder Woman. First up, Carter.
"I just want to point out a few of the wonder women in my life that made this possible," she began. "Linda Carter, oh my God, is the woman who when I was a child came to life and showed me a woman who is everything. So incredible and strong and fighting but also sweet and smiling and just and thoughtful and so great. I'm so honored to be here with you, Linda, because you are both that on the screen and off and have inspired me my entire life and been such a great partner to me in this process."
Of course, both Carter and Jenkins are deserving of such heaping praise. The director now holds the title of "Highest Paid Female Director" and "Best Opening Ever for a Female Director." Not to mention, she's quick to stand up to anyone who dare to be a Wonder Woman doubter (even when they happen to be male colleagues).
Now, Patty, what's the status on that Lynda Carter cameo in Wonder Woman 2?
Related: Gal Gadot Won't Do the Wonder Woman Sequel If Brett Ratner Is Involved
More from Wonder Woman star Gal Gadot: