Gal Gadot Won't Do the Wonder Woman Sequel If Brett Ratner Is Involved
A real life Wonder Woman.
---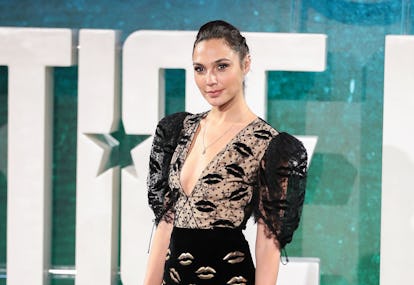 Photo by Mike Marsland/Mike Marsland/WireImage
Talk about a real life superhero. Wonder Woman star Gal Gadot is refusing to sign on for a sequel to the summer blockbuster unless producer and alleged sexual harasser Brett Ratner is completely removed from the production, according a source that spoke to Page Six. Ratner's company, RatPac-Dune Entertainment, co-produced Wonder Woman with Warner Brothers and stands to take a cut of the sequel's profits if the deal repeats. Gadot reportedly wants Warner Brothers–which has already severed many ties with Ratner in the wake of allegations of sexual harassment against him by actresses like Olivia Munn and Ellen Page–to buy Ratner out so he doesn't profit from any more Wonder Woman movies. Godot herself has yet to publicly make a statement, though a Warner Brothers rep told Page Six that the story is "false."
If the rumors are true, it won't be the first time Gadot has taken a stand against supporting Ratner; last month she backed out of an awards dinner honoring him. Meanwhile, his planned Hugh Hefner biopic starring Jared Leto isn't happening,and this week, Page came forward of the time that he outed her when she was just a teenager on the set of X-Men: The Last Stand, which co-star Anna Paquin corroborated.
Now with Godot potentially holding up a much-anticipated sequel, Ratner might finally be finished, at least for now. Make no mistake, if Gadot is really threatening to not sign on for a second installment, it's a very big deal. Scandals, rumors, public shaming, apologies and declarations of empowerment all feed the gossip machine and might take someone out of the spotlight's good graces for a press tour or two, but there's exactly one thing Hollywood cares about: money. Gadot could come between Warner Brothers and money, and that's what matters.
She's in a unique position among women in Hollywood. Until the Brie Larson-fronted Captain Marvel comes out, or someone finally gives Margot Robbie a Harley Quinn standalone, she is the only face of a female-fronted superhero franchise. And re-casting probably isn't an option. Gadot has played Diana prince in three films already: Wonder Woman, Batman Vs. Superman and the upcoming Justice League. DC is trying to build a brand to rival that of Marvel's Avengers franchise, and Gadot is the only woman on the Justice League team, which comes out in just five days.
This is also not the first time a Wonder Woman lead has stood up for herself; director Patty Jenkins had to hold out for months in contract negotiations before the studio would give her money comparable to what a man would make on a sequel to a big hit.
Related: Supergirl Showrunner Andrew Kreisberg Has Been Suspended Amidst Sexual Harassment Claims
Gal Gadot: Wonder Woman on the Red Carpet and Beyond
The young actress first arrived on the scene at the CW Network celebration of its new series The Beautiful Life: TBL dressed in flirty strapless little black dress paired with an oversized tan corset belt. She completed her look with a pair of black cross-strap platform sandals.

Getty Images
At the Los Angeles premiere of Fast & Furious, Gadot looked fresh faced as she posed on the red carpet in a mini purple strapless dress.

Getty Images
The actress appeared at the London World Premiere of Fast & Furious 6 in a edgy black beaded gown that featured a plunging neckline.

Getty Images
On the red carpet of the Los Angeles premiere of Fast & The Furious 6, Gadot showed off her incredible figure in a ombre grey gown featuring a plunging neckline snd thigh split.

Getty Images
The actress opted for a sexy playful look as she posed on the red carpet of the Los Angeles premiere of Riddick wearing a black leather shell top, black and white abstract- patterned circle skirt and a pair of scrappy black heels.

Getty Images
The actress looked smoking dressed in a David Koma cutout little black dress while attending the Entertainment Weekly: Women Who Kick Ass panel at Comic-Con.

Getty Images
At the UK Premiere of The Last Witch Hunter, Gadot dressed in a sleeveless little black dress that featured a bit of fabric draping on the left leg. She completed her look with a pair of strappy sandals.

Getty Images
The actress looked flawless at the premiere of Batman v. Superman: Dawn of Justice in a Balmain cut-out mini dress that showed off the star's toned figure. Gadot topped off her outfit with white Sophia Webster sandals.

Getty Images
Gadot in Dolce & Gabbana at a photo call for Batman v. Superman: Dawn of Justice in Mexico City, March 2016.

Getty Images
Gadot looked ravishing at the European premiere of Batman v Superman, styled in a scarlet Prada gown with a plunging neckline and embellished shoulder straps.

Getty Images
The actress wowed on the red carpet of the Mexico City premiere of Batman v Superman: Dawn of Justice in a high-low floral Giambattista Valli gown that put her stunning legs on display.

Getty Images
Looking simple yet elegant, Gadot opted for a black pantsuit at the UK premiere of Criminal. she topped of her polished look with a pair of black pumps and a gray box clutch.

Getty Images
Gal Gadot in Dolce & Gabbana at a taping for Jimmy Kimmel Live, March 2016.

Getty Images
Gadot looked glamorous in a floral sequin Dolce & Gabbana pencil dress while attending the unveiling of Tiffany & Co.'s renovated Beverly Hills store.

Getty Images
The actress looked stunning at the premiere of Keeping Up with the Joneses, wearing a Dolce & Gabbana strapless dress rendered in gold and silver sequins.

Getty Images
Going with a sultry look while attending a screening for Keeping Up With The Joneses, Gadot opted for a fitted David Koma color-blocked halter and ruffle-hem dress.

Getty Images
The mommy to be dressed up her baby bump in a Mugler slip dress with a sequined bodice and a high front slit for the Golden Globes. She completed her look with black Stuart Weitzman sandals.

Getty Images
The actress attended the 2017 MTV Movie and TV Awards in a fringed blazer dress by Cinq A Sept and Tiffany & Co jewelry.

Getty
Gadot attends a press conference for Wonder Woman in China wearing a cobalt blue gown with slicked back hair.

Getty
For the world premiere of Wonder Woman, Gadot looked the superhero part in a red sequined Givenchy gown.

Getty
At the film's Mexico City premiere, Gadot embraced her dark side in a draped black gown with a dark lip.

Getty