Gal Gadot Confirms Brett Ratner Has Been Cut From Wonder Woman Sequel
The alleged sexual assaulter has been let go by Warner Bros.
---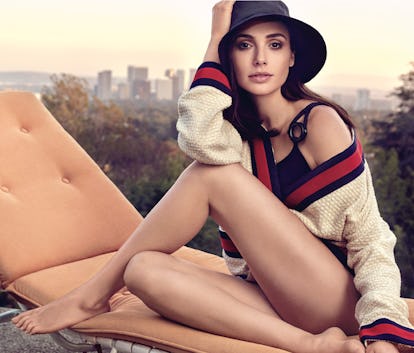 Photographs by Craig McDean, Styled by Edward Enninful; Hair by Didier Malige at Art Partner; makeup by Peter Philips for Dior; manicure by Chelsea King for Orly at Celestine Agency. Set design by Miguel Bento at Streeters; Retouching: Dtouch; Produced by Kyle Heinen For Rosco Production; Digital Technician: Nicholas Ong; Photography Assistants: Nick Brinley, Maru Teppei, Kris Shacochis, Brian Bee; Fashion Assistants: Ryann Foulke, Dena Giannini; Hair Assistant: Jenelle Oldham; Makeup Assistant: Miguel Ramos; Production Assistants: Mike Stacey, David Singh, Bean Bielski, Andres Raygoza.
If there is a silver lining in the onslaught of sexual misconduct allegations that have been pouring out of Hollywood, it's that there are finally real consequences. Brett Ratner, who was accused of sexual assault and harassment by a handful of women including actresses Olivia Munn and Ellen Page, is the latest industry executive to learn that firsthand. After a report by The Los Angeles Times, in which Munn said Ratner masturbated in front of her on the set of 2004's After the Sunset and actress Natasha Henstridge said that the director and producer forced her into giving him oral sex, a rumor swirled that Gal Gadot had given Warner Bros. an ultimatum: Cut ties with Ratner or she would back out of the much-anticipated Wonder Woman sequel. While Warner Bros. later denied the rumor to Business Insider, today Gal Gadot confirmed that Ratner will no longer be involved with Wonder Woman 2.
"At the end of the day, a lot has been written about my views and the way that I feel, and everyone knows the way that I feel because I'm not hiding anything," the Israeli actress said on NBC's Today via NY Daily News. "But the truth is, there's so many people involved in making this movie, and they all echo the same sentiments."
Apparently though Gal Gadot may not have been involved with that decision because, as Business Insider reported after the rumor broke, the studio's deal with Ratner's entertainment company RatPac-Dune, which helped finance the first Wonder Woman, is set to expire by the time the film is made. His deal reportedly expires in March 2018 but Wonder Woman 2 isn't scheduled to arrive until November 2019. "Everyone knew what was the right thing to do, but there was nothing for me to actually come and say, because it was already done before this article came out," Gadot explained.
Whether or not Gadot played a role in the studio's decision not to renew his contract, she may have taken a stance against the director last month when she opted not to honor Ratner at with the Tree of Life Award at the the Jewish National Fund, as Variety reported, a few days before the LA Times story alleging his sexual misconduct broke. Days before, in the wake of the mounting sexual misconduct allegations against film executive Harvey Weinstein and director James Toback, Gadot spoke out against the industry's systematic sexism and misogyny on Instagram, writing, "Bullying and sexual harassment are unacceptable! I stand by all the courageous women confronting their fears and speaking out. Together we stand. We are all united in this time of change." Maybe she really is Wonder Woman.
Related: Patty Jenkins Fangirls Over Lynda Carter While Accepting Her Glamour Woman of the Year Award
"Wonder Woman" Star Gal Gadot Was a Very Reluctant Pageant Queen: